Biden Looks to Expand "Buy American" in Defence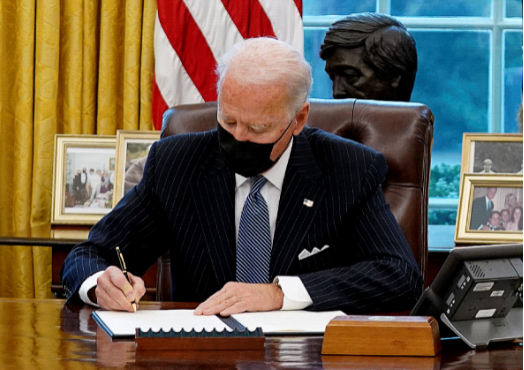 President Biden issued an executive order placing stricter controls on federal procurement processes in order to encourage purchases of domestic goods, a step toward achieving his Buy American campaign goal to support home manufacturing. The new regulations would include strengthening government procurement laws to make it more difficult for federal agencies to buy imported goods, altering the concept of American-made goods, and increasing local content requirements. The executive order also intends to improve access to information required to bid on government contracts for small and medium-sized firms.
"We will invest hundreds of billions of dollars on American items to upgrade our infrastructure as part of the Build Back Better recovery plan, and our economic strength in a competitive world will grow," Mr. Biden said at a news conference. Some economists and trade experts have questioned the effectiveness of such regulations, emphasizing the modest scale of government procurement in the broader economy. They have warned of concerns such as increased costs and retaliation against US exports. While the effects may be minor, the new directive hints at the general contours of Mr. Biden's trade strategy, as well as its emphasis on American workers. According to the statement, Mr. Biden is dedicated to working with partners and allies to reform international trade laws, particularly those governing government procurement, "to ensure that all nations can utilize their taxpayer resources to stimulate investment in their nations."
Shawmut Corp., located in West Bridgewater, Mass., is hoping that the increased emphasis on Buy American laws would inspire the federal government to purchase more of the medical gowns that his business began producing during the epidemic. Under a slated contract to expire in February, more than 100 employees are creating gowns for the Defense Logistics Agency. Mr. Wyner said that lawmakers and the general public had recognized the risks of depending on foreign suppliers for key items. He wants Congress to expand Buy American requirements to include additional kinds of items.
"This can be made to work financially and culturally," he added. Mr. Biden's Buy American push resembles former President Donald Trump's domestic-preference push, which was part of America's First plan, which included tariff conflicts with China and other trade partners. According to the Government Accountability Office, the new Biden strategy will have an impact on federal agencies' direct purchase contracts for products and services, which totaled $586 billion in fiscal 2019. According to the GAO, foreign items accounted for less than 5% of direct government procurement, although the real quantity might be higher due to system faults and constraints.
While direct government procurement accounts for a modest portion of the US economy, the new policy's effect on domestic industries and employment might be enormous if the Buy American requirements are applied to the next administration's enormous infrastructure and new energy investment plans. "This presidential order will address loopholes that enable agencies to avoid Buy American obligations and raise the limits for domestic content," AFL-CIO President Richard Trumka said in a release. "This purchase is an important first step in rebuilding American manufacturing." Large exporter groups warned against protectionist actions, such as undermining the World Trade Organization's government procurement agreement, which might cause other countries to close their doors to U.S. firms in response.
"Expanding on already stringent 'Buy American' standards might raise the cost of government projects, limiting their ability to generate employment and boost economic growth," said John Murphy, senior VP for international policy at the US Chamber of Commerce. America's friends are keeping a careful eye on Mr. Biden's Buy American strategy, hoping for smoother trade ties than under the Trump administration. Mr. Biden has said several times that he intends to work more closely with allies and international trade standards. On Sunday, Canada's Foreign Minister, Marc Garneau, informed Canadian Broadcasting Corporation that Prime Minister Justin Trudeau communicated the country's worries about a Buy American initiative to Mr. Biden during a phone discussion between the North American leaders on Friday. According to Eswar Prasad, a professor of trade policy and economics at Cornell University, Mr. Biden's trade strategy is likely to stay centered on appealing to domestic political groups.