F-16 Missile Maintenance Contract By Taiwan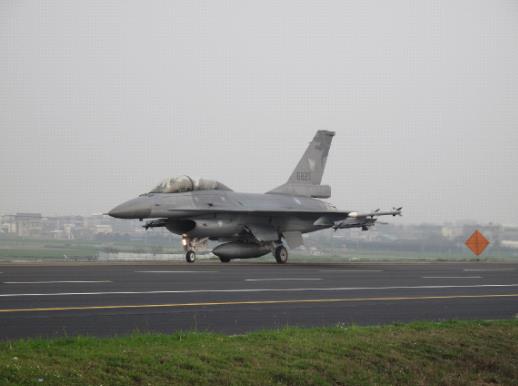 A USD 10.4 million (TWD 291 million) contract was signed between the American Institute in Taiwan (AIT) and Taiwan's Ministry of National Defense for the Missile Maintenance and follow-on support of US-made missiles used in the fleet of F-16 multi-role fighter aircraft. These F-16s belong to the Republic of China Air Force's fleet (RoCAF). US military personnel will start the work on this project in Hualien County and Chiayi City, where these F-16s are based. The project is expected to be completed by December 31st, 2025, according to an official posted on the Taiwanese government's website on May 12th, 2021.
These RoCAF's F-16s can be armed with AGM-84L Harpoon Block II missiles, AGM-88 high-speed Anti-radiation Missiles (HARM), AIM-120 Advanced Medium-Range Air-to-Air Missiles (AMRAAMs), AGM-65 Maverick missiles, and AIM-9X Block II Sidewinder missiles. The officials did not inform about the exact date on which the agreement was signed between AIT and Taiwan's Air Force but the Taiwanese Liberty Times revealed that the announcement was made the same day when two of the RoCAF F-16s successfully fired AMRAAMs over the island during tests for the very first time. These missiles hit the intended drone targets successfully during the test.
Taiwan has started the up-gradation process of its 141 F-16A/B fighter jets to the F-16V variant. This project is scheduled to be completed in 2023. In August 2019, the United States approved arms sales estimated to be US$ 8 billion (NT$ 240 billion), which includes 66 F-16V fighter jets. After this upgrade, the total fleet of F-16V aircraft in Taiwan's Air Force will eventually reach 208. Another up-gradation will be done with the help of Lockheed Martin for FMS modification for Taiwan in connection with the Peace Phoenix Rising 2 program. Lockheed Martin will provide Raytheon HARM missiles and Automatic ground-collision avoidance technology. Lockheed Martin will also provide an updated data acquisition system, improved radar software, and advanced IFF for the Republic of China Air Force (ROCAF). This project is scheduled to be completed by September 30th, 2022.
F-16 fighter jets have been the centerpiece for the Taiwanese Air Force. According to Air Force sources, this fighter jet, along with the Ching-Kuo indigenous fighter jet (IDF) and mirage 2000 fighter, seeks to secure the national airspace of Taiwan. Fearing the potential Chinese electronic intelligence (ELINT) operations and provoking China, the United States discouraged the firing of medium-range missiles over Taiwanese territory.