India – Arjun MBT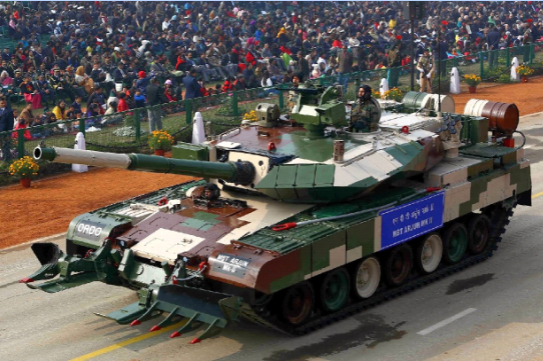 The Arjun Main Battle Tank (MBT) is the tank used by the Indian Army. The Defense Research and Development Organization manufactured it. Arjun MBT is named after a warrior in Mahabharata named Arjuna. Arjun was inducted into service with the Indian Army in 2004.
Variants:
The production of Arjun MBT began as early as 1974. The development program had seen many delays and increases in costs. Arjun's main battle tank has various updated and improved variants, such as Mk1A and MkII. Its variant Arjun Mk1 has improved and more accurate power and transmission. Its final tests were conducted in 2019. The Arjun MkII variant of this main battle tank is a lightweight variant with electro-optical sensors and upgraded lasers. It is under development with 93 total upgrades, which include 13 significant upgrades. The Arjun MKII variant is considered to replace the outdated Russian T-72 battle tank, of which the Indian Army has 2400 tanks. Upon its induction, nearly half of the battle tank's components and parts were imported, making it hard to use the tank for the Indian Army. However, with the passage of time, nearly all of the pieces have been replaced by locally made components, making them budget-friendly for the government.
Features:
The Arjun MBT is armed with a 120mm gun capable of firing six to eight rounds per minute. It also has a PKT 7.62 mm machine gun. An NSVT 12.7 mm machine gun is also present in its armor. The maximum speed of Arjun's main battle tank is 70 kilometers per hour. It is run with a multi-fuel diesel engine at 1400 hp. The tank's guns need a manual loader. Arjun's crew includes commander, gunner, loader, and driver. The upgrade is expected to add a 1500hp engine to the tank. The tank's length is a little over 10 meters, having a width of 3.85 meters. Its height is 2.32 meters. Both the variants weigh somewhere between 58 to 68 tones. The new version of Arjun MBT has upgraded missile-firing abilities. It can operate missiles at a range of 2000 meters. The main battle tank has an all-weather firing capability. The gunner's primary sight includes day, thermal, laser range finder, and a stabilized head. Meanwhile, a thermal imager gives the facility of night vision.
Numbers in Service:
The Indian Army had ordered 124 tanks in 2000. It received its first five tanks in 2004. The Indian Army had received a total of 45 tanks by 2009. In 2011, the Indian Army had received all 124 tanks it had initially ordered. The Indian Army is expected to place an order of another 118 MK1A variant battle tanks, which would cost India 888 million dollars.