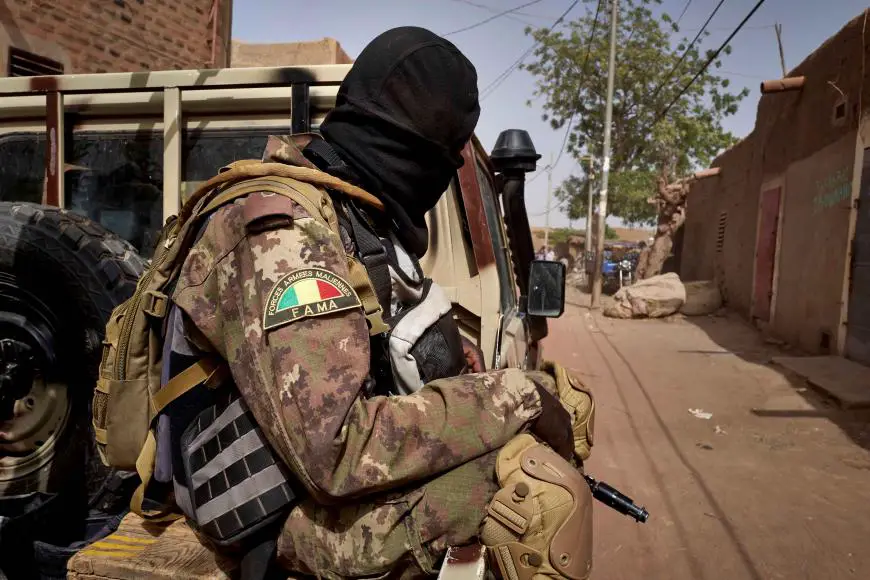 A member of the Mali Armed Forces seen patrolling the road in central Mali. Photo: Michele Cattani/AFP
Militants attacked Malian soldiers who were escorting trucks towards Niger on Thursday, causing concerns about a potentially high number of casualties, according to security sources and a local official speaking to AFP.
Rebels linked to Al-Qaeda and the Islamic State group have been conducting an insurgency in the Sahel state since 2012, frequently targeting security forces.
An official from the Malian military reported that Islamic State militants ambushed army units near the northeastern town of Menaka on Thursday. The source mentioned, "We are currently working to determine the exact casualties… Our troops fiercely defended themselves."
A police official verified the incident, stating that the soldiers were providing security for trucks heading to Niger. A local official informed AFP that the casualties were substantial.
Information regarding the nature of the trucks was not immediately available.
Niger, the neighboring country, is also grappling with a jihadist insurgency and is currently in a standoff with regional neighbors following a recent coup.
Mali and Burkina Faso, both governed by military juntas, have expressed support for Niger's new military leaders. They have indicated that an intervention by the regional bloc ECOWAS to reinstate the ousted President Mohamed Bazoum would be considered a declaration of war against them.
The jihadist violence that originated in Mali has extended into Niger and Burkina Faso since 2015, contributing to dissatisfaction with civilian governments, which eventually resulted in military takeovers in all three countries since 2020.
This ongoing turmoil has resulted in the deaths of thousands across the region and has displaced millions from their homes.
In recent months, rebels affiliated with the Islamic State have intensified their activities in the Menaka region. According to Human Rights Watch, their actions have led to "hundreds" of fatalities and compelled thousands to flee the area since the beginning of the year.