Pakistan / Turkey – MILGEM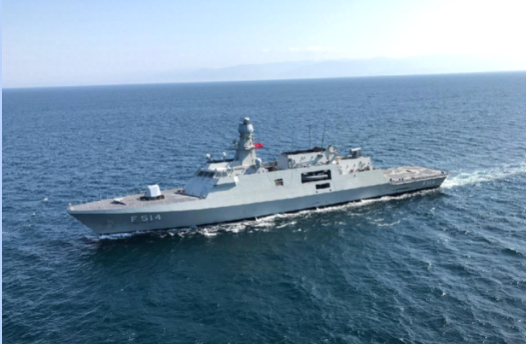 A deal for the building of four Milgem class vessels was inked in July 2018 between Turkey's Military Factory and Shipyard Management Corporation (ASFAT) and Pakistan's National Defense Ministry Ammunition Production and Karachi Shipyard. Nurettin Canikli, Turkey's defense minister at the time, hailed the contract as "the greatest military export of Turkey in one contract." The contract calls for the building of two corvettes in Turkey and two at Karachi Shipyard & Engineering Works (KS&EW) in Pakistan. The deal also provides a mechanism for Turkey to provide design rights and to manufacture know-how to Pakistan
The first corvette's keel was laid on June 4, 2020, at the Istanbul Naval Shipyard. On October 25, 2020, KS&EW had a keel-laying event for the second ship in the series. The Pakistan Navy is actively renewing its fleet with the purchase of many contemporary platforms, including corvettes from Turkey. Pakistan will also acquire new frigates from China and OPVs from the Netherlands. It is also updating its submarine fleet.
At a ceremony in Istanbul, Turkish President Recep Tayyip Erdogan and Pakistani Ambassador Muhammad Syrus Sajjad Qazi conducted the 'welding ceremony' of the third MILGEM Ada class corvette for the Pakistan Navy. President Erdogan went on to say that both Pakistan and Turkey were located in challenging geographies and faced comparable issues. He emphasized that Turkey will continue to provide defense assistance to friendly and ally nations. During his visit to Pakistan last year, President Erdogan said that the two nations inked a Strategic Economic Structure, which would offer the required institutional framework to strengthen bilateral cooperation further.
Commodore Ehsan Ahmed Khan, Chief Naval Overseer (Turkey), was the Chief Guest at the Keel Laying event at Istanbul Naval Shipyard. During his speech, the Chief Guest emphasized the importance of the event in strengthening the connection between the two strategically linked countries that share values, culture, and beliefs. He praised M/s ASFAT, INSY, and the Turkish Ministry of National Defense for meeting the demanding construction timeline despite the limits imposed by the worldwide pandemic. The fourth and final ship is scheduled to be delivered in 2025.
The MILGEM-Class Corvettes will be one of the Pakistan Navy Fleet's most technologically sophisticated stealth surface vehicles. The vessel is outfitted with cutting-edge armaments and sensors, including surface-to-surface missiles, surface-to-air missiles, anti-submarine weaponry, and a Command and Control system. Incorporating these ships into the Pakistan Navy will greatly increase the lethality of the Pakistan Navy's capabilities while also contributing to the maintenance of peace, security, and the power balance in the Indian Ocean region.
The actual configuration of the Pakistan Milgem-class ships has yet to be revealed. During the Aman Naval Exercise in February 2019, Admiral Abbasi said that Pakistani ships would be outfitted with a 16-cell VLS behind the main cannon for Chinese-made medium-range air defense missiles, most likely the LY-80/HHQ-16 version. The Pakistani ship's primary offensive weapons could be Chinese C-802 or local Harbah anti-ship missiles. All MILGEM ships are powered by one LM2500 gas turbine in a mixed diesel and gas turbine design with two diesel engines; the total propulsion power is 31,600 kilowatts. The Ada-class corvettes of Turkey are multifunctional corvettes capable of performing a variety of duties such as reconnaissance, surveillance, anti-submarine warfare, surface-to-surface, and surface-to-air combat.