3 More Rafale Jets Take Off From France For IAF Airbase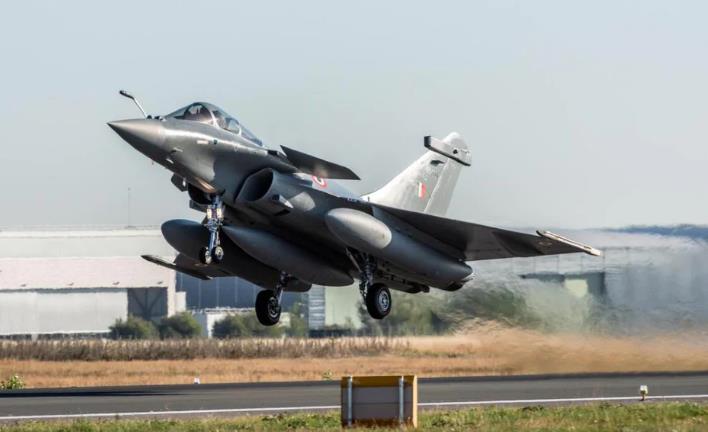 Three more Rafale Jets Take Off to arrive at the Indian Air Force airbase at Ambala from Merignac-Bordeaux airbase in France. The total number of Rafale fighter aircraft will be twenty, with another three to reach in new delivery. These are scheduled to land in Jamnagar airbase and then move to Ambala before being directed to Hasimara airbase in North Bengal.
The fighters were provided with an en-route facility by India's strategic ally UAE. It will use Airbus A330 Multi-Role Transport Tankers (MRTT) to refuel over Middle Eastern skies. Indian Air Force currently has twenty Rafale aircraft, eighteen of which are stationed in Ambala airbase, forming the first squadron and nicknamed "Golden Arrows." The addition of the other three aircraft would perhaps make the second squadron move to Hasimara airbase. The seven Rafale fighter jets, for a while, in France are being utilized for the training purpose of Indian pilots. The remaining five would be delivered by the end of 2021.
Rafale fighter aircraft are Omni-role fighters equipped with state-of-the-art weapons and missiles. Dassault Aviation is the defense major responsible for the construction and deliveries of Rafale around the world. Several countries have expressed their interest in Rafale fighters, including Egypt, Qatar, and India. The deal for Rafale was concluded at the event of Prime Minister Narendra Modi's visit to France in 2016.
Rafale fighter jets also made India's major acquisition of fighter planes twenty-three years after it received Sukhoi jets from Russia. Rafale's advanced technology and ability to carry a range of potent weapons make it one of the formidable aircraft. Indian Air Force is in line to obtain a new generation medium-range modular air-to-ground weapon system Hammer assimilated into Rafale jets.
The deliveries of Rafale are coming at the moment of India's standoff with China in the eastern sector. Hasimara airbase located in the mouth of the Siliguri corridor will form a bulwark against Chinese advancements. The continued escalation and de-escalation have unnerved the Indian armed forces as troops' engagement disrupts the status quo.