Teaming up with other nations will speed up the progress and help lower the risks for Turkey, according to insights shared with Breaking Defense by experts.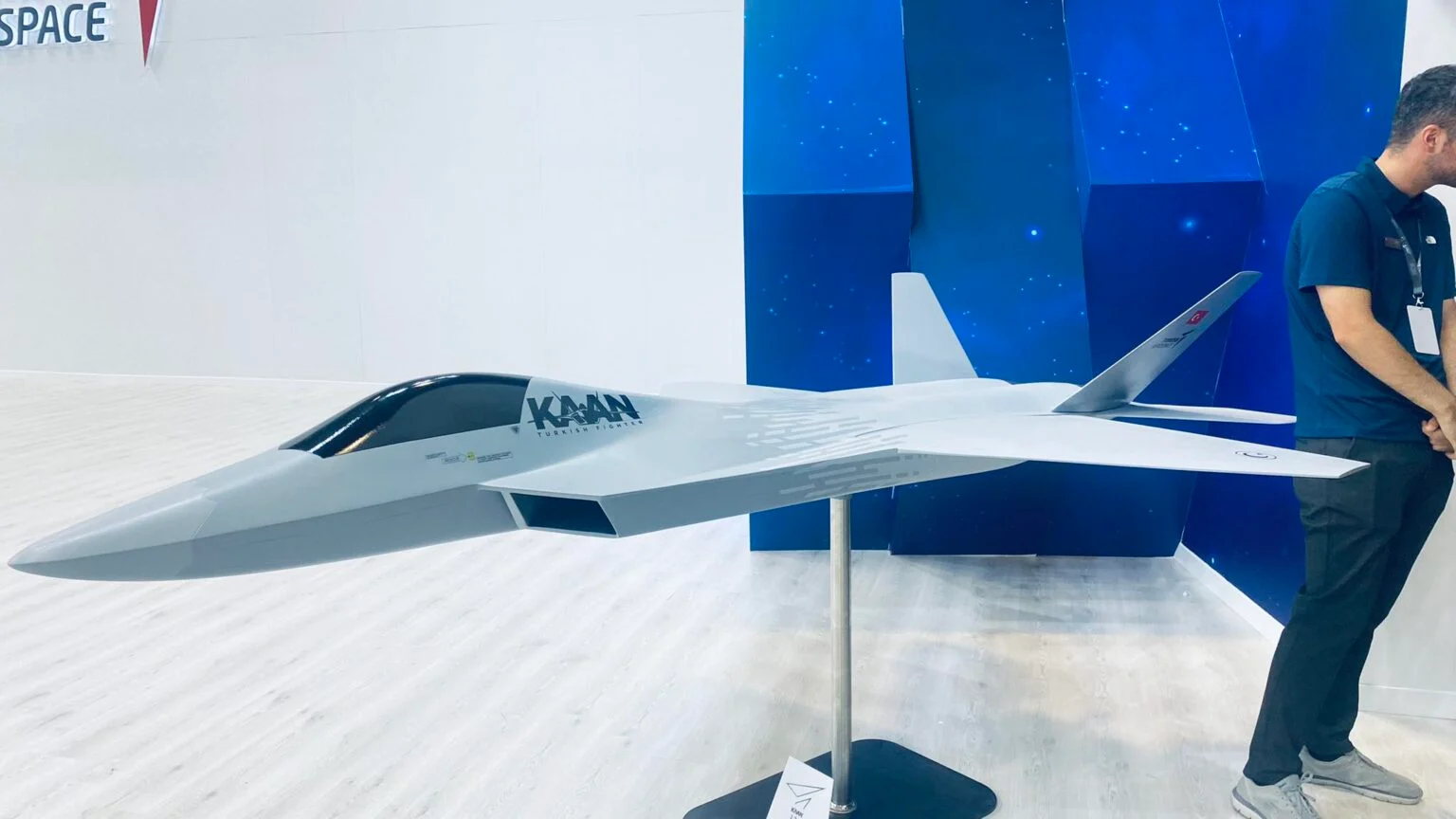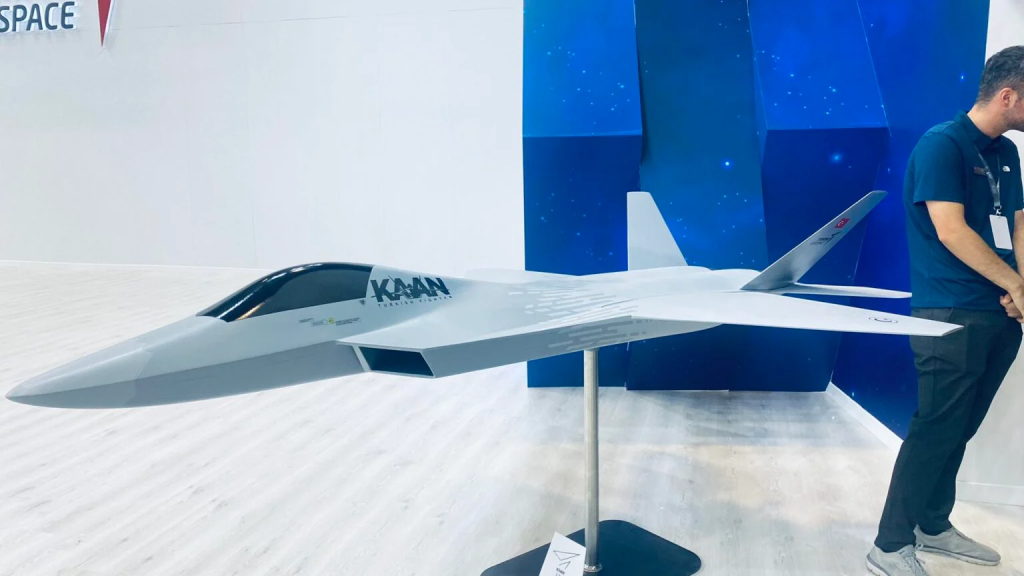 A model of Turkey's fifth generation fighter jet KAAN, at IDEF 2023 in Istanbul. (Agnes Helou / Breaking Defense)
BEIRUT — Just one week following Turkey's accord to integrate Azerbaijan into its fifth-generation fighter jet program, a senior Turkish official has hinted at the possibility of Pakistan also joining.
Deputy Defense Minister Celal Sami Tufekci revealed on Wednesday that discussions with Pakistani counterparts about formally enlisting Pakistan in the KAAN national fighter jet program would occur very soon this month.
The agreement with Azerbaijan materialized last week during the International Defense Industry Fair (IDEF 2023) held in Istanbul. Turkish President Recep Tayyip Erdogan referred to this move as a "new testament of solidarity between the two nations."
Though the Pakistani government hasn't publicly commented on this potential collaboration, experts speculate that teaming up with other countries could expedite the development of the ambitious KAAN project and mitigate risks for Turkey.
Creating a fifth-generation fighter aircraft is an intricate and resource-intensive endeavor. Partnering with other nations enables Turkey to pool resources, tap into technological expertise from participating countries, and share the financial responsibility, ultimately resulting in a more advanced and capable aircraft, according to Mohammed Soliman, Director of the Strategic Technologies and Cyber Security Program at the Middle East Institute.
Turkey has unveiled an ambitious timeline for the KAAN fighter, targeting its first flight in late December. However, experts suggest that it might take a decade or longer before the aircraft becomes operational.
"We have a substantial period of over 10 years ahead, and there are no guarantees that this journey will be smooth or punctual," stated Turkish aerospace and defense expert Cem Dogut.
Soliman also expressed skepticism about the challenging timeline, highlighting that integrating diverse technologies, ensuring safety, rigorous testing, and obtaining necessary certifications are time-consuming processes. Ambitious timelines like Turkey's often encounter delays due to unforeseen technical or logistical obstacles.
Assembly for the inaugural KAAN prototype began in April 2022, unveiled in January 2023 for defense figures and the media. The prototype conducted its initial engine run-up test with F110-GE-129E Turbofan Engines on February 21, 2023. In May 2023, the plane was christened KAAN, and Turkish President Erdogan personally engaged in a cockpit photo op.
Critical design review (CDR) for the KAAN hasn't concluded. There will be considerable differences between the prototype, set to make its maiden flight by year-end, and the Block 10 version slated for mass production, according to Dogut.
Dogut emphasized that the participation of the nations joining the project remains crucial during KAAN's developmental phase, as the design hasn't been finalized. He stressed that the program faces an extended journey, necessitating various forms of cooperation and support from Turkey.
The Azerbaijan's contribution could potentially involve financial investment and industrial collaboration, Dogut suggested. Solimane envisioned that Pakistan's involvement could bring its own resources, technology, and manufacturing capabilities.
Turkey maintains unique relationships with Azerbaijan and Pakistan, considering them as akin to brother nations rather than conventional allies. These partnerships are viewed as aligned perspectives, adding to the solidarity and collaboration. However, Pakistan's close ties with China could introduce information security risks, affecting the KAAN project and potentially limiting the use of components from cautious Western producers.
Although the development of the KAAN fighter, led mainly by Turkish Aerospace Industries, might alleviate the pressure to acquire foreign fighters, such as Turkey's prolonged pursuit of upgraded F-16 fighters from the US, it is unlikely to change these plans in the near future. The KAAN fighter isn't expected to be combat-ready until at least the mid-2030s and could be a costly investment, up to $14 billion.
Dogut indicated that augmenting the capability of the existing F-16 fleet through Viper modernization with the US or the national Ozgur modernization project and procuring additional aircraft will remain under consideration until the KAAN is fully operational. The existing F-16s will continue to serve for many years even after KAAN achieves its initial operational capability and full operational capability.
Deciding when to phase out other aircraft like the F-16 after the KAAN's operationalization will depend on multiple factors, including the diverse roles and capabilities of the F-16 compared to the fifth-generation KAAN. Operational needs, strategic considerations, and military interoperability with the US and NATO alliance will play a pivotal role in this decision-making process. Turkey might retain a mixed fleet of aircraft to fulfill various roles within its defense strategy post-KAAN, Soliman concluded.