Boeing to Promote F-15EX and F/A-18E/F to India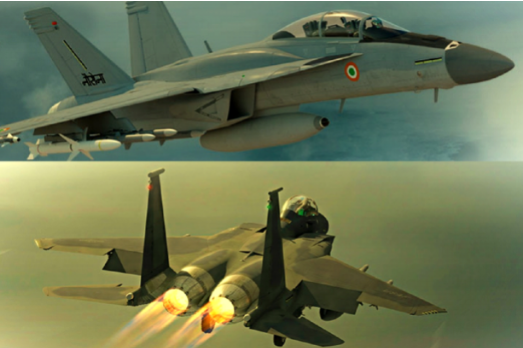 The Boeing Company said that Washington had given them a license to advertise its newest, heavily armed fighter, the F-15EX, in India. Including industry leaders Airbus, Boeing, Dassault, Saab, and Lockheed Martin, seven of the world's premier fighter manufacturers have stated their desire to compete for the Indian Air Force's (IAF's) ongoing procurement of 114 medium fighters, a contract estimated to be worth approximately $20-30 billion. When the Indian Air Force issued an RFI (request for information), several new fighter manufacturers, including Boeing with its F/A-18E/F Super Hornet, Lockheed Martin with its single-engine F-21, Saab with its single-engine Gripen E/F, Dassault with its twin-engine Rafale, Eurofighter GmbH with its twin-engine Typhoon, and Russia with two twin-engine fighters – the RAC MiG-35 and Sukhoi Su-35, floated into the market.
Removal of the Super Hornet from the competition would mean that Boeing will no longer compete with F-15EX. Boeing would never do this. It would be unfathomable for the company to develop two aircraft for a single competition, said Pratyush Kumar, who heads the F-15EX project in Saint Louis, USA. Kumar said Boeing was waiting to see the specifications that the IAF will set. Boeing will then make the choice of which fighter it will provide. As much as Boeing is considering giving the F-15EX to the IAF, it is more probable that they will choose to give the Super Hornet to the Indian Navy, who are independently seeking the procurement of 57 fighters for its aircraft carriers.
F-18 E/F Super Hornet:
The McDonnell Douglas F/A-18 Hornet is the base for the Boeing F/A-18E and F/A-18F Super Hornet, twin-engine, carrier-capable multirole fighters. The Block III F-18 E/F Super Hornet provides inexpensive stealth, and comprehensive capability enhancements such as increased network capacity, greater range, even greater stealth performance, an upgraded cockpit system, and additional sensors with the aircraft's life lengthened from 6,000 to 10,000 hours. On the naval front, the F/A-18 competes with the Rafale-M. At the same time, Boeing feels the Super Hornet's geopolitical/technological environment and size make it a candidate even though Rafale has a strong 'commonality' argument for the Indian Navy contract. To assist the F/A-18 pitch to India, Boeing formed three-way cooperation with Hindustan Aeronautics Ltd (HAL) and the Mahindra Group in February 2019.
F-15E Strike Eagle and F-15EX:
A twin-engine, all-weather combat fighter aircraft. It is one of the most successful contemporary fighters, with over 100 wins and no losses in aerial combat, with the Israeli Air Force accounting for the vast majority of kills. Israel, Japan, and Saudi Arabia have all purchased the Eagle. The F-15 was designed from the start to be a pure air superiority aircraft. It was built with a supplementary ground-attack capability that was mainly unutilized. The aircraft design proved adaptable enough that an all-weather strike derivative, the F-15E Strike Eagle, a later built modified and extended variant, entered service in 1989 and has since been sold to other countries. As of 2017, the aircraft is available in a variety of versions.
The F-15EX costs $80.3 million per fighter, including the cost of its dual engines, according to publicly accessible US budget estimates. However, India prefers that the aircraft be manufactured in India, which entails establishing and approving a new plant and training people. That would greatly increase the cost. When asked whether manufacturing the fighter in India would boost the price unacceptably, Kumar said, "We would sell the F-15EX on the terms and conditions that the Indian government wishes to acquire it." Boeing also announced the establishment of the Boeing India Repair Development and Sustainment (BIRDS) Hub. This practically equates to the Indian military's maintenance, repair, and overhaul (MRO) of Boeing systems. India is one of Boeing's major defense clients in the world. It presently possesses 11 C-17 Globemaster III transport planes, nine P-8I Poseidon maritime patrol planes with three more on line, 22 AH-64E Apache attack helicopters with six more on sequence, and 15 CH-47F Chinooks heavy-lift helicopters.
With New Delhi's permission, the BIRDS Hub may also offer assistance to Boeing platforms in service with other regional nations. This has the potential to increase India's defense export revenue dramatically. The IAF's acquisition of 114 fighters comes after the rejection of its 2007 tender for 126 Medium Multi-Role Combat Aircraft (MMRCA) in 2015 and the acquisition of 36 Rafale jets as a stop-gap measure in 2016. Due to a lack of resources, the IAF has initiated a purchase of 114 medium fighters in an exercise that closely resembles the MMRCA deal.