British Army Boxers: Series Production of First Prototypes Already Started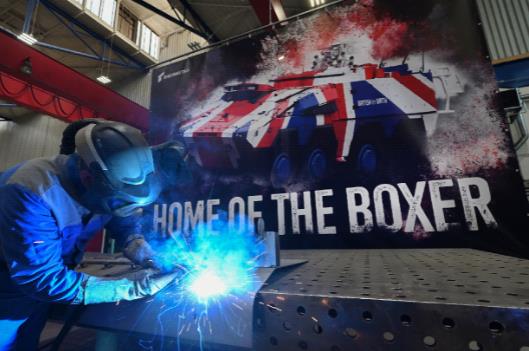 On April 3, 2018, the UK Government announced that the British Army had selected the Boxer to fulfill its warrior capability gap and the Mechanized Infantry Vehicle (MIV) requirement. The production of British Army Boxers, under the UK Boxer program, has been commenced at Rheinmetall's facilities according to the program's timetable, as announced by Rheinmetall.
The Boxer is a multipurpose 8×8 armored fighting vehicle with the capability to install various interchangeable mission modules, which fulfill the operational requirements of various configurations. Germany-based ARTEC GmbH produces this vehicle, and its parent companies include Rheinmetall Military Vehicles GmbH in Germany.
The British Army plans to induct the first Boxer vehicle in service by 2023. The UK MoD signed a deal worth $ 2.97 billion (£ 2.3 billion) with ARTEC in November 2019 to deliver more than 520 Boxer vehicles in multiple configurations. The development of 4 variants for British Army Boxers began in that same year. For series production and prototypes' fabrication, welding work started on June 7, 2021.
The Boxer series production would be delivered from early 2023. 8% of British Army Boxers would be developed in Rheinmetall Military Vehicles GmbH in Germany. The rest would be manufactured in and delivered from UK-based Rheinmetall BAE Systems Land (RBSL) at Telford and KMW subsidiary WFEL at Stockport, as stated by MD of ARTEC in January 2020.