China Allegedly Sent 16 Transport Aircraft Over Disputed South China Sea Shoals Near Malaysia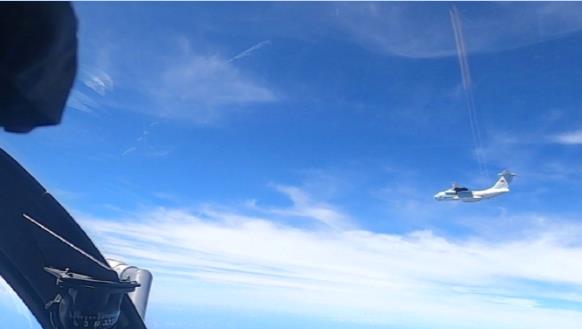 On May 31, 2021, 16 of the People's Liberation Army Air Force (PLAAF) aircraft, Xi'an Y-20 and Ilyushin IL-76, approached the Malaysian coast over disputed shoals in the South China Sea and entered up to 60 nm (69 miles) of Borneo into Malaysia's EEZ (Exclusive Economic Zones), flying at up to 27,000 ft (8.2km), as stated by the Royal Malaysian Air Force, or RMAF. Xi'an Y-20 and Ilyushin IL-76 are transport aircraft over disputed south China sea shoals and were located by Malaysian air defense radar on May 31 morning.
The PLAAF aircraft flew in a tactical formation near disputed Luconia (Peting Patinggi Ali) & James Shoals near Malaysian land (where the crafts turned around). These shoals are claimed and administered by Malaysia, as they fall into Malaysian EEZ. China also claims these shoals as they are located within its nine-dash line, a demarcation line to show the Chinese claimed parts of the South China Sea and China's core interest in the Sea.
After the PLAAF aircrafts failed to contact Malaysian air traffic controllers, the RMAF immediately sent its light combat aircraft, BAE Systems-made Hawk 208s, from the Labuan airbase to investigate and intercept the aircraft intruding the Malaysian airspace. According to sources, these transport jets of the PLAAF came from the airbase of China and not from the bases of these claimed parts.
The RMAF strongly commented that this incident is a serious matter for Malaysian territorial safety. RMAF further stated that PLAAF aircraft has violated Malaysian sovereignty and put national security and aviation safety under threat from Chinese intentions and actions. Malaysian Foreign Minister Hishammuddin Hussein clearly stated that Malaysia would not compromise its national sovereignty over diplomatic relations, and the government will issue a diplomatic note of protest.
While China denied the breach of Malaysian airspace, the Chinese embassy in Malaysia commented that China has not violated Malaysian sovereignty and was only conducting transport overflights well within the principles of International Law. Another controversy about the incident is the number of PLAAf aircraft that flew over and near disputed parts. While RMAF states there were 16 air lifters, the Chinese defense source reported that there were only two aircraft aimed at delivering supplies under rescue operations exercise and conducting training missions.