Pakistan / China – JF-17 Thunder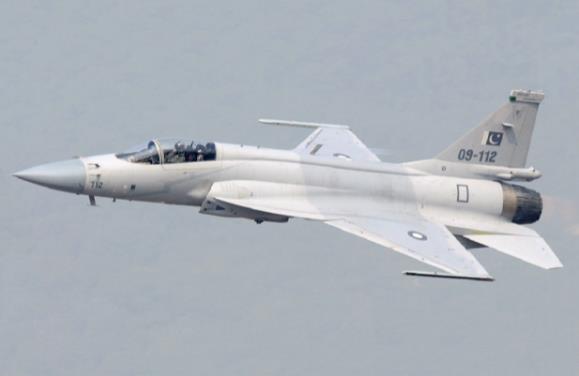 The single-engine, lightweight, multi-role, fourth-generation Joint Fighter or JF-17 Thunder / Fighter China or FC-1 Xiaolong is a joint venture project between the Pakistan Aeronautical Complex (PAC) Kamra and Chengdu Aircraft Industry Corporation of China (CAC), which was first introduced as a prototype (FC1) in May 2003 and made its maiden flight in August of 2003. It was presented to Islamabad as a gift on March 23rd, 2007, on Pakistan day to replace the Nanchang A-5, Chengdu F-7P / PG, and Dassault Mirage III / V fighter aircraft. The JF-17 thunder aircraft was first showcased to an international audience in 2010 at the Farnborough Air Show United Kingdom along with two JF-17 aircraft of the Black Spiders Squadron. The fighter jet has been sold to Nigeria under a 184 Million dollars deal. A JF 17 bearing tail number JAF722 was showcased at Nigeria's Makurdi Air Base at a ceremony held on May 20th, 2021, to mark the 57th anniversary of the Nigerian Air Force (NAF).
The Nigerian President Muhammadu Buhari was also in attendance at the ceremony. Three aircraft were also sold to the Nigerian Air Force, the first African customer of the Pakistan Air Force (PAF), under a 180 million dollar contract sale approved by Pakistan. The Myanmar Air Force (MAF) placed an order for 16 JF-17 fighter aircraft in December 2015, with the aircraft being inducted in December 2018. China's Chengdu Aircraft Design Institute designed the FC-1. The airframe is a semi-monocoque structure and is composed mainly of aluminum alloys, steel, and titanium. The fighter jet comprises lateral air intakes and electronic equipment pod diffuser supersonic inlets.
Production:
Pakistan Aeronautical Complex (PAC) holds the exclusive rights of 58 percent of the jet's airframe co-production work. A comprehensive infrastructure comprising state-of-the-art machines and required skilled human resources have been developed at the Complex very quickly. The final assembly and flight testing of the aircraft was the first JF-17 co-production activity at the PAC. The first fighter jet produced by the center was handed over to Pakistan Air Force in November 2009. Since then, regular production is underway to meet the required schedule. Co-manufacturing of sub-assemblies and structural components has also commenced and is progressing toward sustained production status. Besides upgrading the production system, its quality has also been boosted by PAC.
Moreover, improvements have also been made to the technology and archive management systems to meet the production and management standards of a 3rd generation fighter aircraft. With 14 JF-17 aircraft, the No. 26 Squadron Black Spiders is the first JF-17 squadron operationalized in 2010. The production cost is expected to be around 15 to 20 million dollars per aircraft. With a contract worth 800 million dollars, Pakistan Air Force will acquire 42 JF-17's and has further plans to add another 250 aircraft with a total cost of 3 to 5 billion dollars.
Specifications and Design:
The fighter jet has a top speed of 700 knots or 1,296 kilometers per hour. Its range and service ceilings are 2,037km and 15,240m, respectively, whereas its operational radius is 1,352km. The jet weighs around 6,411kg, and its maximum take-off weight is 12,474kg. Meanwhile, it also has a payload capacity of 3,700kg. The aircraft is equipped with a glass cockpit and a specially designed canopy. Three multifunction displays (MFD) have been featured in the cockpit, head-up display (HUD), 32-bit weapon and mission management computer (WMMC), and hands-on throttle and stick. The jet is also equipped with a defensive aids system (DAS), which includes a radar warning system (RWS), missile approach and warning system (MAWS), a countermeasure dispensing system, and a self-protection radar jamming pod. RWS estimates the direction and proximity of the enemy radar and transmits it to the pilot. The MAWS is made up of many optical sensors that identify and show rocket missiles approaching the aircraft on the MFDs.
The decoy flares and chaff incorporated in the countermeasure dispensing system prevent the enemy's missile from tracking the jet by locking its radar system. Its fuel system, featuring internal fuel tanks carrying 2,330kg of fuel, is fitted to the FC-1. These tanks can be refueled through a single-point-of-pressure refueling system. The system is also similar to Inflight Refueling (IFR). The jets to be produced for the PAF will be fitted with IFR probes. JF-17 / FC-1 is armed with the GSh-23 dual-barrel 23mm cannon or GSh-30 dual-30mm cannon. It has seven hardpoints, with four located under the wings, one under the fuselage, and two mounted on the wingtips. It can carry up to 3,700kg payload. The aircraft is fitted with PL-12 or SD-10 radar homing medium-range air-to-air missile (MRAAM), unguided bombs, satellite-guided bombs, gravity bombs, anti-ship missiles, anti-radiation missiles, rocket launchers, and a laser designator pod. JF-17 / FC-1 is also equipped with AIM-9L / M, PL-5E, PL-9C short-range air-to-air missiles on its wingtip hardpoints.