South Korea to Deploy Robots, AI Surveillance on Border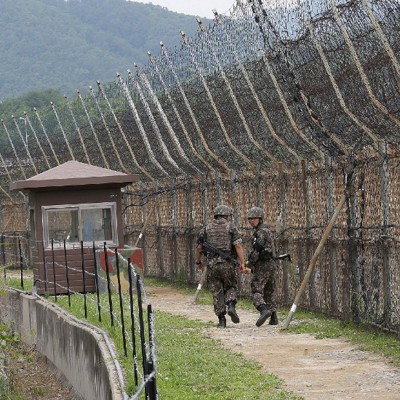 South Korea is mulling the deployment of moving robots on guard duties and developing an artificial intelligence AI Surveillance in border areas with North Korea to boost border security, the state arms procurement agency announced. Under this "rapid acquisition" project worth $2.5 million, the Defense Acquisition Program Administration (DAPA) has decided to induct the 2 systems this year with state-of-the-art technologies, a news agency stated. The moving robot is equipped with a high-resolution pan-tilt camera and an advanced sensor, according to DAPA. The robot will be inducted into service officially after a six-month test run starting December, according to DAPA.
The AI-based system calculates sounds and movement patterns of objects by using CCTV footage. It alerts a control room when it detects any infiltrator. The AI system uses deep-learning technologies, which makes it open to improvements in its detection capabilities. It will be used for surveillance on both land and maritime borders. "These systems will hopefully help in conducting close, 24-hour a day surveillance missions to lessen possible loopholes and help in managing our troops more efficiently," the South Korean agency said. The system will be maintained around ground and sea borders by October.
The Korean Demilitarized Zone is a strip of territory that stretches across the Korean Peninsula at the 38th parallel north. The demilitarized zone (DMZ) is a border obstacle that separates the Korean Peninsula in half. It was created to help as a buffer zone between the countries of North and South Korea under the provisions of the Korean Armistice Agreement in 1953, an agreement between North Korea, China, and the United Nations Command. The DMZ is overall 250 kilometers (160 miles) long and about 4 kilometers (2.5 miles) wide.