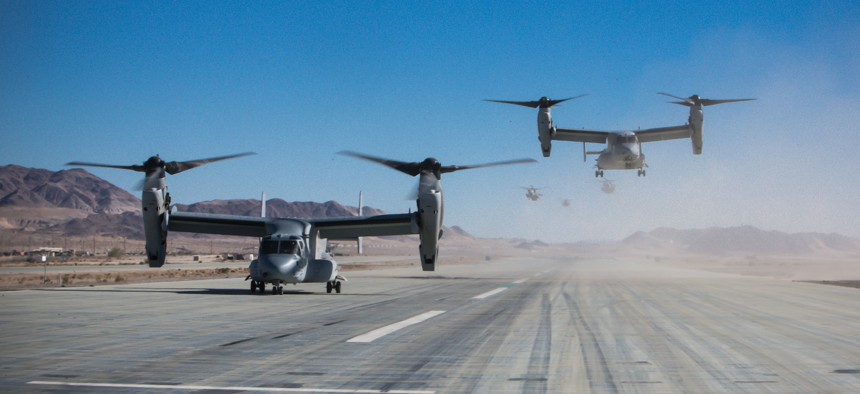 In this 2017 photo, MV-22B Ospreys with Marine Medium Tiltrotor Squadron 364 return from a flight mission in support of an exercise. U.S. MARINE CORPS / LANCE CPL. NADIA J. STARK.
Marines' Grim Discovery: Fatal Osprey Crash Caused by Long-Known Gearbox Issue
The unfortunate MV-22B Osprey crash that claimed the lives of five Marines in California last June was the result of a persistent gearbox problem that the Marine Corps had been aware of for years. This "dual hard clutch engagement" caused the engine and interconnect drive system to fail, leading to a devastating loss of thrust on the right proprotor, as explained in a 436-page redacted command investigation released on Friday.
The investigation confirmed that the pilots, crew, and maintenance of the aircraft were not at fault in the tragic incident. Instead, it was deemed a catastrophic, unpreventable, and unforeseen mechanical failure during routine flight operations.
The Marine Corps had known about the hard clutch engagement issue with the V-22 aircraft since 2010 and had made changes to its protocols to address it when it occurred. Although the Air Force Special Operations Command temporarily grounded its fleet of tiltrotor aircraft in 2022 due to an increased number of safety incidents involving hard clutch engagements, the Marine Corps did not ground its Ospreys.
To rectify the problem, the Marine Corps has been collaborating with Bell Boeing, the manufacturer, on a redesign of the proprotor gearbox input quill assembly (including the clutch) to eliminate the issue.
The June 8 crash was particularly significant as it was the first known mishap where both an engine and the interconnect drive system failed in a V-22. Moreover, it marked the first time Marines lost their lives as a result of a hard clutch engagement or related emergency. Prior to this incident, there had only been two other occurrences of dual hard clutch engagement in the V-22 program's history.
Most hard clutch engagement incidents happen within seconds of takeoff, prompting Marine Corps pilots to perform a "hover check" to ensure everything is functioning correctly before proceeding with the flight.
In response to the investigation's findings, the Joint Program Office (JPO) imposed a flight hour limit for the aircraft's input quill assembly, significantly reducing the occurrence of hard clutch engagements. However, the Osprey involved in the fatal crash had input quill assemblies that had flown more than twice the number of hours allowed by the JPO.
The JPO's efforts have successfully reduced hard clutch engagements by over 99%, and they are now focusing on implementing the investigators' recommendations. These include introducing a new input quill assembly, enhancing the aircraft's drivetrain and flight control system software, and reinforcing drivetrain component material strength. Additionally, the investigators suggest adding a crash survivable, high-temperature, fire-resistant flight data recorder to all MV-22Bs to improve safety.
The Marine Corps has already taken action on all three recommendations, reflecting its commitment to preventing similar tragedies in the future.