The Navy's highly anticipated Large Scale Exercise, now in its second year, is set to unfold with a myriad of global crises erupting simultaneously.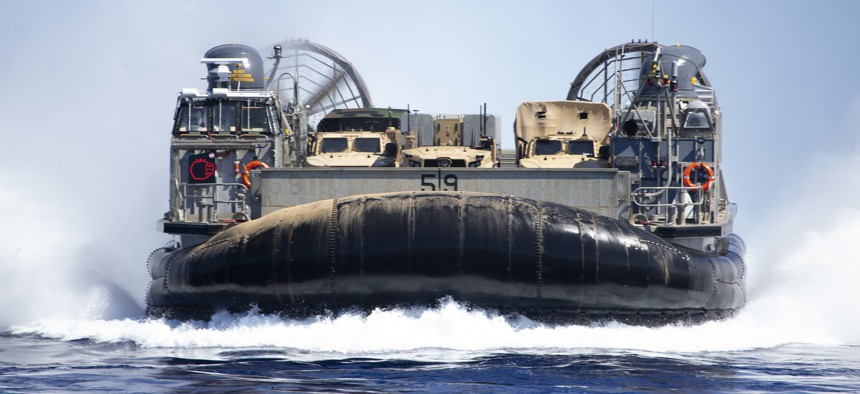 A Navy Marine Expeditionary Ship Interdiction System launcher, a command and control vehicle and a Joint Light Tactical Vehicle are transported by a U.S. Navy Landing Craft Air Cushion from Pacific Missile Range Facility Barking Sands, Hawaii, out to USS San Diego for Large Scale Exercise 2021 on Aug. 16, 2021. U.S. MARINE CORPS / CPL. LUKE COHEN
Navy's Grand Global Drill Welcomes Veteran Admirals and Aims to Perfect Fleet-to-COCOM Communications
This year's Large Scale Exercise by the U.S. Navy is taking on a new level of complexity with the inclusion of retired admirals. Their expertise will be crucial in simulating the dynamics of fleet-to-combatant commander communications, which are vital when facing a formidable peer competitor.
Large Scale Exercise 23, set to run from August 9 to 18, will span the globe, involving over 25,000 sailors and Marines across 22 time zones and six geographical combatant commands. The exercise, based at the Navy Warfare Development Center in Naval Station Norfolk, Virginia, is a massive endeavor requiring more than a thousand people to manage it effectively.
Among those involved will be more than a dozen active and retired senior officers, acting as advisors to the scenario runners, playing the roles of defense leaders and command staff. These experienced veterans will help recreate the high-pressure decision-making process faced by senior leaders during critical moments. Admirals such as James Foggo, the former commander of U.S. Naval Forces Europe/Africa, and Scott Swift, former U.S. Pacific Fleet commander, will be among those contributing their insights.
The main focus of this year's Large Scale Exercise will be on refining relatively new naval operating concepts, including distributed maritime operations (DMO), littoral operations in a contested environment (LOCE), and expeditionary advanced base operations (EABO). Marines from Cherry Point, North Carolina, will handle the Ground/Air Task Oriented Radar and play a tactical role in these concepts.
One of the critical challenges in DMO is effectively distributing and maneuvering forces while ensuring seamless integration among them. This exercise will put participants through rigorous training to tackle these challenges head-on.
The exercise will utilize the Navy's live-virtual-constructive training environment, allowing participants from around the world to join virtually and contribute from their respective locations. It will involve nine maritime operations centers, six carrier strike groups, three amphibious readiness groups, 25 live ships and submarines, and more than 50 virtual ships.
While specific details about the exercise scenario were not disclosed, it was hinted that it would involve a highly dynamic and escalating event leading to conflict. The exercise will test participants' ability to respond to various crises simultaneously, making resource allocation a crucial aspect.
Lessons from real-world conflicts, such as the situation in Ukraine, will inform the exercise. The exercise will incorporate intelligence community insights, efficient maritime operations center coordination, and close collaboration with component commanders and combat commanders to optimize force posturing for deterrence or offensive missions.
Project Overmatch, the Navy's initiative to test advanced communications technologies on ships, will also be put to the test during LSE23. The inclusion of retired admirals and the virtual nature of the exercise allows for extensive testing of Overmatch capabilities, which might not be possible during regular deployments.
Overall, the Large Scale Exercise 23 presents a unique opportunity for the Navy to refine its strategies, strengthen communication networks, and ensure readiness to face future challenges effectively.