Turkey to Deliver T129 Attack Helos to Philippines Regardless of a Prior Order by Pakistan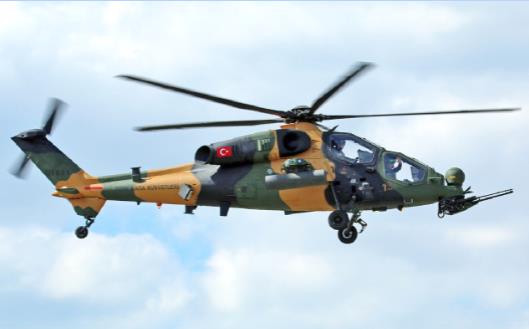 The Philippines has ordered a batch of six T129 ATAK helicopter gunships from TAI. On May 25, 2021, the Philippines Department of National Defense (DND) declared that Turkish Aerospace Industries (TAI) would deliver two T129 Attack Helos to Philippines Air Force (PAF) by September 2021. The other four helicopters are scheduled to be delivered over the next two years; two in February 2022 and two in 2023. The total cost is said to be $269 million.
The ATAK Helos would be entered into service with the Philippines Air Force under its 15th Strike Wing as the first attack helicopter ever operated by it. The Philippines Air Force would fly T129 alongside its MD530G light attack and Leonardo A109 armed transport helicopters. However, before the arrival of T129s in the Philippines, the relative crew and pilots would be trained at TAI headquarters in Ankara, Turkey, as announced by TAI. The T129 ATAK is a multi-mission, two-engine, all-weather attack helicopter developed by the Turkish Aerospace Industries (TAI). TAI needs to receive US export licenses before delivering and selling these helicopters to interested potential customers.
US license is needed because T129 ATAK uses two LHTEC T800-4A turboshaft engines manufactured by the Light Helicopter Turbine Engine Company (LHTEC); LHTEC is a joint partnership between the American Honeywell and the British Rolls-Royce. It is not just the engine that needs export licenses but also other components that require US export licenses, as told by the Turkish aerospace official to Defense News. TAI received US export licenses to deliver T129 Helos to the Philippines in April 2021, as said by the company's president. But at the same time, it failed to win the license to deliver the same T129 attack Helos to Pakistan, despite continued requests by Turkey.
There are 30 T129s helicopters on order by Pakistan Army Aviation Corps over the cost of $1.5 billion since 2018. Pakistan Air Force ordered these Helos as a replacement to its 1980s AH−1F Cobra gunships fleet. The T129 acquisition program of Pakistan is imbued with continuous delays. However, despite that, Pakistan agreed to give a six-month extension to TAI in Turkey in March, as told by Turkey's officials. US is reluctant in giving the export license for T129 delivery to Pakistan because of the fear that it might enhance Pakistan's ground-attack capability against its rival and US strategic partner India shifting the already unstable power dynamics between two arch-rivals. In addition to this, US objections to Turkey's purchase of the Russian S-400 Triumf air defense system might also have played a part in US refusal.
Though the US has no such fear or concern with the Philippines' acquisition as it has with Pakistan's acquisition, the US administration has overlooked the human rights violation and systematic killings in the Philippines and continues backing arms and military support to the Philippines and its armed force modernization. The Philippines has also used its armed helos in many insurgencies against separatists and Islamist militants. Furthermore, it is reported that the US and the Philippines might facilitate a deal to keep US troops in the Southeast Asian state, the Philippines.