USAF Pursuing Counterterrorism Airstrike Capabilities After Drawdown in Afghanistan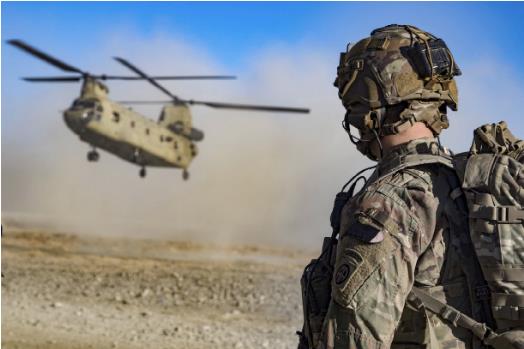 While the US wants to keep its presence across the Middle East, even after the troops' withdrawal, the United States Air Force (USAF) requested $10 billion from Congress, in the defense budget of 2022, for forging its' over the horizon' counterterrorism strike capabilities in Afghanistan, as mentioned by John P. Roth, Acting Air Force Secretary on June 8, 2021. Moreover, USAF is also seeking $154.52 million for funding primary combat forces for Operation Freedom's Sentinel (OFS) in Afghanistan. Under NATO-led Operation Resolute Support, Operation Freedom's Sentinel includes Counterterrorism Airstrike Capabilities and working with strategic partners against Afghanistan.
The defense funding for routine day-to-day operations is curtailed in the 2022 defense budget; however, the defense department is budgeted $10 billion for the plan and enduring presence across the Middle East around Afghanistan. With the imminent deadline, of September 11, 2021, for the US and NATO troops' drawdown from Afghanistan, the US has started to find alternative ways to conduct counterterrorism operations against the Taliban, Al-Qaeda, ISIS, and others. The US supports Afghan security forces, but it doesn't seem easy after the drawdown. So the US must need a way to give support, training, and advice to security forces.
According to Roth, USAF has several bases in the Middle East around Afghanistan in Qatar (Al-Udeid Air Base), Kuwait (Ali Al-Salem Air Base and Ahmad Al-Jaber Air Base), and United Arab Emirates (Al-Dhafra Air Base). Moreover, the US also deployed long-range bombers (B-52s) and planned to deploy additional troops in the Middle East. These bases are the fundamental part of the 'over the horizon' counterterrorism strike capability plan. For example, the bombers required for long-range strike operations in Afghanistan are present in Al-Udeid Air Base in Qatar. The preparation of 'over the horizon' strike capability is a plan to counter-terrorism, get enough strategic alerts, and save the US and its citizens from any imminent security threat emerging Afghanistan or Taliban, as Kathleen Hicks, Deputy Defense Secretary, mentioned.
In addition to preparing for the airstrike capabilities, the US ensures that it would keep supporting Afghanistan's national security forces and institutions in terms of training and advice. The Pentagon is also seeking authorization for conducting airstrikes if violence is resurgent by the Taliban and forging a capacity framework to support Afghan national security forces, as said by Kathleen Hicks. While, on the one hand, the Pentagon, along with USAF, is working out the counterterrorism strike capability plan. On the other hand, it is speeding up troops' withdrawal in a safe and coordinated way from Afghanistan. But the questions about when the US should conduct airstrikes seeing the crisis in Afghanistan and the threshold for violence in Afghanistan that could make the US do counterterrorism operations remain under debate in the US administration.