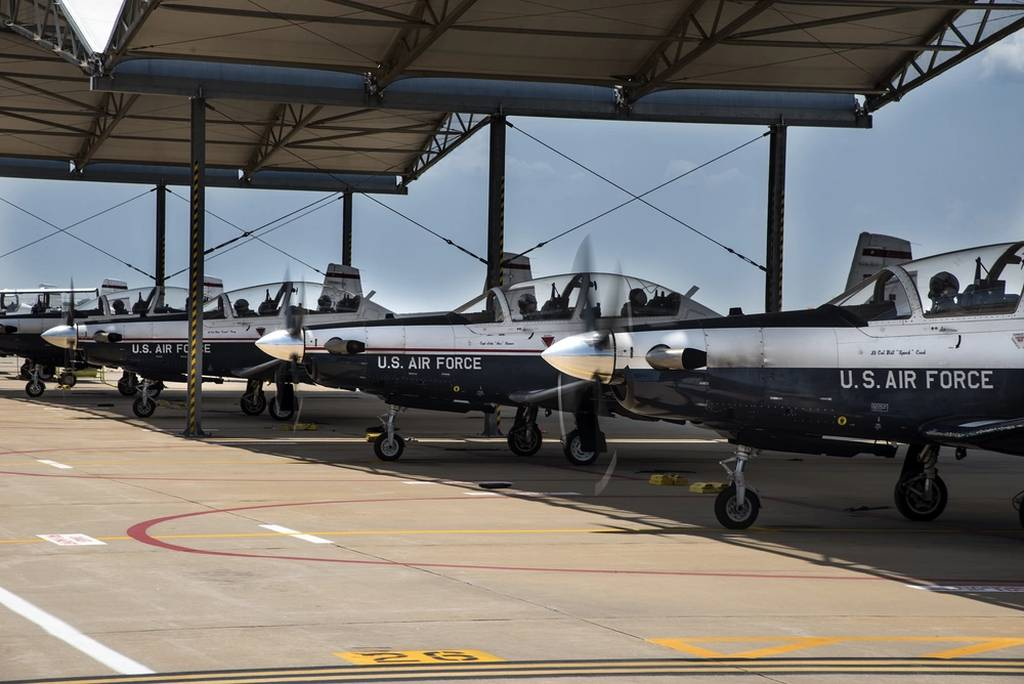 Vance pilots prepare a T-6 Texan II for a training flight, June 13, 2018, at Vance Air Force Base, Oklahoma. (Senior Airman Corey Pettis/Air Force
Vance Air Force Base in Oklahoma is conducting inspections on all of its T-6 Texan II training aircraft following a severe thunderstorm on July 21. The storm caused significant damage and has resulted in a delay of at least two weeks in undergraduate pilot training. The Air Force aims to graduate around 1,500 new aviators this fiscal year to address the ongoing pilot shortage.
The T-6s were hit by winds exceeding 70 mph, which blew off their protective covers and raised concerns about potential engine debris and other structural issues. Approximately 12 T-6s require extensive repairs before they can resume flight, leading the base to inspect the entire fleet of 99 Texan IIs as a safety precaution.
The 71st Flying Training Wing resumed flight operations within two days of the storm, while inspections are ongoing by Air Force mechanics and contractors. The base hopes to return to normal operations by August 4.
While T-6s were the only aircraft affected at Vance (which also operates T-1 Jayhawk and T-38 Talon trainers), the long-term impacts on the pilot training process are uncertain. The training pipeline involves students moving on to their next aircraft before new airmen can begin their training. With more than 260 undergraduate students currently assigned to Vance, discussions are underway on how to make up for the lost time and maintain production numbers.
This incident is not the first time that nature has disrupted pilot training. In previous years, hailstorms and hurricanes caused significant damage and delays at various Air Force training bases. Additionally, the Air Force is facing delays in other areas of the training pipeline, including T-38 engine repairs and staffing issues.