Leonard-US Navy Strategic Partnership, The Delivery of First TH-73A Training Helicopter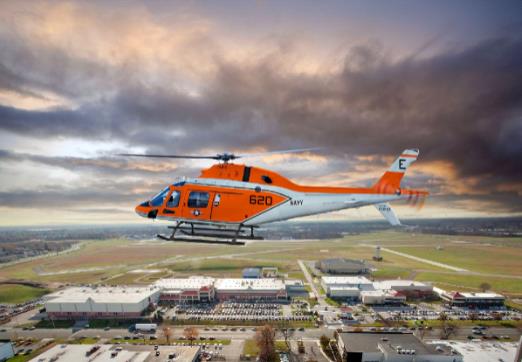 Leonardo, an Italy-based aerospace, defense, and security company, has delivered the first TH-73A training helicopter to the US Navy on June 10, 2021, for the high-quality training of the US future aviators. The delivery of the first aircraft was made by the Philadelphia branch of Leonardo in a ceremony which was attended by several high ranked US Navy officials, Leonardo Helicopters Managing Director Gian Piero Cutillo, the US Chief Executive Officer of Leonardo Helicopters William Hunt, and some members from the local, national and federal elected institutions. The TH-73A helicopter, the aircraft portion of the Advanced Helicopter Training System (AHTS), is a version of Leonardo TH-119 based on the IFR (Instrument Flight Rules) variant of the famous utility helicopter the AgustaWestland AW119 Koala.
The Instrument Flight Rules (IFR) requirements allow pilots and trainees to operate the helicopter in harsh weather and low visibility conditions in a safe mode. The order placed by the US Navy is for 130 helicopters to be completely delivered by 2024, with a total contract cost of $648.1 million. Initially, the US Navy signed a contract of 32 helicopters with the Leonardo, along with the pilot training service, its spare parts, support mechanisms, maintenance services, and other related pieces of equipment, through its Contractor AgustaWestland Philadelphia Corporation. Including further additions, in November 2020, the US Department of Defense announced the procurement of 36 more TH-73A helicopters to be manufactured and delivered at the Philadelphia campus of Leonardo.
The TH-73A is a flexible aircraft with an adjustable observer seat for efficient training and learning. Moreover, it fulfills initial and advanced training flight requirements efficiently. This aircraft would replace the fleet of TH-57B/C Sea Rangers. Moreover, it would be the first training aircraft that would allow the Navy, Marines, and Coast Guard pilots to be trained at one place along with NATO partner states. To provide the pilot training, repair support, and maintenance services, Leonardo has declared the construction of a new helicopter support center.
It has a robust PT-6 engine, modern and advanced digital avionics, dual safety systems, and hydraulic systems. These specifications improve the flight experience, enabling the pilots to carry out all the required maneuvering tasks. The first delivery by Leonardo was a significant milestone for it as it will be a key strategic asset for the US in many domains and an important patron of the US defense system in coming years, as said by Alessandro Profumo, the CEO of Leonardo.