The Largest Chinese Incursion of 28 Aircraft in Taiwan Airspace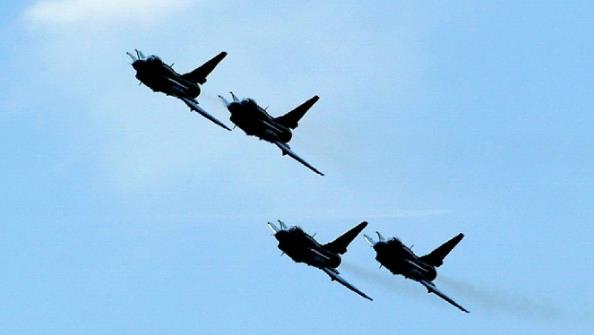 On June 15, 2021, 28 warplanes of China's People's Liberation Army, Incursion of 28 Aircraft in Taiwan Airspace, flew into the international airspace peripheral to Taiwan in the southwest. According to the Taiwanese Ministry of National Defense, it is still the largest number of aircraft that China sent into the Taiwanese Air Defense Identification Zone (ADIZ) in one day since the government started publishing reports of recurrent overflights. Before this, on April 12, 2021, China sent 25 military aircraft into Taiwan's airspace.
The 28 military aircrafts sent by China comprised fighter jets, electronic warfare, anti-submarine, and airborne intelligence-gathering early warning aircraft, as reported by the Taiwanese Ministry of National Defense. In addition, they included fourteen Shenyang J-16 multirole strike aircraft, six J-11 interceptors, four Xian H-6 bombers, and Y-8 ASW, Y-8 EW, and two KJ-500 AEW&C. The warplanes flew in six different groups. Some of these groups flew towards southern Taiwan, through Bashi Channel, into the Western Pacific. Some flew towards the northeast and turned back to the mainland.
In response to this incursion, Taiwan drove its fighter jets and deployed air defense missile systems to monitor the activities. Furthermore, it broadcasted radio warnings. According to Taiwan, China aims to pressure the Taiwanese autonomous democratic government and outwear Taiwanese Air Force with its consistent overflights. For example, on April 12, 2021, China flew 25 military aircraft into Taiwanese airspace. In 2020, from January to October, Taiwan Air Force was pushed to drive 2972 aircraft against PLAAF incursions into Taiwanese airspace, as told by former Taiwanese Defense Minister Yen Teh-fa.
This incursion followed the G7 statement against China. Also, on the same day, there were some US aircraft carriers, including aircraft carrier Ronald Reagan which entered the South China Sea through the Bashi Channel in the south of Taiwan. Still, they got no confrontation with PLAAF warplanes, as reported by Reuters. Ma Xiaoguang, the spokesman of China's Taiwan Affairs Office in China, said that China's incursion of 28 aircraft was targeted towards the collaboration between Taiwan and foreign forces involved in 'acts of collusion' brewing conspiracy to secure the island's independence from China. In contrast, China considers Taiwan its province and wants to consolidate Taiwan with its mainland.
Moreover, according to analysts, the Chinese overflights served many purposes, including demonstration of PLA strength, intelligence, and training. It also aimed at showing its disregard towards military cooperation between Taiwan and global actors, especially the United States, and regarded it as a security threat to China. Furthermore, the intelligence-gathering early warning aircraft shows that China wants to measure Taiwan's response for future combat missions and operations. Through these incursions, China wanted to show its disapproval of Taiwanese independence and its activities with foreign states.
And in recent times, foreign actors, including the US and other G7, have shown considerations towards Taiwanese struggle and the importance of peace and stability in the region. Therefore, global actors have also shown criticism towards Chinese behavior with Taiwan. Taiwan has also appreciated the foreign actors' concern. It has assured the collective working with them for an open Indo-Pacific and regional security, pushing China to enhance its future incursions and sophistication. It was reported that on June 17, 2021, 7 PLA warplanes again entered into Taiwanese ADIZ.