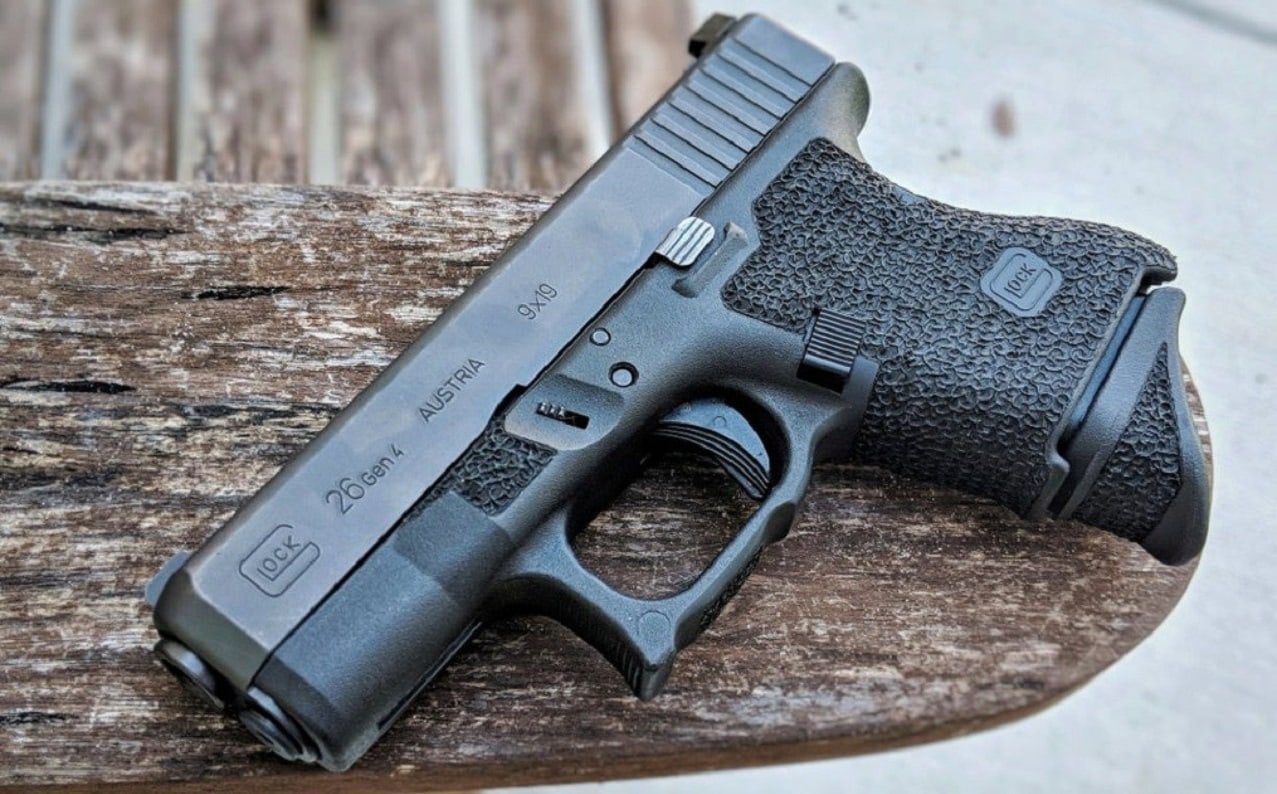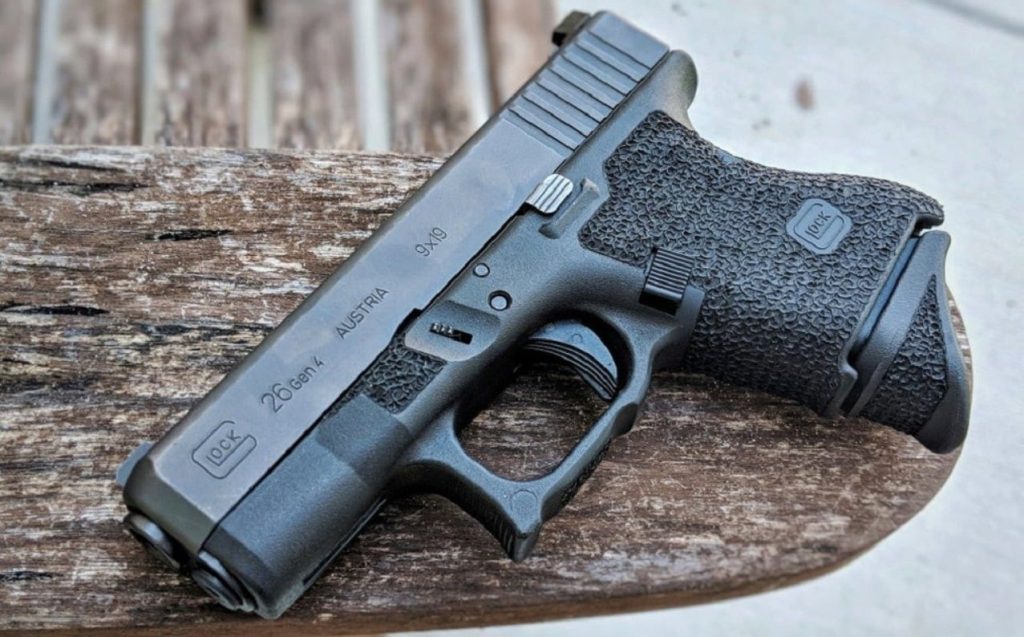 I have been using the Glock 26 for some time and can honestly, after 10,000 rounds fired, this firearm is worthy of high praise.
Gun manufacturer Glock made quite a splash when its first subcompact "baby Glock," the Glock 26 9mm semiautomatic pistol, debuted in 1995, and rightfully so. "Similar in size and weight to the small-frame snub-nose revolvers it has replaced," as stated by the official company website, the G26 offers significant advantages over those snubbies (with all due love and respect to the legions of fans of the Smith & Wesson Airweight, Cold Detective Special, and Ruger SP-101 out there).

Advantages include 10 + 1 rounds vs. 5 or 6 (yes, I know, firepower is not a substitute for tactics, but having more rounds is still better to have and not need than vice versa), faster reloads, a flatter profile making for more discreet and comfortable concealed carry, a shorter and lighter trigger pull that aids practical accuracy and more user-friendly ergonomics that help reduce felt recoil.

Even before the G26 came along, Glock already had a delightfully compact pistol in the Glock 19 9mm. However, it is erroneous to assume that the G26 is simply a G19, as "Nate M." of Gunivore points out: "The G26 is more than just the 17 and 19's 'little brother.' When Glock was designing the subcompact, it didn't simply make a shortened version of the Glock 19. The Glock company shortened the slide and barrel, but then the frame, spring, and locking mechanism had to be changed as well."

The weapon has a barrel length of 3.43 inches (87mm) and an overall length of 6.5 inches (165mm). The slide width is 1 inch (25mm), and the height with a standard 10-round magazine is 4.17 inches (106mm). Perhaps most appealing — especially for those of us with lower back issues — is the light weight, thanks to that Polymer 2 frame: 19.40 ounces (550 grams) empty and 25.75 ounces (730 grams) with a fully loaded standard-capacity magazine. Factory standard trigger pull weight is 5 pounds (2.26 kilograms), but you can easily have it retrofitted with a 3.5-pound trigger connector for competitive shooting, or if you're super liability-conscious and/or a glutton for punishment, you can go with the godawful 12-pound New York Trigger.

My personal Generation 3 ("Gen3") G26 was purchased back in August 2010 as (1) a 35th birthday present to myself (yes, I just gave away my age), and (2) an authorized backup piece to the SIG P229 DAK .40 caliber, which was my standard-issue full-size pistol as an Immigration & Customs Enforcement (ICE) Special Agent. Though I left that agency in 2011, my G26 has continued to serve me faithfully, as a civilian CCW piece as well as in competitive matches with Glock Sport Shooting Foundation (GSSF) and the International Defensive Pistol Association (IDPA).

In the 12 years I've owned my "baby Glock," I would guesstimate that I've put close to 10,000 rounds through her, and the old girl has stayed accurate and reliable. Most recently, I took her to the excellent Silver Eagle Group (SEG) indoor shooting range in Ashbury, Virginia, to stay on top of my shooting skills. As an homage to my old agency, I used the B60 ICE-QT target. Ammo was the Armscor 115-grain full metal jacket (AKA "hardball") with 100 rounds expended, divvied up as follows: 25 head shots at 21 feet, 25 torso shots at 50 feet, 25 head shots at 75 feet, and 25 torso shots at 150 feet.

At 21 feet, my rounds punched through the bridge of the nose of the on-paper bad guy with a delightfully tight group. At 50 feet, all shots were on-target, but I noticed my rounds going high-right, which has never been an issue for me with the G26, so I reckon it's not a gun issue but rather a "me" issue, i.e. maybe it's time to get a new eyeglasses Rx, as my current lenses are three years old. (If you'll pardon the cliche, "It's not you, baby, it's me").

The head shots at 75-feet that high-right straying trend were even more noticeable; on my first magazine, a couple of my shots missed altogether, while a few others merely gave the 2-dimensional bad guy a cheap haircut. This compelled me to take the so-called "Kentucky windage," compensating by taking a 7 o'clock hold on the target, which paid off by producing much more desirable hits. At 150 feet (the max rate at the SEG facility), I had to compensate even further, placing the top front sight blade at the bad guy's waistline. While the shot groups weren't as good as they were back in my younger days (hey, c'mon now, they weren't THAT long ago!), and not as pleasing as the results I get from my beloved Beretta 92FS/M9, they still showed that the Glock will do her part if I do mine.

As I've already indicated, the Glock 26 is delightfully accurate, reliable, compact, and comfortable to carry and shoot. It's also very maintenance-friendly, as Glocks are known for going through many thousands of jam-free rounds without being cleaned or re-lubricated; no, I'm not trying to encourage laziness when it comes to care and cleaning, but still, low maintenance is always a good thing.

It's also delightfully easy to field-strip and reassemble, with no small parts to mess around with, as there's no annoying barrel bushing, recoil spring plug, swinging barrels link, or slide stop to fiddle around with like you have with the M1911 series pistols (uh-oh, the 1911 cultists are sure gonna hate me for that one).

There's also no manual thumb safety — yes, I know, there is a safety device that's on the trigger itself — or decocker, so you have the benefit of simplicity as well as a consistent shot-to-shot trigger pull.

Moreover, the G26 can accommodate the larger 17-round and 15-round magazines of the G17 and G19 respectively, as well as the 33-round so-called "Happy Sticks" (let the Dr. Joyce Brothers jokes commence).

Disadvantages? With the baby Glocks, if you have average-to-large-sized hands, there's not much room for you to place your pinky unless you get either the "+2" mag extension or the aforementioned magazines from the "bigger brother" Glock 9mm pistols.

As with any Glock model, the lack of a manual safety can be a curse as well as a blessing; for several decades, highly respected law enforcement officer and self-defense guru Massad F. Ayoob has documented how safe carry has been a proven lifesaver for good guys — most uniformed cops but some private citizens as well — when they had their guns snatched by the bad guys.

Also, given the cardinal safety rule of "Keep your finger off the trigger until ready to fire," the fact that you have to pull the trigger as part of the Glock's field-strip procedure can seem a bit counterintuitive.

Last but not least, having that safety on the trigger can make for a bit of a spongy feel, and even with the 3.5-pound connector, it's not as crisp or smooth as well-tuned single-action trigger M1911 pistol or any other reputable make and model of traditional hammer-fired pistol.

Those points aside, the Glock 26 9mm is a pistol I can recommend without hesitation, for home defense, concealed carry, and hobby shooting alike.