Defense Exports of India Estimated at Rs 35,777 Crore Since 2014-15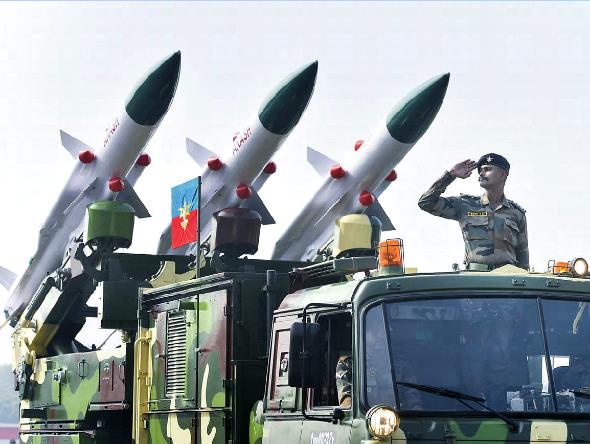 According to a document released on June 07 by Defense Minister Rajnath Singh, India sold navy equipment and procedures worth Rs 35,777 crore during the previous seven years. The E-booklet, which highlighted the significant changes made by the Ministry of Defense in 2020, also said that defense exports had risen to more than 84 countries. "The booklet is a reflection of the central government's aim, led by Prime Minister Narendra Modi, to make the defense industry tougher and more environmentally friendly," Singh said.
As per the report, the cost of India's exports in 2014-15 was Rs 1,941 crore, and it surged to Rs 2,059 crore in 2015-16. The export volume was Rs 1,522 crore in 2016-17, jumping to Rs 4,682 crore in 2017-18 and Rs 10,746 crore in 2018-19. As per the record, the revenue of defense exports was Rs 9,116 crore in 2019-20 and Rs 5,711 crore in 2020-21.
According to the remark, the publication featured a concise summary of the military improvements made in 2020 to achieve stronger cooperation and upgrading of the military forces via changes in policy, innovations, and digital innovation. Defense Minister Rajnath Singh further concluded that there is a continuing struggle to train our military with the modern weapons systems to counter threats arising from the land, air, and sea and by bringing forward jointness and modernization via policies.
The paper mentioned Rafale combat aircraft purchases, the state's first Chief of Defense Staff induction, defense research and technology reforms, and higher military reforms as some of the government's primary concerns in the defense industry in 2020. In addition, the defense Ministry said that the Policy adjustments for greater transparency also included the creation of a new Defense Acquisition Process in September 2020 and an update of the DRDO Procurement Manual in October 2020.
India intends to raise its defense industry turnover to $25 billion, including $5 billion in exports. Meanwhile, the capital allocation for the financial year 2021-2022 military spending was increased by 18.7 percent to provide for an upgrade. With the application of new policies that seek to lower the project lags and improve purchases, the Indian weapons industry is on the approach of a change. Policies such as permitting equipment leasing and reducing offset restrictions in government-to-government contracts also offer promises for future years.