How Pakistan Air Force Changed Thanks to JF-17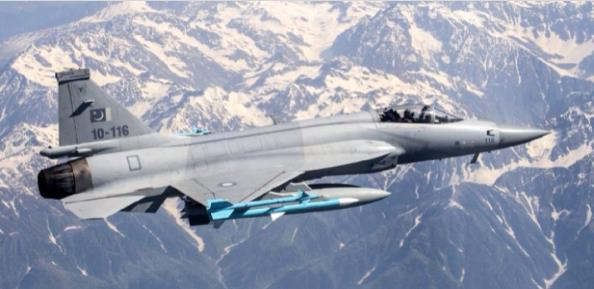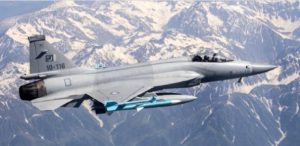 In the 1990s, when Pakistan happened to be at the receiving end of US Pressler's Amendment and military assistance (F-16 fleet), and arms' supply was cut off – also keeping Pakistan Air Force (PAF) at par from developing nuclear weapons and attaining its modern fighters' spare parts and attrition replacements, the desideratum to built an indigenous fighter aircraft became the preference as well as the need. Hence, in 2002, as an outcome of a joint venture, Pakistan Aeronautical Complex (PAC) in Pakistan and Chengdu Aircraft Industry Corporation (CAC) in China came up with the development of a new, modern, and all-weather multi-role fighter aircraft – the JF-17, initially known as the Super-7. The Pakistani Air Force Changed Thanks to JF-17.
Besides being a modern and all-weather combat fighter, JF-17 is single-engine, light-weight, cost-effective, capable of flying at a speed twice the speed of sound and carries a conclusive advantage over other fighter aircraft because of its optimally integrated subsystems, unique airframe independent of avionics or electronics' development, high maneuvering capacity, agility, efficient combat survivability, and capability to incorporate latest weapons in time, making it the backbone of PAF. It was formally presented in May 2007 and was delivered to PAF in 2009. From changing the combat and operational capabilities of PAF to lifting the aircraft defense industry via its export success, JF-17 Thunder has brought a wave of change in PAF in several ways.
Air Combat Capabilities:
Then Chief of the Air Staff, Air Chief Marshal Rao Qamar Suleman, advocated that the Pakistan military has attained a landmark achievement by inducting JF-17 Thunder in aircraft combat fleet, by providing PAF with an advanced multi-role fighter fleet and increased combat and operational capabilities that too with a cost-effective budget. JF-17 has substantially increased PAF capabilities in the air to air (A2A) and air to surface (A2S) combat, both defensive and offensive. It has made PAF perform a wide range of critical tasks via one aircraft only instead of several specific-designated aircrafts equipped and specialized for specific tasks only. So was the case before the JF-17's development when different crafts were needed to be used for different jobs, and purposes like F-7P was used for point defense and A-5 was used for proximal air support, and the Mirage III/V for strike and A2A combat. JF-17 Thunder has changed PAF by giving it the capability to use one aircraft for all these purposes. It provides better performance than other specialized platforms regarding range, maneuverability, survivability, electronics, and avionics capability.
Access to Spare Parts and Attrition Replacements:
Given the past embargoes, sanctions, and its imminent threat, this locally-sourced production resolved PAF's problem of restricted supply of arms and spare parts, especially in times of untoward situation and crisis. Not limited to that, Jf-17 Thunder production also ensured the attrition replacements and the induction of advanced combat aircraft in PAF. Furthermore, there would be no technical, licensing, or supplier issues for PAF. This significantly changed PAF as its fight capacity was also enhanced evidently, proven when compared with PAF's limited combat capabilities in Operation Gibraltar of 1965 war because of restricted supply of arms, spare parts, and attrition replacements.
Varied Munition Systems:
The indigenous manufacturing of what used to be imported gives PAF leverage to pair up the platforms with munitions of its own choice per munitions' availability and development, combat rationale, and strategic concerns. This also gives PAF an increased redundancy in combat. Munitions that can be paired with the platform, maybe latest, modern, and forward-leaning, and also include several air-to-air (A2A) and air-to-surface (A2S) munitions.
Incorporation of Latest Weapons:
Another significant advantage of the JF-17 that changed PAF standing is its unique airframe independent of avionics or electronics development. This enables PAF to incorporate the latest weapons and systems onto the platform in time, according to their combat requirements and defense choices. Important here is to mention that the JF-17 airframe has undergone several improvements to enhance the efficiency and effectiveness of aircraft.
Bridging the Gaps:
The capacities and capabilities of PAF changed towards improvement in bridging the gaps, qualitative as well as quantitative, between PAF and its opponent IAF. Also, the ability to increase economic revenue via its export success, access spare parts, and be free from technical and suppliers' issues has amended the gap between two adversaries in South Asia.
PAF Export Success:
This indigenously manufactured combat aircraft became the hallmark of Pakistan's defense system production. The JF-17 Thunder aircraft production has not only made PAF capable of meeting its defense and security requirements. Still, it has also lifted the defense aircraft industry through its export success, as Air Vice Marshal Sohail Malik said while talking to Gulf news. JF-17 Thunder fighter jets have been sold to Myanmar. Nigeria, PAF's first African export country, has also bought three aircraft in 2018, where Nigerian Air Force (NAF) has inducted it in its front line air combat fleet to confront traditional and non-traditional security threats.
The cost-effectiveness and efficient performance of the JF-17 will spur new buyers. Many potential export customer countries from Latin America,  Asia, Africa, and the Middle East include Argentina, Sri Lanka, Malaysia, Egypt, Zimbabwe, and Iran. There are around 120 JF-17 Thunder jets currently operated by PAF, including Block I and Block II variants. About 50 Block III variants have been ordered by PAF and are expected to be delivered to PAF by 2024. PAF also plans to upgrade the previous variants up to the standard of the Block III variant for better performance, maneuverability, and combat capabilities. There is no doubt that the JF-17 has changed PAF's combat capabilities, where it can readily pursue its strategic needs. Moreover, the platform has improved the global stance on Pakistan's defense system and efficiencies.