India's Top Defence Suppliers Explained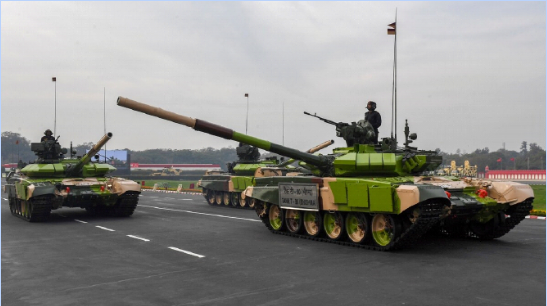 Driven by the desire to become a great power and fear of its "not so like-minded" neighbors, India has been undergoing a massive arms build-up for a long time. Although its arms imports fell recently, it remains the second-biggest weapons importer in the world. The country spends around 2.3 percent of its Gross Domestic Product on defense and accounts for 15 percent of the global arms import. As per the data released by the Stockholm International Peace Research Institute, New Delhi accounted for over 9.5 percent of the total arms imports between the years 2016 and 2020. The India's Top Defence Suppliers has planned to spend 64.4 billion dollars to equip and modernize its armed forces in the current financial year.
Arms Suppliers of India:
There has been a noteworthy change in India's recent pattern of arms imports. The country seems to be working to reduce its dependence on old suppliers such as Russia. According to SIPRI, France, Russia, the United States, and Israel were India's biggest defense suppliers in 2020. Still, new players like South Korea, Brazil, and South Africa have also come forward as its key arms exporters last year. As per another report of SIPRI, which highlights arms trade trends during the previous years, Russia has been the largest arms supplier to India during 2010-14 and 2015-19. However, deliveries fell by 47 percent, and subsequently, its share in the total arms imports of India went down from 72 percent to 56 percent. The U.S. emerged as India's second-largest arms supplier during 2010-14, but in 2015-19 India continued with its policy of supplier diversification, and imports of arms from the USA fell down 51 percent than the previous years. On the other hand, arms imports from Israel and France surged by 175 percent and 715 percent, respectively, making them the second-and third-largest suppliers during 2015-19.
Russia:
Russia is known as India's traditional arms supplier. Although the latter has inclined towards the U.S. and Israel in recent years for equipment like attack helicopters, transport planes, high-tech drones, and other surveillance equipment, and there has been a decline of more than 50 percent in Russia's arms exports to New Delhi, Moscow remains its largest defense supplier. One of the most significant weapons agreements of recent times was India's 5.43 billion dollars deal with Russia in 2018 to buy the S-400 missile system. It has already made an initial payment of 800 million dollars. According to Indian officials, delivery of the missile systems is to begin by November 2021.
Meanwhile, the U.S., which is Russia's rival in the arms trade, has already cautioned India of facing sanctions if it purchases the Russian S-400 missile system. New Delhi has also been producing Moscow's fighter jets like MiG and Su-30 under license. Meanwhile, both states have also collaborated to develop and produce supersonic BrahMos cruise missiles within India. Currently, talks are underway between the two countries on producing more Russian weapons in India, as hinted by the Russian foreign minister during his recent visit to the country. Officials from both states have also stated that discussions are being carried out on the production of Russian military helicopters.
USA:
New Delhi's weapons procurement from Washington surged from a mere 6.2 million dollars to a whopping 3.4 billion dollars in the final year of former President Donald Trump's administration. The U.S. sold 12.8 billion dollars worth of weapons to India under the Foreign Military Sales category between 1950 and 2020. Weapons systems bought from the United States form an integral part of India's military posture. Equipment like Indian Air Force's C-17 heavy-lifters, Apache attack helicopters and C-130J special operations aircraft, Navy's P-8I surveillance aircraft, and the Army's M-777 ultra-light howitzers are expected to improve New Delhi's military capacities. A few months back, the Biden administration authorized over 20 billion dollars in defense sales to India. In 2016, the U.S. designated India as a "Major Defense Partner," which allows the latter to buy more sophisticated and sensitive technologies from the former at par with Washington's closest allies and partners.
Moreover, New Delhi is also the signatory of the Logistics Exchange Memorandum of Agreement (LEMOA), Communications Compatibility and Security Agreement (COMCASA), Industrial Security Annex, and the Basic Exchange and Cooperation Agreement (BECA). According to the data released by the Defense Security Cooperation Agency (DSCA), the sudden surge in the sale of American weapons to India comes at a time when its sale to other countries plunged to 50.8 billion dollars in 2020, from 55.7 billion dollars in 2019.
Israel:
With annual sales of around 1 billion dollars in the years 2019 and 2020, Israel is one of the key defense partners of India. It has been among the top four weapons suppliers to the latter for over twenty years now. The Indian military has inducted various Israeli weapon systems over the years, ranging from Phalcon AWACS (airborne warning and control systems) and Heron, Searcher-II, and Harop drones to Spyder quick-reaction anti-aircraft missile systems and Barak anti-missile defense systems. Both states are also planning to establish more R&D, co-development, and co-production projects. The secretive military ties between the two countries, which grew after Tel Aviv supplied New Delhi with emergency arms during the Kargil conflict in 1999, have now largely been exposed after the Modi government came into power in 2014.
Seven Joint ventures have been undertaken between Indian companies and Israeli manufacturers like Rafael Advanced Defense Systems, Israel Aerospace Industries, Elbit, and Elta Systems. This comes when the Indian armed forces are inducting the next-generation Barak-8 surface-to-air missile systems under three joint DRDO-IAI projects worth over 30,000 crore Indian Rupees.
France:
Indo-French partnership in the area of weapons export is not new and has remained robust throughout the years. After India detonated its first nuclear device in 1974, the U.S. and Canada suspended their peaceful nuclear cooperation with them; however, Paris congratulated New Delhi and continued its nuclear supplies. This virtual rescue by France resulted in what was termed as "nuclear pariah" for the blatant nuclear proliferation of the South Asian Hindu majority state. Recently, Paris sold 36 Rafale Fighter Jets to New Delhi. These jets are reported to be nuclear delivery platforms, which is also a violation of the Article-I of the Treaty on the Non-Proliferation of Nuclear Weapons.
India also entered into a 4.16 billion dollar contract with a French firm to build six Scorpene submarines. As per the technology-transfer deal, the submarines are to be built in India. Two submarines have already been commissioned into the Indian navy, while a third is undergoing sea trials. France's defense cooperation with India isn't limited to New Delhi's modernization plan. Both countries are also engaged in Maritime Activity in the Indo-Pacific region. Their navies have been conducting joint patrols from Reunion Island, the French naval base in the Indian Ocean.
New Delhi's Aims of Becoming Self-Reliant in Arms Production:
Although it is one of the biggest arms importers, India now aims to reduce its import dependence and become self-reliant in weapons production. New Delhi is even undertaking measures to become an exporter in the field. As reported by SIPRI, India became a part of the defense exporter's list in 2016 and is now ranked 24th on the list. Its defense exports had surged to 17,000 crore Indian rupees from 2,000 crores in 2020. Prime Minister Narendra Modi has said that he plans to increase this number to 35,000 crores in the upcoming five years. According to the country's defense ministry, 28 successful tests were conducted by the Defence Research and Development Organisation last year. The major weapons system provided to the military by DRDO is the Beyond Visual Range Missile System, 10-metre Short Span Bridging System, Indian Maritime Situational Awareness System (IMSAS), Border Surveillance System (BOSS), Heavy Weight Torpedo (HWT) Varunastra, and Arjun Mk-1A. New Delhi exported defense equipment worth 780 million dollars between the period of March and December 2020.
As per DRDO's latest list of export equipment released in February 2021, the country exported 19 aeronautical systems, 41 armament and combat systems, four missile systems, 27 electronic and communication system, ten different types of life protection equipment, four microelectronic devices, 28 naval systems, 16 Nuclear-Biological-Chemical equipment (NBC) and seven other materials. The Modi government has formed new policies to boost defense exports and achieve 5 billion dollars within the next five years. It has allowed 100 percent Foreign Direct Investment in the defense industry to expedite the arms manufacturing infrastructure. The Indian government has also allowed private companies to participate in the defense industry for indigenous manufacturing.