Indonesia to Acquire Eight Italian-built Frigates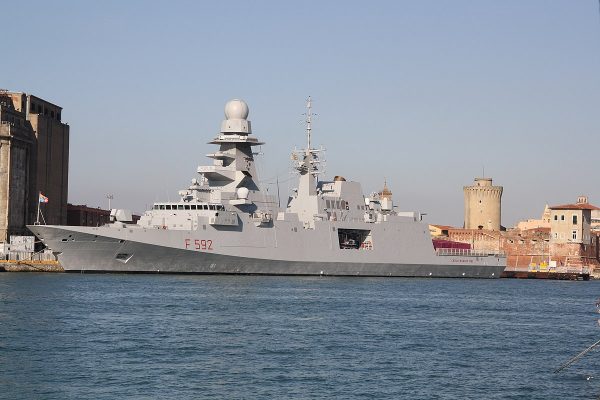 Fincantieri, an Italian shipyard, said on June 10 that it had signed a contract with Indonesia's Ministry of Defense to deliver it with eight warships, representing an important leap forward in the country's outdated Navy's renewal. Indonesia will receive six new FREMM multifunctional frigates and two refurbished Maestrale-class frigates, according to a statement published on Fincantieri's website on June 10. After the Italian Navy dismisses the latter two frigates, they will be available. The procurement, the latest in a line of purchases by the Indonesian Navy, illustrates the country's growing fears about its potential to safeguard its sea reaches with its existing fleet of older ships.
The drowning of the Indonesian submarine KRI Nanggala on April 21 painfully showed the Navy's deficiencies, with all 53 of its personnel killed. The submarine, which was constructed in Germany in 1977, owned by Indonesia in 1981, and modernized by South Korea in 2012, was struck by a massive oceanic wave while executing live-fire torpedo rehearsals off the coast of Bali. The Indonesian Navy's terrible position has damaged its power to meet a significant number of marine threats. For example, even though Jakarta is not an official competitor in the South China Sea, portions of its waters are on the opposite side of Beijing's vast and legally questionable "nine-dash line" maritime claim, leading to several recent skirmishes.
Indonesia has updated its military forces by acquiring eight warships from Italy nearly two months after one of its submarines drowned. According to experts, the agreement shows the Southeast Asian country's fears about Chinese warships breaking its territorial waters. According to a leaked report, Indonesia's ministry of defense will suggest a budget of US$124 billion across five years, indicating a significant surge in military spending for the country. It spent about US$38.8 billion in the past half-decade; given the outrage that the proposal aroused during the COVID-19 outbreak, it's uncertain whether it will happen. Indonesia's military budget is expected to grow by 11% to $9.2 billion in 2021.
Due to the loss of the KRI Nanggala, the Indonesian Navy announced that it was looking to triple the size of its submarine fleet, from four to twelve warships. Indonesia is considering a joint manufacturing contract with South Korea, while other possible partnerships with France, Russia, and Turkey are in the process. Japan is also looking forward to selling its submarines to the Indonesian Navy. The Indonesian Navy initiated its Minimum Essential Force Strategy back in 2010, with the aim of renewing and strengthening its fleet and weaponry by 2024.
Regardless of these efforts, the Indonesian military budget remains the second-lowest in Southeast Asia in the gross domestic product (GDP); in 2019, the country devoted just 0.7 percent of its GDP to the armed forces, compared to 1% in Malaysia, 3.2 percent in Singapore and 1.3 percent in Thailand. However, the Fincantieri acquisition is a crucial step toward achieving a marine security capacity fitting of the title for the world's greatest archipelagic country.