Lockheed Martin Proposes Designs for Freedom-class Littoral Combat Ship (LCS) for the Hellenic Navy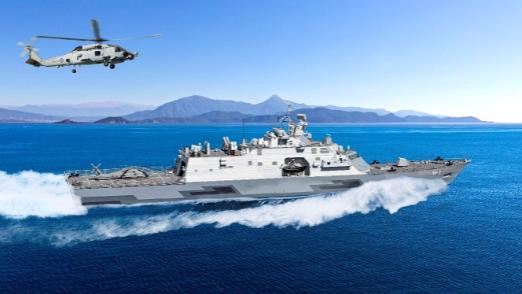 The Hellenic Navy, the Navy of Greece, is stepping up to modernize itself by procuring four multi-role surface combatant warships. The Navy aspires to induct four new advanced combatant ships, which are a variant of Freedom-class Littoral Combat Ship (LCS), as said by Tom Rowden, Lockheed Martin Official Vice President for International Strategy And Business Development. The Navy would also upgrade its fleet of four German-designed MEKO 200HN hydra-class frigates acquired in the 1990s with a combat system from the Aegis Combat System, the world's most advanced combat and naval weapon system. The combat management system would be COMBATSS 21.
Along with procuring advance frigates and upgrading by the MEKO 200HN frigates, the Hellenic Navy also wants to acquire an interim naval capability while its warships are under manufacturing and participate in the Navy Constellation (FFG-62) class frigates (FFGs) program, as reported by USING News. This modernization consideration by the Hellenic Navy has the background of an initiative to upgrade capabilities of all three branches of Hellenic Armed Forces announced by Prime Minister Kyriakos Mitsotakis on September 12, 2020. With the rising security challenges in the Eastern Mediterranean due to Turkey's increasing naval capabilities and influence, the Hellenic Navy has to prioritize the launch of an acquisition program to build a strategic deterrent against Turkey.
Lockheed Martin, US-based aerospace, security, and defense company, has proposed the designs for new frigates to be acquired by the Hellenic Navy. The proposed frigate is a 4000-ton warship and uses a CODAG (combined diesel and gas turbine engines) waterjet propulsion system. It has a combat management system of COMBATSS 21 derived from the Aegis Weapon System. It might also include specific sensors and other weapons. According to Tom Rowden, a Lockheed Martin Official, several other pieces of equipment are also being tested. Some flaws previously present in Freedom-class frigates are also being modified and corrected, including faults in gearing systems.
Several other shipbuilding industries, including British Babcock, Dutch Damen, German ThyssenKrupp Marine Systems, Spanish Navantia, and Italian Fincantieri, are also proposing the designs for frigates. In March 2021, a French consortium of three defense industries, Naval Group, Thales, and MBDA, also proposed a strategic package offer to Greece, including a MEKO frigates modernization plan, a stop-gap solution, and four FDI frigates. Greece has procured four Lockheed Martin MH-60R Romeo naval multi-mission helicopters. These helicopters would be operable from MEKO 200HN frigates because these frigates use Component-Based Total-Ship System – 21st Century (COMBATSS-21) combat system, which is compatible with the helicopters. With the increasing tensions in Eastern Mediterranean with Turkey's claim on Cyprus and Exclusive Economic Zones (EEZ),  Greece has taken a significant stance to modernize its Navy to build a strategic deterrence.