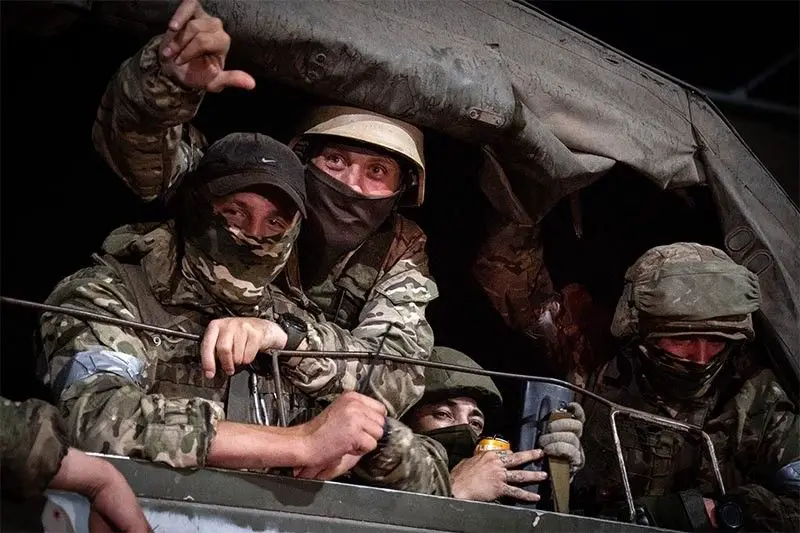 Members of Russian mercenary group Wagner. Photo: Roman Romokhov/AFP
Lithuania to Shut Down Two Belarus Border Crossings Amid Wagner Mercenaries Concerns
Amid growing worries over the presence of Wagner mercenaries, Lithuania is set to close a pair of its six border crossings with Belarus, as revealed by the Lithuanian deputy interior minister on Friday.
"We are gearing up to make the call to close two checkpoints," stated Arnoldas Abramavicius to AFP, identifying the Sumsko and Tvereciaus crossings as the ones to be ceased.
Scheduled to officially adopt the decision next week, Lithuania, a NATO member situated on the eastern flank of the alliance, takes this step in response to the presence of Wagner fighters who found refuge in Moscow-aligned Belarus after their fleeting rebellion against Russia's high-ranking military figures.
Reports from Lithuanian and Polish leaders this week estimated around 4,000 mercenaries have stationed themselves within Belarus.
Both nations are contemplating jointly closing the border with Belarus altogether, fearing that Wagner mercenaries could attempt to infiltrate under the guise of migrants or carry out other provocative actions.
Abramavicius explained the rationale behind the two checkpoint closures, citing the need for Lithuania to be fully prepared to swiftly close the border if required.
This move could also help curtail smuggling risks and complicate passenger traffic across the Belarus border, he added.
Both Poland and Lithuania have constructed barriers along their borders with Belarus and Russia, accusing Minsk and Moscow of orchestrating surges in migrant numbers into the European Union to disrupt the unity of the 27-member bloc.