Pakistan And Egypt to Expand Military Cooperation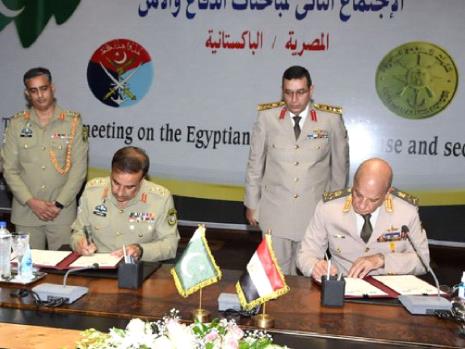 Pakistani and Egyptian top military officials, in their meeting on June 15, expressed their keenness to expand military and security partnerships. The meeting dawned as the Pakistan Army's Chairman Joint Chiefs of Staff Committee (CJCSC) General Nadeem Raza spearheaded the second round of defense and security talks during his official visit to Egypt. General Raza held meetings with Egyptian Commander-in-chief of the Armed Forces and Minister of Defense and Military Production General Mohamed Zaki. The two sides exchanged discourse on the latest regional and international developments and several issues of common interests in the matters of military cooperation, including counter-terrorism, security, and "transferring and exchanging experiences between the Egyptian and Pakistani Armed Forces."
The official reception for the Pakistani general and his delegations were organized at Egypt's Ministry of Defense headquarters. The Chairman JSCS was also presented a Guard of Honor by a smart contingent of Egyptian Armed Forces. During talks, Gen. Raza emphasized that "Pakistan is keen to expand its existing bilateral military to military cooperation with Egypt," as per aired by Pakistan Army's media wing, Inter-Services Public Relations (ISPR). The Egyptian commander also stated his country's desire "to increase the bonds of cooperation and partnership in various military and security fields." The meeting was attended by many notable senior officers from both sides, including the top military commanders and diplomats from Pakistan's embassy.
Gen. Raza also held a meeting with Egyptian President Abdul Fattah El Sisi on June 13. The Egyptian President underscored his aspiration "to develop bilateral cooperation" to augment the exchange of experiences in various fields, especially in the security and military aspects. The two officials particularly stressed the significance of regularly holding joint defense committee meetings and expanding cooperation in defense and military industries and joint military training. Besides, the Egyptian President relayed his feelings of high esteem for Pakistan's armed forces and noted the value of brotherly cooperation between two countries.
Gen. Raza complimented Egypt's balanced and rational policy in the region and the pivotal role played by Egypt to bring in a ceasefire and cessation of hostilities in Palestine. Recently, from May 26, Pakistani and Egyptian air defense forces participated in the 'Sky Guardians 1' exercise to strengthen their military cooperation. The drills were two-week long and were held in Egypt's capital, Cairo, and focused on robust and pragmatic training to confront existing and emerging threats in the air defense domain.