French and Niger Forces Captured Abou Dardar, a Senior Member of ISGS, in Mali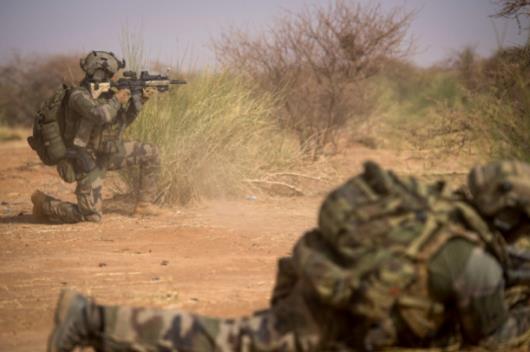 French Armed Forces claim to have arrested Dadi Ould Chouaib, aka Abou Darar, in the Sahara, on June 11, 2021, in Mali. Abu Dardar is one of the senior and high-ranking members of the Islamic State in the Greater Sahara (ISGS), a famous Mali and Niger-based militant group formed in May 2015, following the ideology of Salafi Jihadism. This group operates along the Mali-Niger border. The militant Abou Dardar was captured along the border region between three African countries; Mali, Niger, and Burkina Faso. Abou Dardar used to be a member of another militant Islamist organization, the Movement for Oneness and Jihad in West Africa (MOJWA), also called Movement to pour l'unicité et le jihad en Afrique de l'Ouest (MUJAO) by the French government and military.
He was previously busted in 2014 before he joined ISGS. But he was released in October 2020, when Mali's newly-elected government decided to release 200 prisoners to free four hostages that armed insurgents have held since 2016. Also, he is considered to have been among the gunmen behind amputations of three people, suspected to be thieves, in Tin Hama, Northern Mali. According to a statement by the UN Minusma Force, the gunmen who cut the hands and feet of three people out of legal order might be from ISGS. Nigerien forces and French forces of Operation Barkhane, an anti-insurgent operation, launched a joint operation on June 8, 2021, against armed terrorists and militants along the border region. There have been recurrent militants' invasions in the region and a confrontation with armed militants in this epicenter on June 10, 2021, killed 1 Niger soldier and 12 terrorists, as said by Niger's Army in a statement on June 11, 2021.
On June 11, 2021, both forces tracked down Abou Dardar, in the Liptako region surrounded by three sides from Mali, Niger, and Burkina Faso, during their Barkhane Patrol and joint mission helicopter sweep. According to the French military, he surrendered himself to troops without defiance or opposition. He had a night vision monocular, a combat vest, a phone, a radio, and an automatic weapon. Under President Emmanuel Macron, French recently adopted a policy of increased efforts to target the leaders of militants and terrorist groups in the Same region. Targeting the leaders and high-ranking members would decapitate the militant groups. The capture of Abu Dardar follows the death of a commander of Al-Qaeda in the Islamic Maghreb (AQIM), another Islamist militant organization in the Sahel Region. The French Barkhane Force slew the commander in Mali on June 5, 2021.
Though French Government has already announced that it is drawing down Operation Barkhane, an anti-Islamist operation that has been a priority strategy for the French Armed Forces in the Sahel region since 2014. This drawdown would shift the French military commitment and presence as 5100 soldiers under Operation Barkhane would be replaced. The President further said that the government would decide the total number of French troops to be present in Mali by late June 2021. Nonetheless, he affirmed that France would keep working on two pillars in the Sahel region: counterterrorism and cooperation.