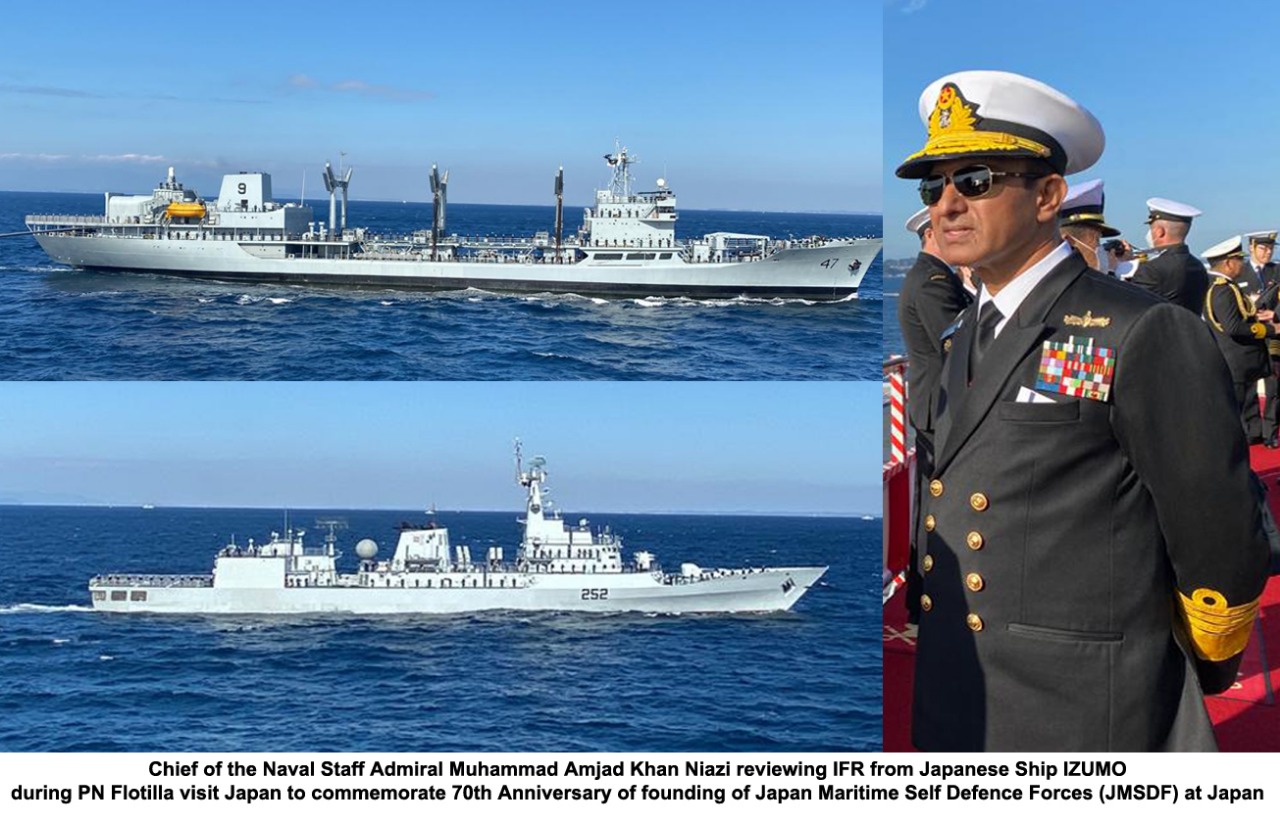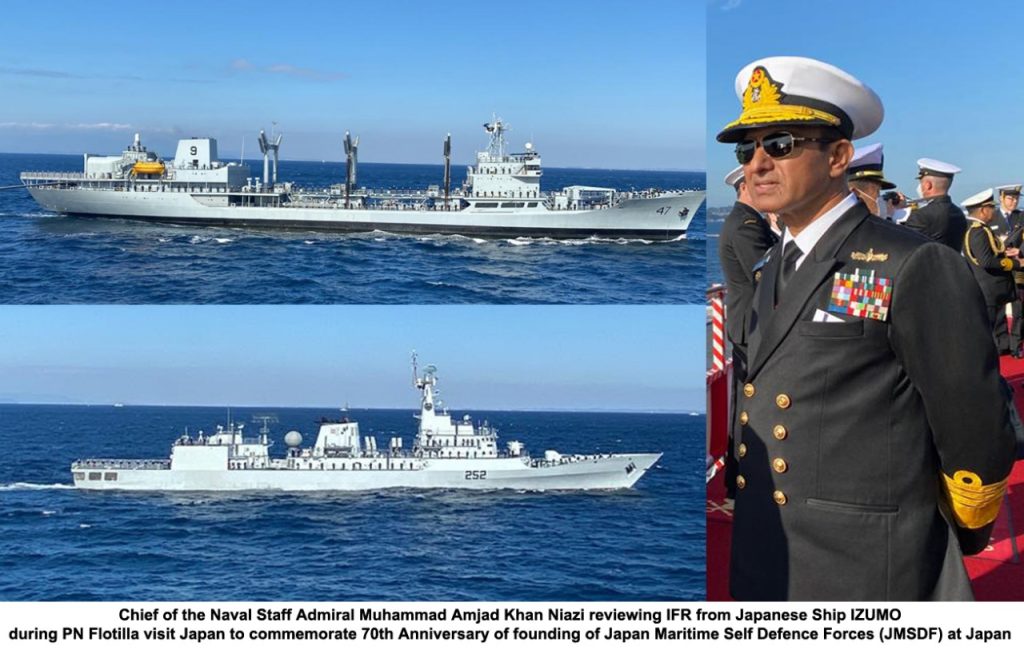 Exclusive Interview of Pakistan Naval Chief, Admiral Amjad Khan Niazi by Haidar M. Hussain, Founding Editor of Defense Guardian International
Q-1 What are the key maritime risks that you see and what steps is the Pakistan Navy taking to mitigate these?
Ans. The global security environment is dynamic, highly volatile and in an unprecedented transition; shaped by global realignment, competing interests and pursuit of technological dominance. In our region, unresolved Kashmir dispute and Indian gross human rights violations in Indian Illegally Occupied Jammu & Kashmir, continue to threaten regional security. Additionally, nuclearization of the Indian Ocean through induction and acquisition plans of considerable number of nuclear submarines equipped with long range nuclear weapons beyond Indian legitimate needs is impacting the strategic balance in the region.
On our Western seaboard, attacks on merchant ships with plausible deniability are manifesting into an unnerving situation for shipping plying on international energy SLOCs. The fragile situation in Afghanistan and proxy wars in Syria and Yemen continue to impinge upon regional security. In the non-traditional domain, maritime terrorism, piracy, drugs trafficking and human smuggling remain major challenges. Risks posed by natural disasters, climate change and recent pandemic have further complicated the security calculus.
In order to confront the aforementioned challenges, Pakistan Navy has significantly enhanced its reach, preparedness and influence in the AOI. PN's contribution in Combined Task Force 150 since 2004 and Combined Task Force 151 since 2009 under the ambit of Combined Maritime Forces (CMF) are well known and have been recognized at the international level. PN is also regularly undertaking 'Regional Maritime Security Patrol' (RSMP) to contribute towards maritime security in the region. In addition, PN has established a Joint Maritime Information and Coordination Centre (JMICC) which ensures seamless coordination and information sharing between concerned stakeholders to augment maritime safety and security. JMICC is linked with 48 national agencies and 7 international organizations for sharing of information. We are continuously expanding our collaboration with navies to manifest our objective of collaborative maritime security and contribute effectively towards ensuring safe and secure maritime environment in the region and beyond.
Q-2 One of the key ports going forward will be Gwadar, especially in the context of bigger oil shipments to China. What steps are you taking to advance the role of Gwadar and what security risks are you facing with that terminal?
Ans. Gwadar Port in close proximity to Gulf of Oman has the potential to act as a trans-shipment port for the region as well as transit port for Central Asian Republics and Afghanistan. It also provides a connection to the western parts of China to ME, Africa and beyond. Gwadar Port is a commercial port which is the manifestation of deeper and comprehensive relations between China and Pakistan. Gwadar port thus has the prospects to serve as a conduit for the betterment of the entire region. Enhancement in the maritime activities is expected with full functioning of Gwadar port. Our Sea Lines of communication are also faced with the non-traditional security challenges being faced widely in the region. Pakistan Navy has therefore configured its deployments to ensure safety and security along the coast for the maritime activities to flourish. Coastal Security and Harbour Defence Force of Pakistan Navy has stations all along the coast to monitor activities at sea and respond to emergent threats. Furthermore, PN ships maintain their presence in our maritime zones. PN is also maintaining a Task Force at Gwadar for ensuring seaward security of Gwadar port and its approaches.
Q-3 Can you please elaborate to our readers about the objectives of Pakistan Navy behind AMAN Exercise?
Ans. In line with Govt's policy of making utmost contributions towards peace and stability in the region and beyond, PN has always remained at the forefront and actively participated in collaborative maritime security initiatives against prevailing non-traditional threats in the maritime domain such as terrorism, piracy, drugs trafficking and arms/ human smuggling. This spirit of collaboration is the vision behind PN's initiative of hosting Multinational Maritime Exercise AMAN. The world AMAN means 'peace' and motto of the exercise is 'Together for Peace'. The exercise is conducted with an aim to develop synergy between participating navies to tackle common maritime security challenges and enhance interoperability between regional and extra regional navies at different level of technological prowess. Growing participation of friendly navies in Ex AMAN since 2007 reflects growing trust in the value of the Exercise and acknowledgment of efforts of Pakistan Navy in promoting collaboration between regional and extra regional navies against non-traditional threats.
The vision behind International Maritime Expo & Conference (PIMEC) in tandem with Exercise AMAN 23 is to showcase the potential of Pakistan's maritime sector to the visiting delegations and draw attention towards the contribution that industry can make for the development of Blue Economy in the country. PIMEC is going to be the first maritime related expo in the country and will provide a platform for joint ventures and investments in Pakistan's maritime sector through B2G and B2B interactions and explore viable options for developing countries especially Pakistan to promote Blue Economy. Significant boost to Pakistan's maritime sector development is expected with conduct of these two mega events simultaneously.
Q-4 How do you think Exercise AMAN benefits the participating regional and international navies?
Ans. Ex AMAN is a humble effort for enhancing cooperation between navies against prevalent trans-national threats. The steadily growing participation in Ex AMAN reinforces our belief that many navies in our region and beyond share our vision to foster regional cooperation for maintenance of good order at sea, improve interoperability, share experiences and exhibit collective resolve against terrorism and other organized crimes in the maritime domain. Ex AMAN has now become one of the major multinational events in our region and it is PN's endeavour that the exercise continues to expand further and participation of navies continues to increase.
7thseries of Exercise AMAN was conducted in February 2021, in which 43 countries participated despite prevalent COVID-19 challenge, which was indeed a national success. 8thseries of Ex AMAN is scheduled at Karachi from 10-14 Feb 23 in which we are expecting participation from all regions of the world. Conduct of PIMEC alongside Ex AMAN-23 is a conscientious effort to promote development of Pakistan's maritime sector. It will flourish importance of the maritime domain within the policy makers as well as avenues of cooperation among the delegates from different countries. PIMEC is also likely to play an important role in exploring alternate options for Pakistan's sustainable economic growth.
Q-5 Could you dilate on Pakistan's initiative of Regional Maritime Security Patrol and its objectives?
Ans. Commensurate with the changing geo-strategic realities in the region, PN has instituted maritime security initiative of 'Regional Maritime Security Patrol' (RSMP) since 2018 to fulfil international obligations towards maritime security and protecting own national interests in the IOR with strategic autonomy. RMSP is focused on establishing maritime patrols along the vital choke points and important maritime areas in the IOR by PN Ships with embarked helicopters. The broad objectives of RMSP initiative include contribution towards maintenance of good order at sea and to deter/ curb the menace of piracy, maritime terrorism, narco-arms, human smuggling and other illicit activities. These patrols are established along three important axis namely Horn of Africa, North Arabian Sea and Central Indian Ocean. Another important objective of RMSP is to foster partnerships with regional countries and enhancing interoperability.
Q-6 How is Pakistan Navy developing itself to become a modern force capable of dealing with contemporary threats and challenges?
Ans. With evolving traditional and non-traditional threat dynamics, induction of new platforms and modernization of existing assets has become an imperative for Pakistan Navy. Accordingly, Type 054-A/P frigates from China, MILGEM Class Corvettes from Turkiye and OPVs from Damen Shipyard, Romania were contracted to augment the Surface Fleet. Two ships of TUGHRIL Class, Type 054 A/P Frigates, equipped with state of the art weapons and sensors, have been inducted in PN Fleet. Two YARMOOK Class OPVs have also been inducted to fulfill our maritime security requirements. Indigenously, we have built the largest Fleet Tanker PNS MOAWIN at Karachi Shipyard & Engineering Works (KS&EW) in collaboration with Turkiye to enhance our logistics capabilities. Fast Attack Craft (Missile) equipped with cruise missiles are also being inducted gradually through indigenous construction. This has given significant boost to our ship building capabilities.
In the subsurface domain, we are focusing on modernizing our existing submarine force through Mid-Life Upgradation Program of Agosta-90B submarines which is under process in collaboration with Turkiye. Furthermore, 8 x Hangor Class submarines with Air Independent Propulsion (AIP) system are under various stages of construction in China and Pakistan. In Naval Aviation, we have inducted Seaking helicopters, CH-4 MALE UCAVs and marinized ATRs to enhance our Maritime Domain Awareness and Air ASW capabilities. PN has also acquired Jet LRMPAs for high speed surveillance and deep sea strike capabilities which are currently undergoing modernization. In short, Pakistan Fleet is being transformed into a modern and balanced Fleet suitably configured to deal with emerging threats and challenges in the maritime domain.
Q-7 What initiatives are being taken by Pakistan in terms of defence diplomacy with neighbouring countries and major naval forces?
Ans. PN through naval diplomacy contributes to the nation's foreign policy objectives by showing Pakistan's flag in countries far and wide; through Key Leadership Engagements; Navy to NavyExpert Level Staff Talks (ELSTs); Overseas Deployments (OSDs), participation in bilateral/ multilateral maritime exercises, Humanitarian Assistance & Disaster Relief missions and undertaking Non-Combatant Evacuation Operations of stranded affectees from conflict zones.
In this regard, we have formally established Navy to Navy ELSTs mechanism with 21 Navies across the globe to pursue bilateral collaboration in a structured manner covering operational, training and technical cooperation aspects. PN Ships also regularly undertake port calls to Far East, Africa, Arabian Gulf, Mediterranean and Europe. Furthermore, in line with Pakistan's Engage Africa Policy, PN ships have undertaken Humanitarian Assistance and Disaster Relief (HADR) operations for provisioning of food aid to Djibouti, Sudan and Niger, as well as establishment of medical camps in African Countries including Senegal, Ghana, Nigeria, Tanzania and Kenya.
Q-8 How Pakistan's local industry is supporting in modernization efforts of Pakistan Navy? How PIMEC can contribute in this respect?
Ans. Over a period of time, Pakistan's defence industry has seen steady growth and significant progress has been made in terms of ship building and naval systems. These achievements have contributed in mitigating foreign dependencies and enabled upgaradation of our local systems. It is satisfying to state that continued efforts in the field of shipbuilding has enabled us to commission PNS HAIBAT, a Fast Attack Craft (Missile) which has been designed indigenously and constructed at KS&EW. It is also equipped with locally developed HARBAH Anti-Ship Missile which also has Land Attack capabilities. Currently, PN platforms under construction at KS&EW include MILGEM class corvette, Hangor class submarines and indigenously designed Gun Boat.
It is also pertinent to mention that PN platforms are equipped with a number of locally developed weapons and sensors which is a major feat in strengthening our local industry. Organizing of PIMEC concurrent to Ex AMAN in Feb 23 is also likely to play a major role in exploring avenues where Pakistan's local industry along with international companies renders its valuable contributions towards Pakistan's maritime sector as strong maritime sector is inevitable for bolstering naval capabilities of the country.
Q-9 There has been a series of attacks on merchant ships in Gulf of Oman and Strait of Hormuz. Are you concerned that this could spill over into your waters and what steps are you taking to deal with this?
Ans. A number of attacks on merchant ships with plausible deniability have been witnessed since 2019. This has added to the challenges being faced in the maritime domain and is a source of concern for Pakistan as well as other regional countries. As already highlighted, PN ships are deployed on Regional Maritime Security Patrol (RMSP) in vicinity of important choke points to safeguard our shipping against these trans-national threats. PN Ships on RMSP also contribute towards international efforts by participation in CMF Ops under US NAVCENT. PN Officers are permanently deployed at HQ CMF for sharing of information and coordinate our efforts towards maintenance of regional maritime security. PN initiative of Ex AMAN is also designed to enhance interoperability with other navies against these common challenges. Furthermore, maritime conference as part of PIMEC will provide a platform to policy makers, practitioners and researchers to analyze the implications of these developments on regional maritime security and avenues for enhancing collaboration for maintenance of good order at sea.
Q-10 How is the Pakistan Navy involved in the relief efforts to assist the various government agencies in the recent floods and other related calamities?
Ans. Pakistan Navy has always been on the fore front for undertaking Humanitarian Assistance and Disaster Relief (HADR) Ops in the region and beyond. Domestically, PN has been regularly providing assistance to local population, especially of the coastal areas, during floods and natural calamities. Devastating floods in the country last year not only caused high financial loss, but more than 33 million people were affected and crops on 18000 sq kms agricultural land were destroyed. PN in response to the floods in the country immediately deployed 23 x Emergency Response Teams (ERTs), 13 x diving teams and 13 x medical teams to affected parts of Sindh and Balochistan. Furthermore, helicopters and hovercraft were employed to rescue more than 15,500 people from inundated areas. In addition, 179 medical camps were established in affected areas and 2,700 tons of food aid was distributed. At present, PN is assisting civil administration in rehabilitation efforts in affected areas of Sindh and Balochistan.