Pakistan Delivers JF-17 to Nigerian Air Force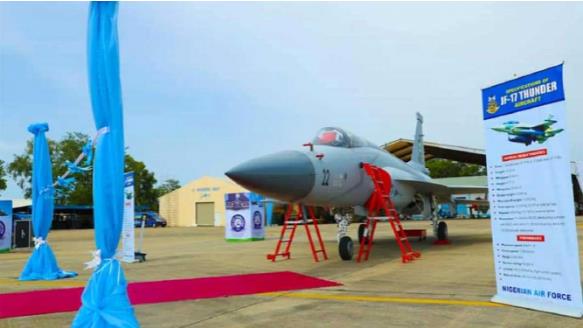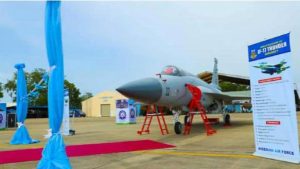 The Pakistan Aeronautical Complex (PAC) Kamra handed over three JF-17 to Nigerian Air Force in the event of a ceremony marking its 57th anniversary held at Nigerian Air Force base Makurdi, Nigeria. The fighters were delivered by PAC, which was the manufacturer and responsible for the delivery of aircraft. Senior officials from both sides participated in the ceremony. Nigerian Defense Minister Major General (Rtd) Bashir Magashi was the chief guest at the ceremony, whereas Pakistan's Air Force Vice Chief of the air staff, Air Marshal Syed Noman Ali, was invited as a special guest of the Nigerian Air Force to attend the ceremony. 
The delivery of the JF-17 program underscores the latest development in the PAF's keen involvement in Nigerian Air Force's modernization program. Previously, Pakistan has delivered MFI-17 Super Mashak basic trainers, Karakoram K-8 intermediate jet trainers, and technical help to operationalize other fleets. Additionally, PAF has rendered training and operational support to Nigerian pilots and ground crew and extended support to develop the Air Force's indigenous capacities of training and maintenance.
Nigerian Defense Minister Magashi expressed gratitude to Pakistan and PAF for their effort in modernizing the local service and helping Nigeria in handling its security challenges. PAF Vice chief Noman Ali reflected on the military cooperation and trust between the two nations and pledged PAF's sustained support to aid Nigeria to meet its air power requirements. JF-17 Thunder is a lightweight, multi-role fighter aircraft. The aircraft is supplied with unique fighting capabilities and is now indigenously developed in participation with China.
Nigerian Air Force has inducted the JF-17 in stages as it lacks the resources to buy a full squadron strength. However, the continued pace of incremental developments would sustain its order for the future, noted an analyst. JF-17 aircraft and other attempts to keep afloat Nigerian Air Force capacity stem from its main security challenge posed by the militant group Boko Haram in the country's north. The aircraft provides feasible support in taming insurgency as it is supplanted with a wide variety of weapons and electro-optical pods for pinpoint attacks.