Pakistan Delivers Three JF-17 to Nigeria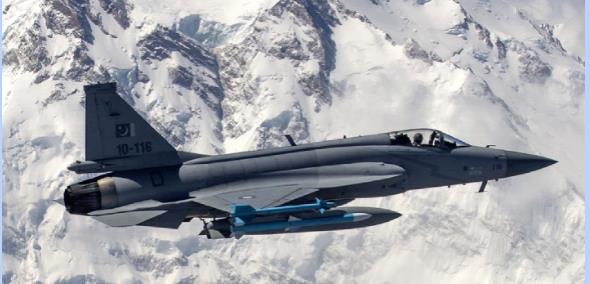 During a ceremony at the airbase in Makurdi, Nigeria's air Force officially took delivery of Three JF-17 to Nigeria amid the celebration of the 57th anniversary of service. Pakistan Aeronautical Complex, which was responsible for the delivery and construction of the aircraft, handed over the fighters. This marked the latest development in the modernization process of the Nigerian Air Force by the Pakistan Air Force. High-ranking officers from both forces attended the ceremony, according to the press release by Pakistan Air Force.
Bashir Magashi, the Nigerian Defense Minister, was the chief guest of the ceremony; he thanked Pakistan and its Air Force for helping Nigeria to modernize its forces to counter its security threats. He expressed his happiness and excitement about the addition of JF-17 fighter aircraft. Pakistan's vice chief of Air staff, Syed Noman Ali, ensured that the support for the Nigerian Air Force to meet its airpower requirements would be continued in the future as well. K-8 Karakorum intermediate jet trainers having the capability to fire unguided missiles and MFI-17 Super Mushak basic trainers were also delivered to the Nigerian Air Force. It helped in keeping the Nigerian fleet of F-7NI Fishcan fighters operational.
The Nigerian ground crew and pilots were also trained to support these aircraft. Efforts were also made to make the training and maintenance program local by enabling the Nigerian Air Force to indigenously train personnel. Author, Analyst, and former Pakistan Air Force pilot Kaiser Tufail expressed his views; he said the process of procuring JF-17 jets by the NAF would be completed in stages. The reason behind it is that NAF can't support full squadron strength. In the following months, more aircraft will be inducted.
In the past, the Nigerian service struggled to keep the aircraft operational. Still, it would not be an issue in the future, said the expert of Royal United Services Institute think-tank Justin Bronk. With the induction of the JF-17, the country would be able to generate readiness better as compared to the previous fighter fleets. Boko Haram in the country is the main security concern for the Nigerian Air Force, which is present mainly in the northern region. JF-17 will make a considerable impact in addressing such threats.