Pakistan Navy participates in Exercises with the US and Canada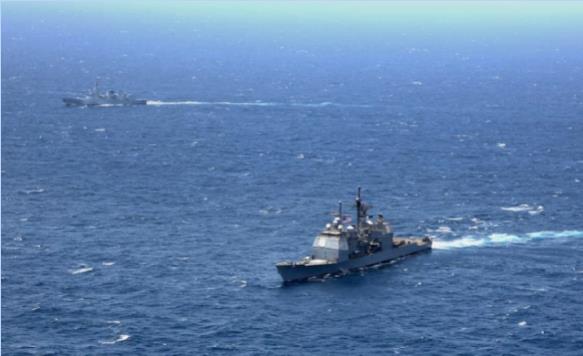 Pakistan Navy Ship (PNS) Saif, along with the ships of Canada and the United States of America, participated in the focused operation Chinook Archer in the Arabian Sea. Pakistan Navy ships are regularly deployed in the Indian Ocean Region for countering the regional maritime security issues. PNS Saif, along with Canadian ship HMCS Calgary and U.S. naval ship USS Laboon participated in the passage Exercises with the US and Canada under the realm of focused operation. The interoperability between the participating navies was tested with these exercises. Another very important aim of the exercise was to interdict illegal trade and smuggling in the Ocean region.
Pakistan navy is committed to establishing peace and stability in the IOR and remained focused on enhancing maritime security and order at sea. Such exercises and focused operations are the manifestations of Pakistan's aim for countering all forms of terrorism at sea. The efforts to curb the menace of narco-trafficking and illegal smuggling to give the maritime community safe regional trade corridors remained the main agenda for Pakistan.
Pakistan Navy is focusing on countering every security threat in the IOR for strengthening its blue economy, which heavily depends upon the safe sea routes. The continuous flow of Imports and Exports of Pakistan is extremely important for maintaining a stable economy for Pakistan. Other countries like China, citing their future economic aims through projects like OBOR, also require the security of the Arabian Sea. Being a strategic partner to China, it is an important part of Pakistan's national policy to secure maritime routes.