Pakistan – Super Mushshak: How PAC Carved a Niche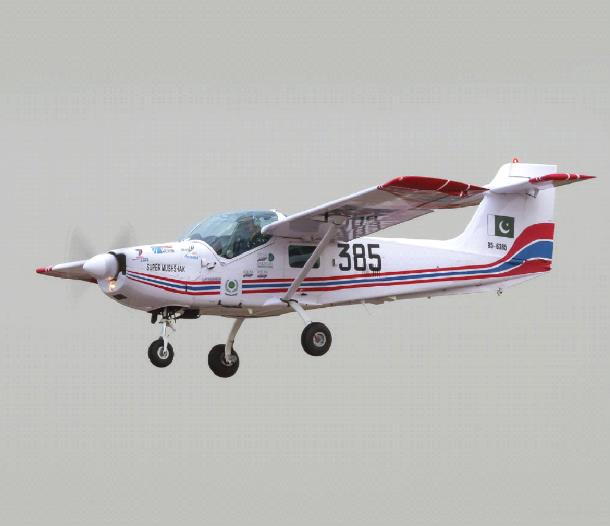 The Pakistan Aeronautical Complex (PAC) designed and built the MFI-395 Super Mushshak military trainer/light attack aircraft for the Pakistan Air Force (PAF) and the Royal Saudi Air Force (RSAF). It was based on the MFI-17 Mushshak trainer plane. Approximately 300 MFI-395s are now active in Pakistan Armed Forces academies. It has been designed to fulfill US FAR 23 certification in the regular, utility, and aerobatic categories. It can take off from any small unprepared runway and is self-contained in terms of ground equipment. Super Mushshak – upgraded avionics is a more advanced variant of Mushshak featuring cabin air-conditioning, electrical instrumentation, and electric combined manual elevator and rudder adjustment. The MFI-395 was ordered by the PAF (50), the RSAF (20), and the Royal Air Force of Oman (five). In May 2001, the PAF got its first Super Mushshak. Deliveries to Oman's Royal Air Force were completed in 2004.
Design:
The MFI-395 was developed to give basic flying instruction to pilots at the PAF Academy at Risalpur. It was created to be useful for both military and civilian operations. The aircraft's design complies with FAR 23 certification criteria in the aerobatics and utility classes in the United States. The aircraft's tricycle gear enables it to fly from unprepared airstrips and rocky airfields, even under unfavorable situations.
Development of Super Mushshak (MF1-395):
The MFI-395's production started back in 1995. The MFI-17 was upgraded with a 260hp engine, electronic instrumentation, dual flight control systems, and a Bendix RSA fuel injection system, and finally, the MF1-17 was created. The Super Mushshak made its first flight in August of 1996. The first production aircraft was delivered in November 2000. The Pakistan Civil Aviation Authority approved it in 2002 after entering service in May 2001.
Missiles and Weaponry:
Six hardpoints are installed behind the wing pylons on the MFI-395. The inner two strained hardpoints can each support up to 150kg. The other four are equipped with missiles, gun pods, and Bofor Bantam anti-tank weapons.
Export to Multiple Nations:
The MFI-395 Super Mushshak has been supplied to several nations, like Nigeria and Qatar. PAC received its largest export order back in 2017 when the Turkish Undersecretary for Defense Industries (SSM) granted it a contract for the delivery of 52 Super Mushshak aircraft. In July 2016, PAC won the competitive bidding procedure. Back in June 2016, General Salem Hamid Al Nabet, Commander of the Qatar Air Academy, signed the deal on Qatar's part. During the signing event, Pakistan was addressed by Air Vice Marshal Arshad Malik, Deputy Chairman Pakistan Aeronautical Complex. The number of trainers purchased was uncertain.
Light Attack Super Mushshak:
The Pakistan Aeronautical Complex (PAC) displayed the combat variant of the Super Mushak turboprop jet in 2019. The PAC-built aircraft was outfitted with anti-tank weaponry. Buraq laser-guided missiles, designed for attack drones and light aircraft, will be placed aboard this aircraft as well. According to an official announcement, the plane's targeting capability was increased even more. At that time, it was planned that the light aerial support aircraft would be employed in operations against terrorists who do not have access to air defense systems. The armed Super Mushak will compete with aircraft such as Embraer-Sierra Nevada Corp's Super Tucano, which has proven quite effective in Afghanistan.