Pakistan / Sweden – Erieye AEW&C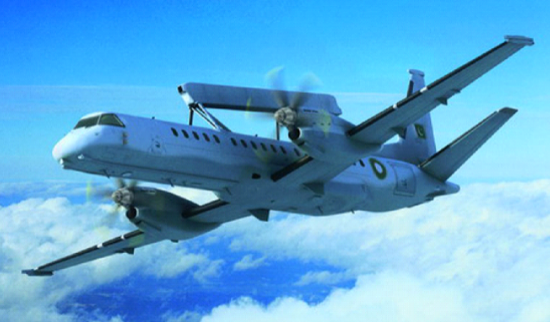 A Brief Insight of Erieye AEW&C:
Erieye AEW&C is a Swedish-made Airborne Early Warning and Control System. Developed by Saab Electronic Defense, this radar system is widely used on various aircraft. The Erieye radar system gives 300-degree coverage. The instrumental range is about 450 kilometers, and it can detect a threat up to 350 kilometers in threatening conditions of electronic warfare. During warfare or armed conflict, gaining an information edge over the enemy is crucial. Every second count and action depends on the information received.
Saab 2000:
Saab 2000 Erieye is a perfect AEW&C possessing multiple roles and multiple mission abilities. Both civil and military forces utilize Sab 2000. This advanced AEW&C strengthens national security with higher efficiency.
Multi-mission abilities of Saab 2000: The multi-mission abilities of a Saab 2000 include; airborne early warning & control, airspace management, monitoring air and sea, controlling territory and borders, search and rescue missions.
Special features of Saab 2000: Saab 2000 and similar airborne early warning and control systems have one big advantage over traditional ground radars. Their ability to fly at high altitudes enables them to provide coverage of the much broader area. Saab 2000 provides precise coverage over half a million square kilometers horizontally and over sixty thousand feet vertically. The surveillance is much more effective in these ranges.
Export to Pakistan:
Pakistan was the first country to order Saab 2000 AEW&C. Pakistan Air Force placed the order in the mid of 2006 at the cost of $933 million. Pakistan was under financial crises at that time, so the part of the deal was renegotiated by the Pakistani Government and reduced to $194 million. A public report revealed that on 6th April 2019, Pakistan Air Force received three Saab 2000 airborne early warning and control systems. The order was made back in 2018 by the Directorate General of Defense Purchases. These aircraft were delivered to DFGDP in 2018 by Skyworld Aviation, a dealer of aircrafts' sales and leasing. Initially, Pakistan Air Force placed an order of five Saab 2000. Out of these five, four were to be installed with AEW&C, and one was to be used for training & VIP flights. However, in 2012, one AEW&C was canceled, and two were critically damaged.
Pakistan Aeronautical complex repaired the damaged aircraft. This process helped Pakistan's Aeronautical Complex acquire MRO capabilities (maintenance, repair, and overhaul). In 2017, three more Erieye AEW&C were ordered by the Pakistan Air Force. The first aircraft was scheduled for delivery in December 2017, and the other two were to be sent by 2018. According to the data, Pakistan received the most important radar equipment by Saab in 2018 and 19. Pakistan also received an Erieye AEW&C in 2018.