Pakistan – Talha APC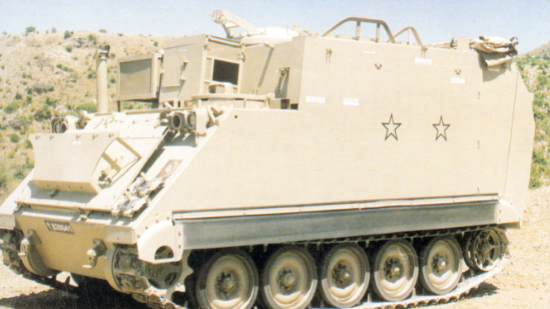 Talha: Pakistan's First Armed Personnel Carrier
Talha is Pakistan's first locally designed and manufactured armed personnel carrier. Heavy Industries Taxila designs and manufactures Talha APC. The Talha APC is based on the US M113 APC but comparatively better confined. US M113 was most widely used in the Vietnam War. Turkey did offer similar armed personnel carriers, but Pakistan chose to design and develop on its own to reduce the costs. The major armor of Talha APC is a 12.7mm machine gun right on its top. The fortification can be improved by adding up extra armor. Talha APC is able to transport eleven fully equipped soldiers. The two firing ports on both sides of this APC give it a significant edge over the old US M113. Troops use the rear incline to enter and exit the APC. The engine area of Talha APC can have room for a Detroit Diesel 6V53T with the capacity of 275 horsepower or a UTD 20 diesel engine with the capacity of 330 horsepower. The APC is an amphibious military vehicle, and this feature makes it capable of crossing the water obstacles.
The United States and China are the main weapon providers of Pakistan. If we talk about the current scenario, Pakistan does not depend completely on the United States and China to meet its defense requirements. Pakistan is gradually moving towards local production for military equipment to reduce the import costs as much as possible. Pakistani Army has been using Talha armed personnel carriers since 2010. At that time, US sanctions were imposed on Pakistan for working on its nuclear projects so that Pakistan couldn't authorize the production of the old American M113. That was the core reason why Pakistan Opted for Talha.
The US Classic M113 Vs Talha:
The American M113 APC and Pakistani Talha APC look quite similar, and the difference cannot be noticed at first glance; however, the narrow shape of Talha makes it visually different. The side armor plates are different, and Talha APC has firing ports on both sides. The internal variations include the placement of the driver's seat and propulsion system. Talha APC has a running gear of six rollers on each side, unlike the old M113, which has five rollers. The weight of Talha is slightly more than M113, and the speed is less than M113; 40 km/h as compared to the M113's 64 km/h. The troop count is the same for both APCs.