Rivals of South China Sea Agree to Set Up Hotline to Deal With Emergencies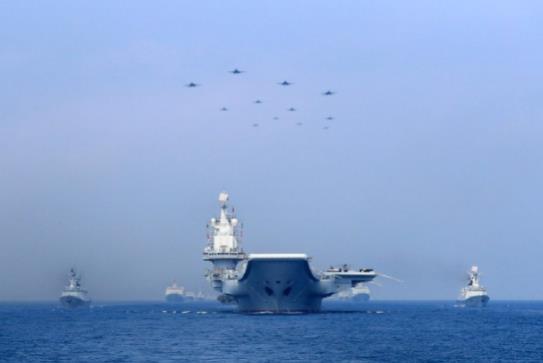 In a surprising move, China and Vietnam have agreed to set up a Hotline to Deal With Emergencies between the two countries' navies. On Friday, 28 May, in a meeting through a video link, People Liberation Army's Navy Chief Vice-Admiral Shen Jinlong and Rear Admiral Tran Thanh Nghiem, Commander of Vietnam's People's Navy, pledged to strengthen cooperation between the two navies and cultivate exchanges after the pandemic is over. However, the move is widely being seen as aiding in efforts to administer risks of conflict and mishandling amid their contesting claims in the South China Sea.
The two sides also assented to overhaul the structure of information sharing on the issue of mutual concern during the meeting. In addition, the hotline is installed for both navies to 'proactively cope with emergencies.' This hotline is another line of a direct line established between two countries' defense ministries set up at the end of 2015. The military naval talks have surfaced in the background of a recent leadership reshuffle in Vietnam, where a new dispensation led by Nguyen Xuan Phuc has assumed the reins of government. Beijing's Xi Jinping has expressed a desire for more cooperation with Vietnam in his recent phone call with the country's new leader. The talks aim to build closer ties with new leadership to defuse tensions caused by their territorial disputes in the resource-rich South China Sea, which have taken a toll on the countries' bilateral relationships.
Le Hong Hiep, a senior fellow with the Vietnam Studies program at the ISEAS-Yusof Ishak Institute in Singapore, said the current move was part of Hanoi's 'hedging strategy in its relations with China which involves both balancing and engagement elements.' It noted that along with developing and investing in its military and maritime law enforcement capabilities to put up with growing Chinese assertiveness on the ground, Vietnam wants to further political, economic, and military cooperation with China in areas to lay the ground for a stable, peaceful and mutually beneficial bilateral relationship between two contesting states. Thus, bilateral naval cooperation comes within the loop of hedging strategy.
Further, the hotline can serve as a cost-effective method to diffuse tensions in the disputed waterway and build mutual trust. Analysts have noted that the most significant security issue between the two nations is their constant rows of maritime nature in the South China Sea, where encounters and a back and forth between navies and coastguards are usual occurrences. Vietnam's military build-up in the form of its combat training aircraft deal with Russia has alerted China. Additionally, the deliveries of U.S military hardware such as U.S patrol boats and equipment for Vietnamese coastguards in recent years have swung the mood in China. The heightening cooperation between the U.S and Vietnamese navies has dimmed the prospects for enhanced China-Vietnam naval cooperation. In this changing scenario, the hotline can become a part of a crisis control mechanism and serve to de-escalate tensions in the hot, dispute-ridden South China Sea region. Rival neighboring countries are bitterly contesting claims in the South China Sea.