Royal Saudi Air Force's Tuwaiq-2 Exercise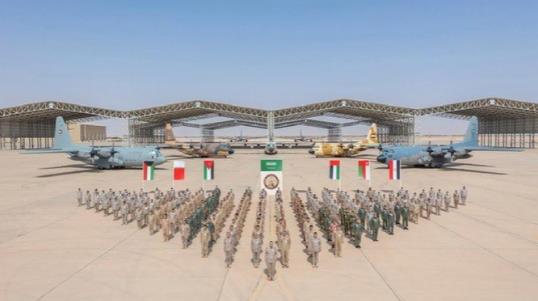 The Royal Saudi Air Force (RSAF) concluded the primary stages of the joint and mixed air drills named "Tuwaiq-2" with other friendly Arab states, the Saudi Ministry of Defense stated. Lt. Gen. Turki bin Bandar bin Abdulaziz, RSAF commander, lauded the harmony he witnessed between the air and technical crews from the friendly Arab nations, the professionalism, and the perseverance to realize the tasks to the very best level, and therefore the high morale demonstrated by the participating forces. The "Tuwaiq 2" air drill commenced at Prince Sultan Air Base and lasted half a month, which also included sorties for tactical airdrop missions.
Tuwaiq 2 mostly focused on air drills and can be administered in several stages. The exercise largely focused on achieving high levels of operational readiness among the participating countries and can also include training for tactical airdrops. The air forces participating in the exercise arrived at Prince Sultan air station with logistical and support staff. The announcement of this joint military exercise follows the beginning of military drills by the neighboring UAE and Egypt that focused on improving the combat readiness of the two nations.
The Zayed 3 exercises are likely to continue until the top of the month. In addition, the Royal Saudi Air Force concluded an identical drill earlier this month with Greece's Hellenic Air Force at the King Faisal air station in Tabuk. The two-week exercises, called Falcon Eye 2, are a part of an ongoing enhancement of bilateral ties between the two nations, particularly through military collaboration as both countries have shared concerns over Turkey's policy.