Saudi School Hit by Bomb-Laden Drone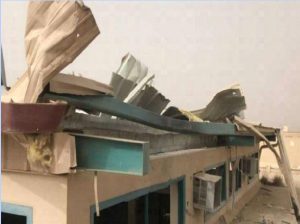 According to the civil defense minister of Saudi Arabia, a Saudi school was hit by a Bomb-Laden drone. However, no injury was reported in the recent attack by Houthi militia, informed the defense ministry spokesperson Captain Abdullah Al Jilban. According to the released image, the only damage could be seen in the shape of the damaged roof and broken parts of the drone.
This incident was recently among the attacks carried out by Houthi rebels on the border cities of Saudi Arabia. However, most of the attacks were defused before reaching their targets. Since 2015, Saudi Arabia has been leading a war in Yemen against the rebels to support the government of Abd-Rabbu Mansour Hadi.
The attack was carried out just after the statement of the Saudi-led coalition that claimed the halting of attacks in Yemen to promote a peaceful environment in a conflict zone. Turki al-Maliki, the spokesperson of the coalition, said that the de-escalation is aimed at preparing the political ground for the peace process in Yemen. However, shortly after his comments, eight people were killed, and 27 were injured in strikes carried out in the northern city of Marib, as per the sources of Yemeni state media.
According to the rebel sources, the Omani officials visited Sanaa to convince them of a ceasefire. The efforts for peace resumed in April this year when Saudi Arabia and Iran agreed on talks. This was the first high-level meeting after the diplomatic ties were cut by Tehran in 2016.