The U.S. George H.W. Bush is a Nimitz-class aircraft carrier, making it a mobile military installation with a crew of over 6,000.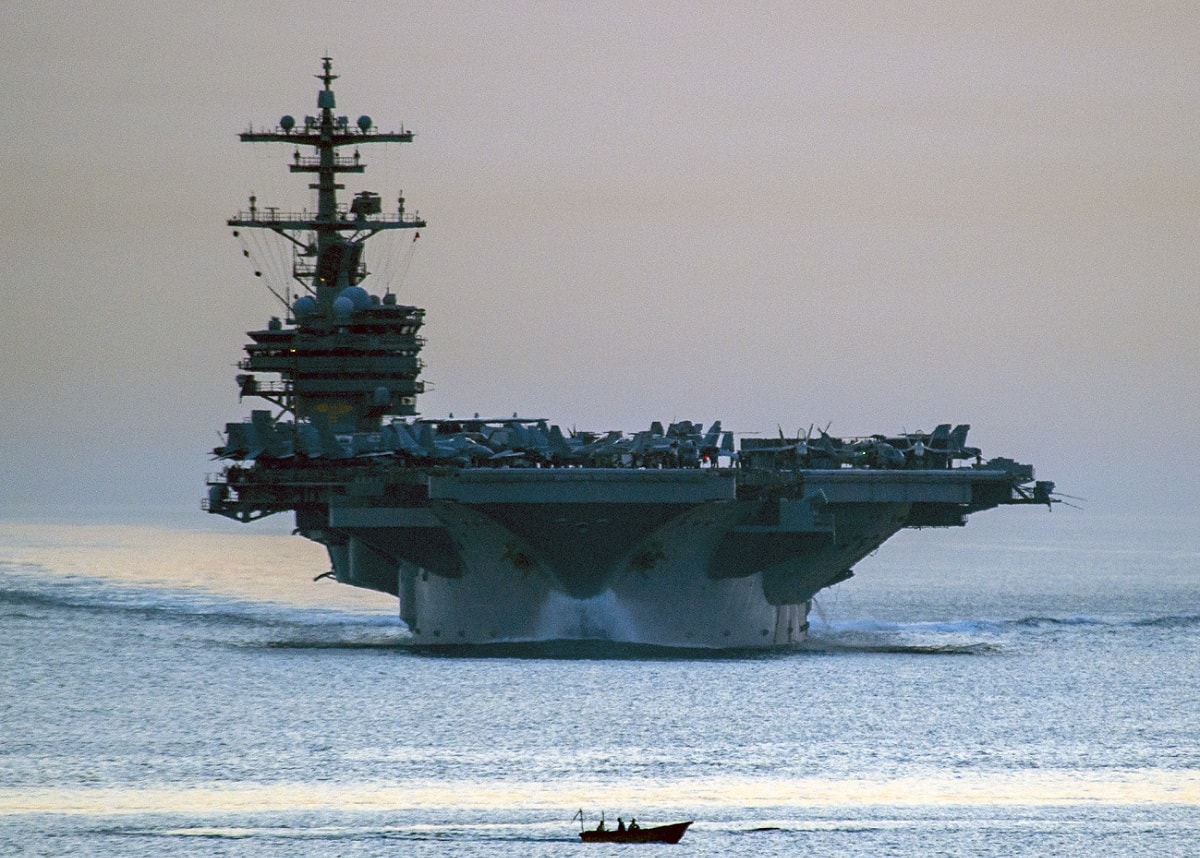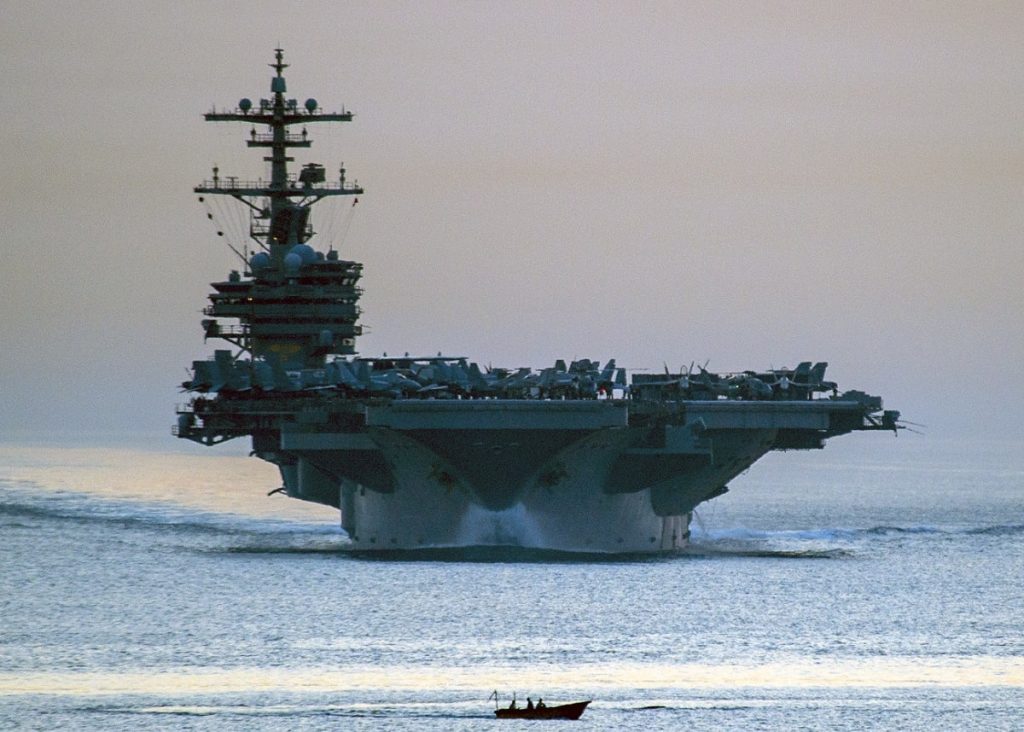 STRAIT OF HORMUZ (April 28, 2014) A small vessel transits in front of the aircraft carrier USS George H.W. Bush (CVN 77) as it transits the Strait of Hormuz as seen from the guided-missile cruiser USS Philippine Sea (CG 58). The George H.W. Bush Carrier Strike Group is supporting maritime security operations and theater security cooperation efforts in the U.S. 5th Fleet area of responsibility. (U.S. Navy photo by Mass Communication Specialist 3rd Class Abe McNatt/Released) 140428-N-PJ969-027
Ten aircraft carriers in the United States Navy have been named after presidents, and a second carrier honouring John F. Kennedy is now under construction. Only one of these flattops, the USS George H.W. Bush, is named after a naval pilot (CVN-77). The ship's call sign, "Avenger," is an apt tribute to the TBM Avenger aircraft that Lt. Bush piloted during World War II. The USS Forrestal (CN-59) was the first carrier named after a naval pilot, and now CVN-77 joins her as the only other such ship.
As President Bush declared in his inaugural address, "We know what works: freedom works," and thus, that phrase became the slogan of the USS George H.W. Bush. We know the truth, and the truth is freedom. The tenth and final Nimitz-class carrier went into service today, guaranteeing that Americans will always be able to exercise their right to freedom.
The final Nimitz-class carrier was commissioned from Northrop Grumman Shipyard Newport News on January 26, 2001, just days after George W. Bush, the son of the former president, took office. The naming ceremony occurred on December 9 that year, with Bush 41 in attendance.
On September 6, 2003, former President George W. Bush spoke as the featured speaker at the keel-laying ceremony. Afterwards, President Bush participated in the "stepping the mast" ceremony, where significant things such as coins are traditionally deposited under the bottom of a ship's mast. He donated his navy aviator wings.
The ship, built in sections, was given her baptismal name on October 7, 2006. It was a historic occasion because the outgoing president was the first to attend a naming ceremony for a ship bearing his name. She was handed over to the Navy in May of 2009 and is expected to serve until the late 2050s.
The U.S. George H.W. Bush is one of the world's largest warships due to its length of 1,092 feet (333 metres) and more than 100,000 tonnes of displacement. But, compared to earlier Nimitz-class carriers, there are several key distinctions. The bulbous bow on the CVN-77 is meant to increase buoyancy at the front of the ship and boost hull efficiency. The rounded corners of the flight deck also help to lessen the ship's radar signature.
Furthermore, her updated island and radar tower made her the second aircraft carrier to sport such features after the USS Ronald Reagan (CVN-76). The island has been shrunk and moved further aft to lessen its impact on the ship's signature and electronic self-interference, making gaining access to the flight deck easier.
Also, George H.W. Bush has a sewage system and toilets similar to those found on commercial aircraft, which has become one of its most controversial new features. Unfortunately, the systems' unexpected and frequent blockages have put them in the spotlight rather than their increased efficiency.
Like other carriers in the Nimitz class, the USS George H.W. Bush serves as a mobile military base, housing almost 6,000 service members. It includes 3,200 crew members, 160 officers, and 2,500 aircrew members. The ship may also house the flag officer and around seventy more carriers. The ship could also serve as quarters for the flag officer and up to about seventy additional crew members from the carrier battle group.
She can transport up to fifteen rotorcraft, including the Sikorsky SH-60F, HH-60H Seahawk, and SH-60B Seahawk, and up to fifty-six fixed-wing aircraft, such as the F/A-18A/C/E/F, Grumman EA-6B Prowler, and Grumman E-2C Hawkeye. Carrier aircraft can be launched and recovered quickly and simultaneously thanks to its four C13-2 steam catapults and three Mk7 Mod 3-type arrester wires. Crews can launch planes at a rate of one every 20 seconds if they have to.
On August 14, 2014, when she was stationed in the Persian Gulf to defend U.S. interests, two F/A-18F Super Hornets dropped 500-pound laser-guided bombs on ISIS fighters near Erbil. A month later, flew more missions to strike ISIS strongholds in Syria using F/A-18s and Super Hornets.
While in the Virginia Capes Operating Area on December 12, 2021, an F-35C Lightning II Joint Strike Fighter (JSF) plane from the "Rough Riders" of Strike Fighter Squadron (VFA) 125 made its maiden carrier landing.
Flying F-35Cs from the USS George H.W. Bush was considered a major accomplishment. On the warship's official seal, the presidential P-3 Avenger flown by George H.W. Bush during WWII is overlaid on a F/A-18 Super Hornet, which is superimposed on an F-35C. It represents Naval Aviation's past, present, and future, as intended during the ship's commissioning.