The Russian Navy's Alexandrit-class MCM Vessel Program Advancing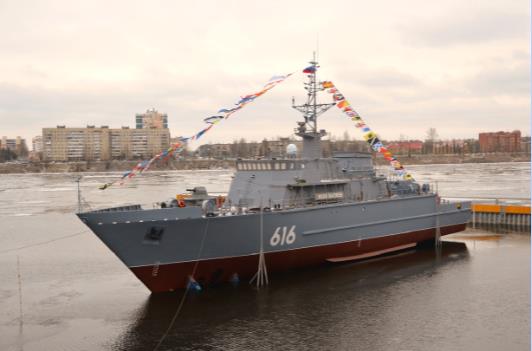 The Russian Navy has ordered a series of 40 ships and vessels for 2021. This order includes two Project 12700 Mine Counter Measures (MCM) ships. The Sredne-Nevsky Shipbuilding Plant, a subsidiary of the United Shipbuilding Corporation, is already developing four MCM ships for the Russian Navy's Alexandrit-class MCM Vessel Program. Four Project 12700 ships are already in commission since 2016 and are being operated by the Russian Navy.
The first Project 12700 MCM vessel, named Alexander Obukhov, was commissioned into the Baltic Fleet of the Russian Navy in December 2016. The second and third Project 12700 MCM vessels were Ivan Antonov and Vladimir Yemelyanov. These ships were commissioned in 2019 and are operated by the Black Sea fleet. The fourth Project 12700 MCM vessel was named Yakov Balyaev, commissioned in late 2020, and joined the Pacific fleet. The Project 12700 Petr Ilyichev is the fifth ship of Alexandrit-class MCM vessel for the Russian Navy, under preparation for mooring trials and scheduled to be commissioned in 2021.
Besides Petr Ilyichev, Sredne-Nevsky Shipbuilding Plant is building the Georgy Kurbatov, the Anatoly Shlemov, and the Lev Chernavin for Russian Navy. Out of these, Georgy Kurbatov would join the Russian Navy by the end of 2021, as reported by the Russian Ministry of Defense. Furthermore, it is reported that the Russian Navy plans to receive over and around 30 Project 12700 MCM vessels by 2035 (or by 2050), making these platforms the foundational component of their mine hunting and mine sweeping naval services.
A Mine Counter Measures Vessel (MCMV) is a naval ship designed with such specifications that can trace and destroy naval mines. It is a part of minesweeping and minehunting naval services. A Project 12700 MCM vessel or Alexandrit-class MCM vessel designed for the Russian Navy can locate and destroy mines at naval bases and naval harbors. The ship features a robust mono-hull to offer high strength, survivability, and mine resistance to the vessel while increasing the invisibility for magnetic mines.
These vessels can also trace and neutralize silted mines in Sea State 5 category during mine clearance operations because of their unique station-keeping capabilities in high sea states. In addition, these vessels are equipped with precision navigation systems, high-frequency sonars, and remotely controlled and autonomous submersibles. As mentioned by Admiral Nikolai Evmenov, the Commander-in-Chief of the Russian Navy, the Russian Navy can further proceed with the program. He also said extending the order for Project 12700 MCM vessel series order as these ships have significant modernization and export potential (with India being interested in the Project ship production).