The lone F-20A Tigershark is exhibited at the California Science Center in Los Angeles's Exposition Park.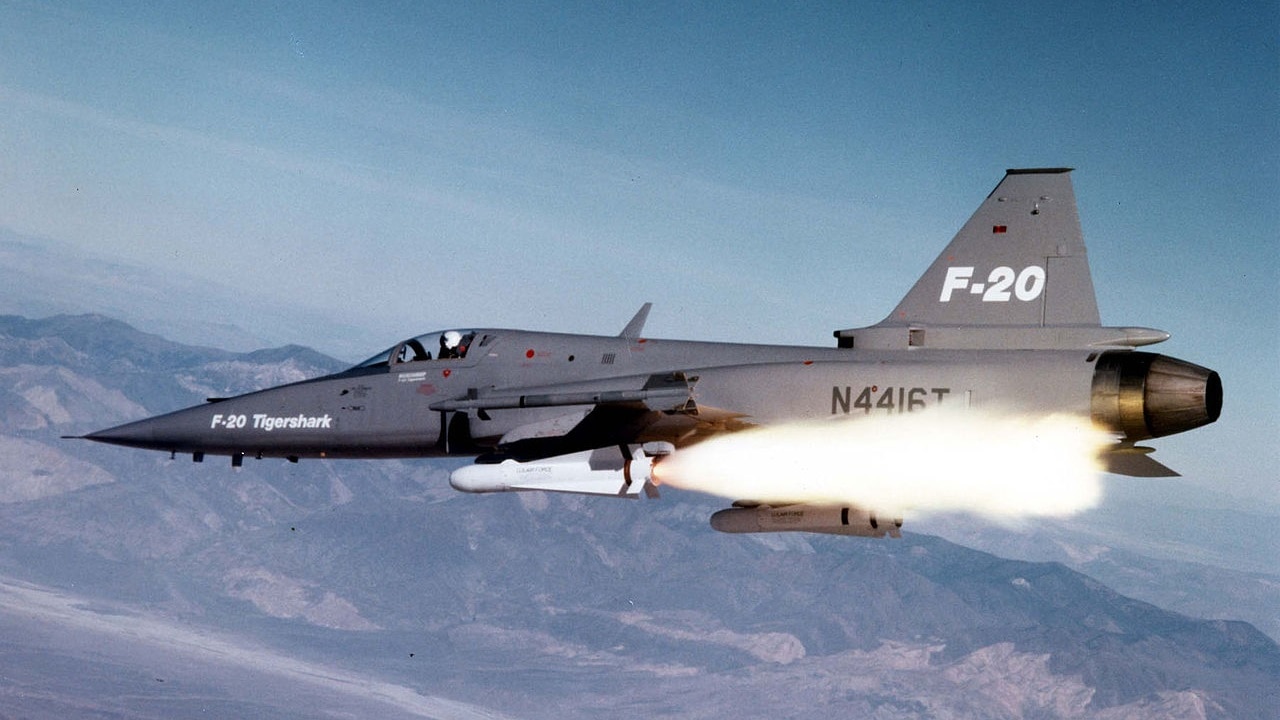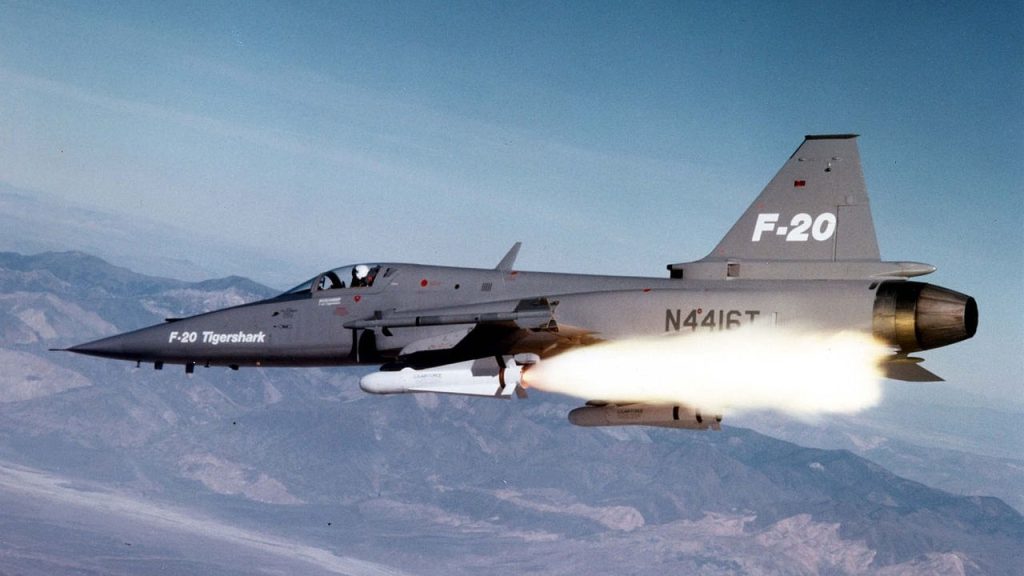 Many U.S. military fighter jets looked good in testing but never saw service. Despite its backing, the F-20, a fantastic plane, never made it past testing. Monogram incorrectly called its 1:48 plastic model kit of the Curtiss P-40 Warhawk the "Tiger Shark." The Tigershark was a Cold War-era jet fighter, not a WWII prop. In his 1986 book, Chuck Yeager broke the sound barrier and called the F-20 Tigershark the world's best fighter.
With such an endorsement, the jet seemed destined for stardom, but it was rejected. Why did this airborne shark die in the flying fighter's feeding frenzy? (so to speak).
F-20 development began in 1975. It was initially called the F-5G, a variant of the Northrop F-5E Tiger II, AKA "Freedom Fighter," already being sold to U.S. allies worldwide (from Brazil and Ethiopia to Switzerland, South Korea, and Taiwan) as a low-cost export fighter. It also gained Hollywood fame as the "MiG-28" in the original Top Gun film. The Carter Administration-directed DOD project "FX" aimed to sell less-advanced fighter designs to U.S. allies to prevent Soviet acquisition of front-line U.S. technology. Northrop initially considered Taiwan as the most likely buyer of the F-5G.
The Northrups' choice to create the Tigershark was reasonable, according to a June 1987 RAND Corporation case study by Tom Martin and Rachel Schmidt. Two arguments supported a new F-5 fighter. First, the F-5 market required a new plane. Second, emerging technologies need an advanced airplanes. "The Tigershark was made for this."
The Northrup design team of Welko E. Gasich, Robert Sandusky, and retired Air Force Col. Everest "Rich" Riccione was inspired by legendary USAF Col. John Boyd's "energetic manoeuvre" concept. The F-5G was renamed the F-20A after Mr. Sandusky incorporated engineer Richard T. Whitcomb's "wasp waist" transonic area rule.
The Tigershark was faster (Mach 2.1/1,387 mph; 232 kph), had beyond-visual-range (BVR) air-to-air capability, and could fire most U.S. weaponry. The conventional armament was two Pontiac M39A2 20mm autocannons with 280 rounds each and two AIM-9 Sidewinder air-to-air missiles on the wingtips. Three prototypes existed.
On August 30, 1982, Edwards AFB test pilot Russ Scott flew the Tigershark prototype for 40 minutes at an altitude of 40,000 feet (12,000 meters) and a speed of Mach 1.04 (791.65 mph/1,284.19 kph). The F-20 was competitive with modern fighter designs like the General Dynamics F-16/79 (a modified export-oriented variant of the F-16A/B built for use with the old-fashioned General Electric J79 turbojet engine) but cheaper to buy and operate. The concept should have taken off from there, but it crashed and burned (two bad puns in one sentence, yes, I know).
Global politics and bureaucratic turf wars contributed. "With Ronald Reagan as president, the FX programme progressively fell out of favour as the administration lifted export limits," wrote the late aviation journalist Robert F. Dorr. The 1982 U.S.-PRC Joint Communiqué on Arms Sales prevented Taiwan from buying the F-20. Worse for the F-20's chances in other markets. Every F-16 sold to a foreign government meant the Air Force's F-16 production cost decreased. Hence the Air Force had an iron in the fire with foreign military sales (FMS). Two fatal crashes followed. Northrup test pilot Darrell E. Cornell died on a 1984 demonstration flight at Suwon Air Base, Republic of South Korea. Goose Bay, Newfoundland, Canada, saw the second on May 14, 1985. Both pilots blacked out due to gravity-induced loss of consciousness. Hence the F-20A was found to be defect-free (G-LOC).
Tigersharks were doomed. "The F-20A Tigershark was quick, nimble, lethal, easy to fly, and easy to maintain," said Mr. Dorr. Northrop could never compete with the F-16 on cost, and the Tigershark failed because it sought to be too many things. The F-20A was too light to be a powerful warplane like the F-15E Strike Eagle and too hefty to be lightweight. The Northrop F-20A Tigershark was a great fighter but came at the wrong time.
The California Science Center in Exposition Park, near the Los Angeles Memorial Coliseum and USC University Park Campus, displays the sole F-20A Tigershark.