Turkey's ULAQ USCV Hits Its Target During Sea Wolf 2021 Naval Exercises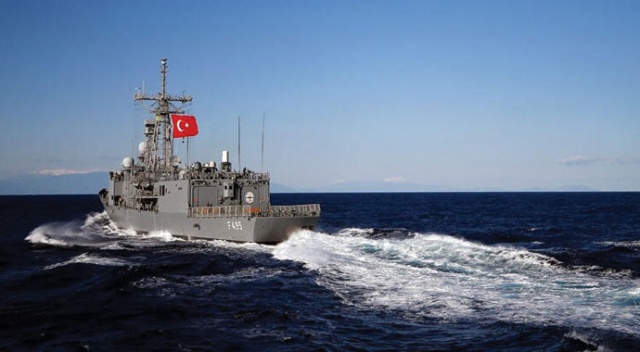 In a milestone development, Turkey's first domestic unmanned combat surface vessel, ULAQ, successfully executed test-fires of laser-guided CIRIT missile to a land target on 26-27 May. In its historic first, the Turkish Navy's "largest-ever" exercises, Denizkurdu or Sea Wolf 2021 Naval Exercises, commenced on May 25 in the Aegean sea and the East Mediterranean simultaneously. The exercises were organized in three phases.
The Turkish Defense Ministry announced the news with footage via a Twitter account. The development of ULAQ was a joint project of the Turkish ARES Shipyard and METEKSAN Defense. The duo spent a hefty three years in which extensive Research and Development (R&D) efforts were invested on ULAQ. The unmanned platform was launched at sea in January and has been conducting trial trips since then. It completed its harbor and sea trials, and the last phase was to rest on live-fire missile tests, which were scheduled for May.
As per its schedule, ULAQ launched the CIRIT missile pegged with telemetry on May 26. A day later, it launched a CIRIT missile fitted with an actual warhead from four kilometers and hit its target with accuracy. The test-firings were conducted off the Antalya Coast. Sensors on the ULAQ identified the target. The area for the test-fires and wide-ranging exercises was secured weeks ago by issuing NOTAM (Notice to Airmen and Mariners) and through arrangements by the Turkish Navy to prevent any unneeded merchant vessel incursion. The event was attended by senior officials of the Turkish Defense Forces and the CEO of ARES Shipyard and METEKSAN Defense. ULAQ was monitored and handled by the Coastal Control Station (SAKI). It named the target and launched the missile.
ULAQ USCV Technology:
The exercises have spotlighted the operability and naval efficiency of ULAQ USCV and unmanned surface vehicle technology. In any case, ULAQ is the first operational ready-armed USV worldwide. ARES and METEKSAN aim at producing 50 ULAQ USVs per year. The technology employed in the ULAQ USVs offers the best prospects of 'tactical elasticity' by making it possible to conduct high-risk missions without any risk to human lives.
Besides, ARES and METEKSAN are attempting to take a leadership position for Turkey in developing USVs, just like it has surprised the world with its indigenous UAVs. This ULAQ AUSV, in addition to a remotely controlled vehicle, is a state-of-the-art autonomous vessel with its superior capabilities enmeshed through artificial intelligence features. They can be operationalized through land or from floating platforms such as aircraft carriers and frigates. They serve multiple purposes such as Reconnaissance, Surveillance and Intelligence, Surface Warfare, Asymmetric warfare, Armed escorts, and Force Protection, and Critical Facility Security.
Denizkurdu 2021 Exercises:
Denizkurdu exercises are strategic exercises by the Turkish Navy performed every two years. The scale and troops have outnumbered previous exercises as a large number of aircraft, vessels, and troops are being mobilized this time around. The exercise is divided into three phases. The first phase was named Operation Readiness Training, conducted between 25-27 May. The second phase was called Free Play and ended by June 2. The third phase would be completed by the fleet's visit to 22 ports.