US Africa Command (Africom) Carried Out the Largest Military Exercise of the African Continent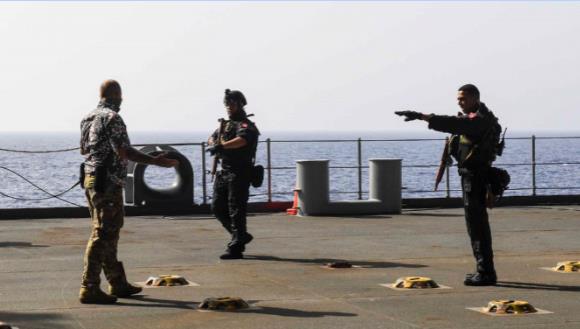 US Africa Command (Africom) carried out the largest military exercise of the African continent on June 7, 2021. The exercise, called African Lion 21, led by US Army Africa (also known as Southern European Task Force), is an all-domain, joint, multi-component, multinational exercise conducted near Western Sahara, in Morocco, Senegal and Tunisia. The exercise and war simulations were conducted from June 7, 2021, to June 18, 2021. According to US Africa Command (Africom), this military exercise included the US, NATO, and more than nine other partner nations, including the UK and Italy, with more than 7000 personnel participation. The aim was to promote and strengthen strategic interoperability and regional security by enhancing the capabilities of the US, regional organizations, and other participating nations.
The exercise included rocket fires, naval boat patrol, airspace training, other maneuvering tasks, and mission essential function performance. The African Lion is a series of exercises, the broader aim of which is to counter instability factors, carry out peace missions, nip extremism, tackle military aggression, maintain trans-border security, and counter malign activities by enhancing the readiness, strengthening the capabilities and interoperability stance of organizations and participating states. These exercises are related to US European Command's DEFENDER series exercise.
US Africa Command commander, US Army Gen. Stephen Townsend, met with African leaders and said that the United States is long-standing committed to Africa and recognizes the strategic importance of the African continent. He further said this African Lion series exercise is a prime example of that. In addition, the US African Command's State Partnership Program is another example of cooperation. Townsend further said that these exercises are based on the aim of readiness of partner nations and African forces to jointly increase their capabilities as a multi-national force to operate on the African mission. He said that the key to forging the US-African partnership strength is the African Lion series exercise, as it allows mutual learning and deepening the commutability.
Africom conducted the exercise on all different defense fronts of Moroccan land and surrounding areas. It included air training maneuvers involving fighter jets, bombers, and aerial refueling. Moreover, the aerial operations were coordinated and supervised by US Air Forces Europe and Africa. The naval training maneuvers included naval boat patrols, naval gunfire operations, sea-based crisis response training, and other naval mission-essential functions. The US forces would also conduct maneuvering and training exercises, including crisis response operations, command post working, and tactical training, in Senegal and Tunisia as a part of African Lion 21.