China Slams US-Australian Navy Drills in the South China Sea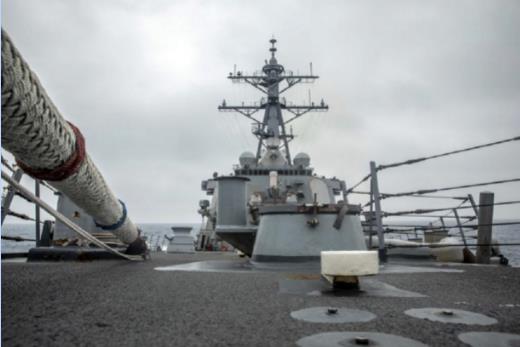 With the overbearing presence of China and its territorial claims that overlap with almost every state of Southeast Asia, the South China Sea is becoming a spot for concerns. Amid these tensions, the US and Australia conducted a week-long joint naval exercise under Freedom of Navigation Operations (FONOP). This joint drill involved US guided-missile destroyer USS Curtis Wilbur and the Royal Australian Navy (RAN) frigate HMAS Ballarat, as said by the Seventh Fleet of the US Navy, which regularly operates and interacts with several maritime nations of the Indo-Pacific region with the rant that it can fly and operate wherever International Law permits. These practices were seen that China Slams US-Australian Navy Drills.
The exercises included maneuvering drills, helicopter operations, resupplying vessels, and fire gunnery exercises to enhance the skills and operating capabilities of the ships. In response to that, China said that both states (the US and Australia) are 'flexing their muscles" with these exercises, indicating that this doesn't influence regional security and stability. In specific terms, China wanted to indicate that it doesn't affect the situation or presence of China in the strategic regions of the South China Sea, which it claims to be its own.
This drill showed China that the US disapproves of China's claim to the entire strategic waterway of the South China Sea. And that the US is committed to supporting the free flow of commerce and trade from international waters over which no one can claim. Australia is also concerned over the growing dominance of China in the waters. In contrast, for China, the presence of the US military in Southeast Asian states like the Philippines and the waters of the South China Sea poses a security threat to not only the region but also to China itself. Before these drills, the US Navy's Theodore Roosevelt Carrier Strike Group (TRCSG) entered twice the disputed South China Sea in 2021.
With the rising security concerns, resistance from neighboring Southeast Asian States, and intensified rivalry with the US, China hosted the Special ASEAN-China Foreign Ministers' Meeting on June 7, 2021. There was no declaration of any progressive Chinese approach on Code of Conduct (COC) in the South China Sea in this meeting. The regional states have now started thinking that China is just buying diplomatic time for itself while increasing its military dominance in the South China Sea.