Chinese Overflight Highlights Malaysia's Requirement for a More Powerful Military Deterrent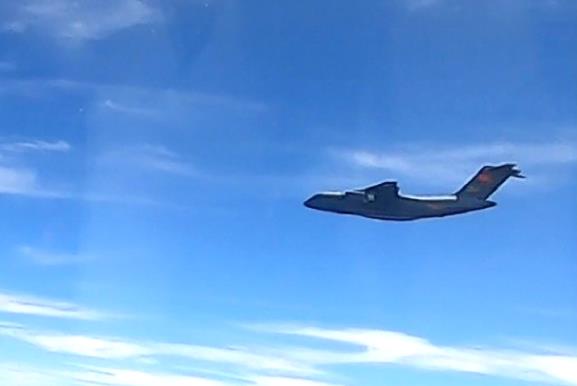 China's assertive actions in the South China Sea and its neighborhood are increasing with the pace of time, with the recent Chinese incursion into the Malaysian maritime zone airspace presenting a sordid picture. On the afternoon of May 31, sixteen aircraft of China's People Liberation Army's Air Force (PLAAF) consisting of Ilyushin I1-76 and Xian Y-20 multi-role airlifters intruded into Malaysian maritime zone airspace close to the state of Sarawak. As per Royal Malaysian Air Force (RMAF), the squadron flew in tactical formation and passed in proximity to South Luconia Shoals, which is governed by Malaysia and lies within Malaysia's Exclusive Economic Zone – but is claimed by China in its expansive nine-dash line. Malaysia is a neighbor and albeit with weak military assets as against China's dominating more powerful military deterrent prowess.
RMAF, in order to identify the intruders, activated its ground controllers, who contacted PLAAF aircraft for identification and their intent of flight. But all the requests went unheeded. It moved RMAF to scramble their Hawk 208 Light Combat Aircraft (LCA) to intercept and for "visual identification." The South China Sea is the flashpoint in the region where the interests of different countries collide and are claimed by different countries. China claims the South China Sea in its entirety and has laid its basis in historical records and enunciated in the famous nine-dash line.
Analysts point to the recent overflight by PLAAF as indicative of not a one-off occurrence but a harbinger of more frequent and sustained PLAAF activity. China has repeatedly sent Coast Guard and maritime militia vessels into Malaysia's EEZ. Last year, China sent its survey ship Haiyang Dizhi 8, with ten Coast guards and maritime militia vessels to shadow an exploration vessel contracted by Malaysia's state oil company Petronas. The recent incursion into Malaysian airspace necessitates for Malaysia to re-evaluate its defense priorities. The possible breach was intended to test the country's air defense response and gather electronic intelligence, such as RMAF's radar signature and scrambling time. It requires to maintain vigilance and pose a strong, credible deterrent by building its defense assets to withstand future incidents.
Malaysian armed forces warrant not just additional naval vessels but also strong reinforcements for its air defenses to safeguard Malaysia's vital national interests, especially in its vast South China Sea maritime zone and air space. However, the crucial defense capability-building plans for Malaysian armed forces have been put into words in the form of Malaysia's first Defense White Paper, approved by Parliament in 2019. In the wake of the Covid-19 pandemic, the economic meltdown has slowed the growth and budgetary means to fund military modernization. Sustained and committed budget allocations are the primary need to modernize armed forces. The development of Cyberwarfare and amphibious capabilities for the Malaysian army is the need for the next decade. The acquisition and manufacturing of Littoral Mission Ships (LMS) for the Royal Malaysian Navy (RMN) would boost the naval force's abilities. Besides, procurement of the Maritime Patrol Aircraft (MPA) and modern Light Combat Aircraft (LCA) for RMAF is an urgent need.
The Malaysian air force has not introduced any new fighter aircraft after its induction of the Sukhoi-30 MKM fighter in the late 2000s. Multi-role combat aircraft (MRCA) and LCA would fill this void. Surface-to-air missiles (SAMs) can add to its air defense needs. The Malaysian air force is suffering from some logistical issues that must be addressed. It needs advanced fighters for tracking or intercepting any foreign and uninformed intrusion. Supersonic models, such as Korean FA-50s, Pakistan's JF-17 Thunders, and Indian Tejas, can be a good alternative and with additional strength over subsonic ones.
Developing and improving infrastructure must be considered, such as radars and airbases in East Malaysia would help accommodate more deployment. Also, developing airborne early warning aircraft will augment Kuala Lumpur's surveillance capacity, but one that would require time. With the changing situation in the South China Sea and an era of geopolitical competition strongly dawning, Malaysia must respond to the call for the adoption of strategic means to secure its national interests.