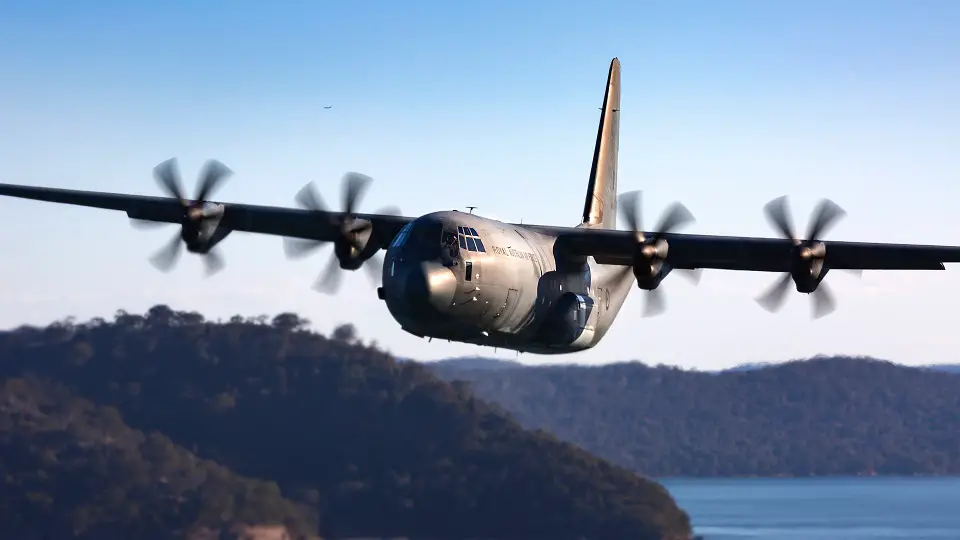 A Royal Australian Air Force C-130J Hercules transport aircraft. Image: Royal Australian Air Force
Australia Goes Big: 20 Powerful C-130J Hercules Military Transport Aircraft on the Horizon!
The Australian government is set to make a bold move by acquiring 20 brand-new C-130J Hercules military transport aircraft for the Royal Australian Air Force, investing a whopping 9.8 billion Australian dollars ($6.62 billion).
These new aircraft will not only replace but also expand the existing fleet of 12 C-130Js operated by the Australian Air Force.
RAAF Base Richmond in New South Wales, home to No. 37 Squadron, will continue to be the hub for operating these impressive machines, with delivery expected to commence in late 2027.
These Lockheed Martin transport aircraft play a crucial role in Australia's armed forces, enabling the efficient deployment of personnel, equipment, and essential humanitarian supplies. Their versatility is evident in their application in various missions, including search and rescue operations, disaster relief efforts, and medical evacuations.
These robust aircraft boast an impressive maximum takeoff weight of 164,000 pounds (74,393 kilograms) and can carry payloads of up to 44,000 pounds (9,958 kilograms). With a maximum speed of 410 miles (660 kilometers) per hour and a ceiling of 28,000 feet (8,615 meters), they possess remarkable capabilities.
The C-130J's aft loading ramp and door allow for the transport of various military equipment and platforms, making it a force multiplier in every sense. From oversized cargo like utility helicopters and armored vehicles to standard palletized cargo and military personnel, these aircraft handle it all with ease.
Australia is even exploring the potential use of the C-130J for swift deployment of HIMARS close to enemy lines, showcasing its adaptability in evolving defense strategies.
Apart from its military significance, this acquisition will significantly boost Australia's local industry by fostering the construction of facilities and infrastructure to support and sustain these formidable aircraft. As Minister for Defence Industry Pat Conroy pointed out, the increase in aircraft from 12 to 20 will create more job opportunities for the local workforce.
Deputy Prime Minister and Minister for Defence Richard Marles emphasized the importance of the C-130J Hercules not only for the defense force but for the entire nation. The aircraft's impact has been evident during numerous emergencies, such as bushfires, floods, and the COVID-19 pandemic. Additionally, it has played a crucial role in supporting peacekeeping operations over the past two decades.
With these 20 new C-130J Hercules aircraft on the horizon, Australia is gearing up to strengthen its defense capabilities and make a significant impact on both the national and global stage.