Exclusive Interview of DG Defense Export Promotion Organization, Lt. Gen Arif Malik by Haidar M. Hussain, Founding Editor of Defense Guardian International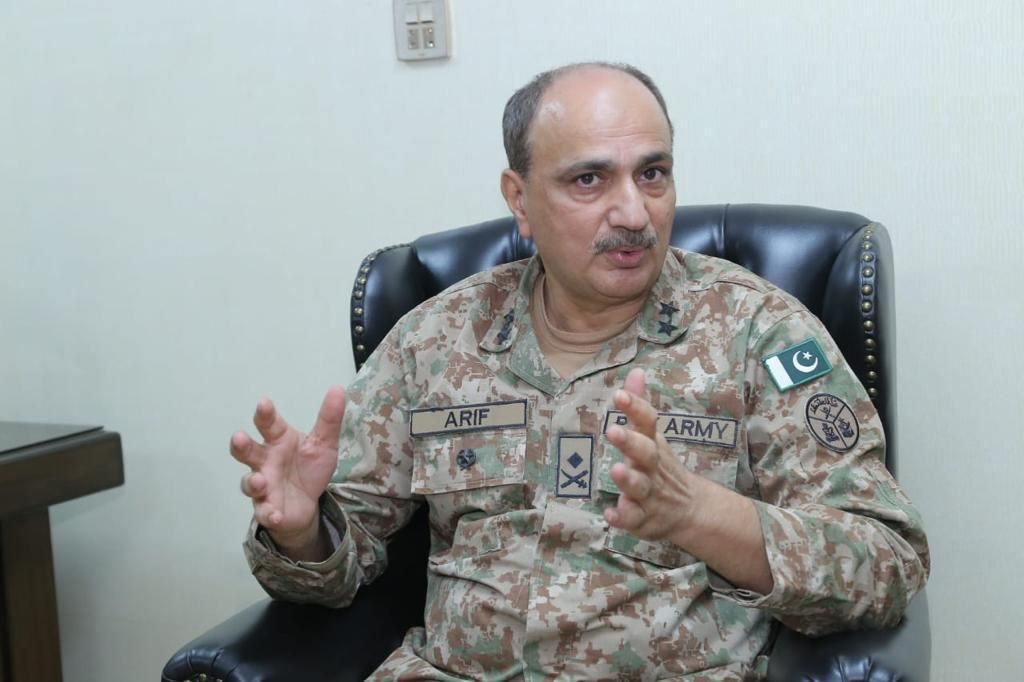 Q#1 Military industry is one the most important in economic growth and strategic partnership with other countries. Being a DG of Defense Export promotion organization, how do you see the future of defense exports in Pakistan?
Ans:
It is needless to say that more robust defence is directly linked with a stronger defence industry. It is also a driver for the economic growth of a country because a vibrant and progressive defense industry attracts many other associated industries in its hemisphere and results in overall economic growth.
As we all know, that defense industry around the world is very competitive and technologically advanced. For the countries like Pakistan, it's not easy to make inroads in global defense market but we are proud that our local defense industry came a long way and with grace of Almighty Allah reached to a stage where we are turning heads across the globe with regard to defense Research and development and equipment manufacturing in defense sector. Indigenous production of JF-17 fighter aircraft, Al-Khalid Tanks, Destroyers and frigates, UAVs and munition of international standards along with price competitiveness are the hallmarks of Pakistan defense industry.
 Presently, we are exporting our military hardware to a number of countries like Saudi Arabia, UAE, Oman, Kenya, Malaysia to name a few.  Our defense Industry is keeping pace with current and future trends in defence equipment, R&D and accordingly improving innovation and excellence.  Therefore, I am very confident that in future, our defence industry will excel both in technological advancement and quality of military hardware, and will Inshallah become an industry to reckon with in the global defence market.
Q#2     Technological advancement is the main tenant of the globalized world. It also impacted defense industry at large. Pakistan, as a key regional player has also been focusing on expanding the arena of defense exports at large. What kind of efforts Pakistani defense industry has to do in order to compete with the global market?
Ans: The global arms markets are constantly fiercely competitive. The global military apparatus is witnessing significant transformations and leveraging technology trends to strengthen capabilities. Major trends include Artificial Intelligence, Quantum Computing, robotics and cyber security.
These trends are in our focus and our defence industries are constantly aligning themselves with these changes. Innovation and excellence is the key to compete in global defence market, therefore we are constantly striving for that.
This is one of the purpose that we hold IDEAS in Pakistan to keep ourselves abreast with the latest market trends. It brings together the global defense industry for synergistic businesses and cooperation.  The event is international rendezvous of defence manufacturers, entrepreneurs, R&D specialist, financial experts and top-level policymakers to promote cooperation, knowledge sharing and support ventures in the field of defence collaboration.
In a nutshell, innovation and excellence, strategic partnership with technological advance countries and business are the key areas where we are focusing to improve our defence exports in future.
Q#3 IDEAS is happening, it is of the best examples of public-private partnership. Bringing international manufacturers and suppliers of the products at one forum will boost the possibilities of cooperation joint ventures. How do you see the growth of public-private partnership in context of Pakistan?
I believe that public private partnership is the key success of any defense industry. The holding of IDEAS since year 2000 has benefitted us immensely in the field of defence cooperation and subsequent public-private partnership.
IDEAS over the years has become a key platform to the exhibitors to showcase their products before the international community on one hand and to share relevant knowledge and expertise in finding affordable solutions and employing innovative means to meet the defence related challenges, on the other. It brings public and private defence manufacturers on one platform and provides them an opportunity to explore new areas for undertaking joint ventures and further augmenting trade ties with their counterparts.
So the IDEAS is the only platform for augmenting the growth of public-private partnership. The B2B/B2G meetings and signing of different MoUs between different OEMs during the IDEAS helps to progress in this field. In this IDEAS also, I hope that it helps in further cementing the cooperation and partnership between public and private sectors of defence industry.
Q#4. Events like IDEAS are the key to success for expansion of defense exports. Though, it is happening after a huge gap. What do we expect from the grand IDEAS this year?
Frankly speaking once we were planning this IDEAS after a gap of four years and when most of the countries are coping up with economic recession due effect of pandemic, we were skeptical about the response from international community
However, I am very happy to state that we have received overwhelming response global community. Although we are still in the process of confirmations however, till to date more than 160 International exhibitors and 200 domestic exhibitors are showcasing their product. This year Austria and Romania are new exhibitors participating first time in IDEAS. We have also invited delegates from 106 different countries, as of now more than 200 delegates confirmed their participation. Therefore I am very confident that this IDEAS will set a new record of participation and achievements of objectives set for IDEAS.
Q#5. The International Defense Exhibition and Seminar is a premier defense industry show and the region's best platform for international defense systems promotion. South Asian region has been considered as a versatile. How IDEAS will promote new trends within the region?
At the first place, the moto of IDEAS is "Arms for Peace" and we strongly believe that. As you all know that Pakistan occupies an important place in South Asia Region with a challenging neighbor. I may clarify here that we are not into the arms race with any country, rather we are promoter of peace, harmony and mutual trust in the region. It is reality that stronger and reliable defence system is guarantor of peace.
Therefore IDEAS serves as tool to depict Pakistan as a modern, progressive and tolerant state that is willing to co-exist peacefully with the international community. It provides an international platform to project and strengthen own perspective on security issues through defence diplomacy.
Q#6. IDEAS is said to be a platform for top-level decision makers and policy planners. In context, Asia-Pacific has pivotal standings in National security policy of Pakistan. Participation from the globe entails the story of collaboration and cooperation. In milieu, do you see that events like IDEAS will strengthen the Asia-Pacific bond?
Pakistan is supporting all efforts for peace, stability and prosperity in the region. Besides, Pakistan believes that Asia-Pacific should not become a ground for strategic competition to outstrip each other but a shared space for economic growth and cooperation.
There are number of countries participating from Asia pacific region. The event like IDEAS where global community from all the continents and all the regions get together on one platform will impetus the global cooperation and jointness and sure that the event will serve as catalyst to strengthen Asia-Pacific bond through people to people contact.
Q#7. Artificial intelligence is a new reality of the world. Evolution of defense systems is in need to be updated accordingly. IDEAS bring an opportunity to share and cooperate in defense sector. Up to what extent Pakistan will get benefit from this event to further boost its capacity of defense production?
Artificial intelligence has infiltrated practically every civilian industry imaginable. It has changed the way people and businesses work, and it is now swiftly becoming a necessary component of modern combat systems. We duly recognize the importance of Artificial Intelligence in defence sector that is why the IDEAS Seminar which is an integral event of IDEAS has a theme "Artificial the International in Defense Market; a paradigm shift in military strategy & national security' . Renowned speakers from international and domestic think tanks are reading their papers in two days long event. This will be an interactive event where both international and domestic participants learn from each other's research and development.
Moreover, international and national exhibitors will be showcasing the acievements in the field. Therefore I am very hopeful that through the platform of IDEAS, we can gain a lot in the Artificial Intelligence.
Q#8. From the historical perspective of IDEAS, the consistent increase in delegations can be observed. Security concerns of the region are challenging for the security forces of Pakistan and the region. Will there be an increase in participation or it will observe negative trend?
As I told you earlier that there is overwhelming response of participation n IDEAS-22. I have already given you the figures.
However, I may highlight that people of Pakistan n general and Armed Forces in particular have done a tremendous job in making Pakistan a safe country to visit for international community. I need not to say how much we sacrificed to achieve this status. The global community closely watching the happenings in Pakistan and the number of participants in IDEAS is a prove that they very satisfied with security situation and are willing to come. One of the objective of holding of IDEAS is also to cement our claim that Pakistan is safe and a best host for international community.
Q#9. Participation from Asia-Pacific has been recorded as 39% in IDEAS 2018. The region is of prime importance in foreign policy of Pakistan. Up to what extent it will strengthen collaboration among the Asia-Pacific states?
As I told you earlier that one of the objectives of IDEAS to promote collaboration and cooperation through B2B, B2G meetings, MoUs and joint ventures. We are hopeful that this time more than 39% countries will be participating. China holds an important position in Asia Pacific Region and the country is participating in a big way during IDEAS-22 beside other countries of the region. The collaboration is inbuilt in this event, we have provided a platform for the region and I am very hopeful that this IDEAS will further strengthen the cooperation among countries.
Q#10. Collective responsibility is a most desired phenomenon in contemporary world order. Can we consider IDEAS as a part this phenomenon? If yes, then up to what degree it will extend the collective responsibility within the south Asian region?
Yes, we are fully aware of our responsibility to demonstrate ourselves as progressive, peaceful and responsible state on the global stage. The IDEAS is practical manifestation of this responsibility. We will continue to play our role in South Asian Region. Through the platform of IDEAS, we spread the message of peaceful co-existence, cooperation and support to harmony in the region
Q#11. Economic sustainability is a key factor in the growth of a country. Expos are considered as main contributors in the web of exports expansion. Will Pakistan get a positive trend in defense exports due to IDEAS?
Owing conduct of IDEAS since the year 2000, Pakistan's exports have substantially increased to $ 212.6 Million in year 2018. We are still not satisfied with these numbers, therefore will continue to strive for positive competition in the defence market. IDEAS surely provides a platform to demonstrate the strength of our defence industry and serves as a tool to assess future market trends, which helps our defence industry to realign its priorities.
Q#12. Pakistan has been continuing to maintain its status as a regional power, in context of changing regional dynamics, what are the policy options for Pakistan to expand its defense production specifically in collaboration with China and in General expansion of exports with Middle East?
Pakistan's Defence Posture is peaceful co-existence and to thwart any aggression against sovereignty of state. That's why we are maintaining professional and well-equipped Armed Forces.
China is Pakistan's closest international partner. We are collaborating with China in every field including defence. China has all the way supported us in modernizing and improving our defence manufacturing/infrastructure thus has contributed immensely in our capacity building, JF-17, Naval Ships, Modernization of KS&EW etc are the examples I am confident that with current state of defence collaboration, Pakistan will further increase its defence exports