Joe Biden Met With NATO Secretary-General a Week Before the 2021 Brussels Summit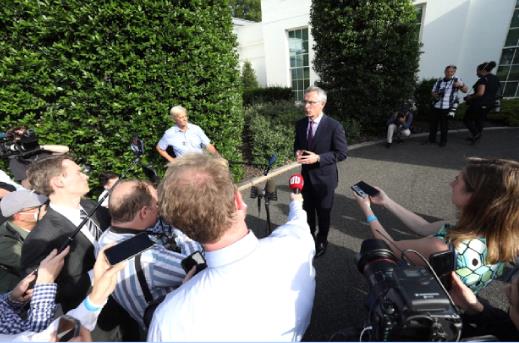 On Monday, 7 June 2021, United States President Joe Biden Met With NATO Secretary-General, at the White House to discuss various contemporary security challenges and the scheduled 14 June NATO summit in Brussels, NATO headquarters. Jen Psaki, White House Press Secretary, said that the US President showed explicit commitment towards sharing responsibility, working collectively under NATO, and preserving and reinforcing transatlantic security and democratic values.
Both leaders discussed various issues under Organization's agenda. The meeting included a conversation on strategic challenges from evolving power relations, new emerging transborder threats like cyber-attack, natural disasters, and climate crises, and ways to adapt to the alliance in the face of these challenges. Both leaders highlighted that NATO must be well resourced in effectively confronting the threats and challenges to ensure transatlantic security. The discussion also included evaluating NATO members' progress in common defense, their defense spending, and strengthening values. Furthermore, they spoke about NATO's investment in Afghanistan, its contribution to the Afghan peace process, and support towards withdrawing the armed forces from Afghanistan. 
The leaders also discussed global terrorism, threats from Russia and China, and security concerns emerging from current non-traditional threats, including climate change, as told by NATO Secretary-General to media after the meeting. Regarding China, the Secretary-General further commented that China's emergence gives Europe and the US opportunities in trade and economy. However, there is a need to discuss specific issues, like climate change and arms control, with China. While, on the other hand, he showed a pessimistic approach towards China's actions, including minorities human rights' violations and the relation with Taiwan.
Regarding Russia, he commented that a dual-track approach (defense, deterrence, and dialogue) between Russia and NATO is needed to tackle the issues (like arms control) and secure the strategic environment. The US President also intends to meet with Vladimir Putin in Geneva after the summit, where he plans to talk about various humanitarian and security concerns emerging from Russia. However, significant considerations in the meeting were given to strengthening the alliance and the year's NATO summit in Brussels, scheduled on 14 June 2021. The 2021 NATO summit in Brussels would include all these major security concerns under the NATO agenda.
NATO Secretary-General appreciated the US President for his strong commitment to alliance working and acknowledged his leadership on security issues. He also highlighted that NATO members could not confront the strategic challenges independently, and collective working and shared responsibility is what NATO success requires. He reinforced the NATO 2030 Agenda, the future transatlantic security plan focused on collectively enhancing resilience and technological advancement. The Secretary-General also pointed out the role of investment, across and beyond the continents, in amplifying the alliance's agenda. He also mentioned that NATO members are investing well enough and adding in their defense spending; roughly $ 260 billion have been added in defense spending in six years. Also, he commented that in an unpredictable and competitive world, the need is to strengthen the alliance, and a strong NATO is good for Europe and the US.