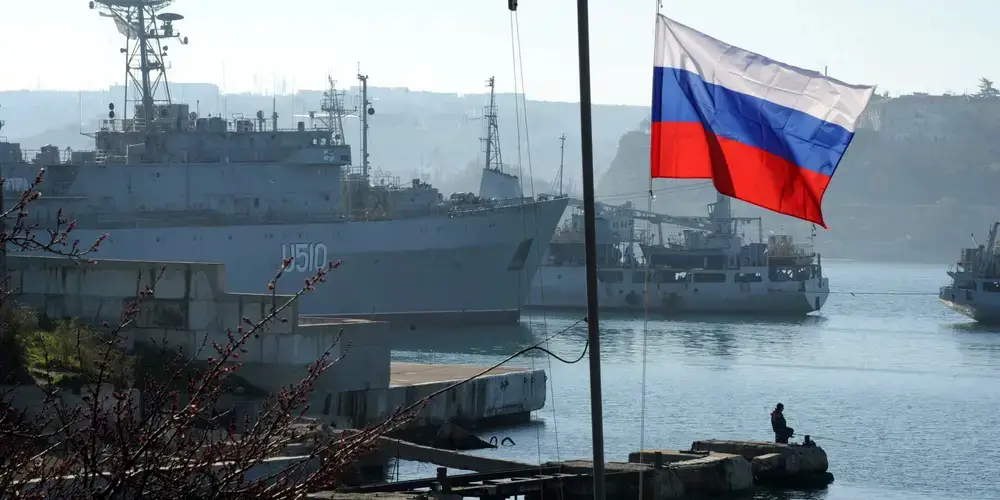 A Russian flag waves beside the bay of Sevastopol in occupied Crimea. Photo: VIKTOR DRACHEV/AFP
On Sunday, Moscow reported that it successfully foiled a Ukrainian attempt to attack Crimea, which Russia annexed in 2014, using 25 drones overnight.
The Russian defense ministry stated that 16 Ukrainian unmanned aerial vehicles (UAVs) were destroyed by air defense fire, while electronic warfare measures suppressed nine other drones, causing them to crash into the Black Sea before reaching their target. Thankfully, there were no casualties reported.
https://twitter.com/officejjsmart/status/1683345576778186752?ref_src=twsrc%5Etfw%7Ctwcamp%5Etweetembed%7Ctwterm%5E1683345576778186752%7Ctwgr%5Ed4cb78733c5aa24f2c157ff0f85db8b8ceaa6e4d%7Ctwcon%5Es1_&ref_url=https%3A%2F%2Fwww.thedefensepost.com%2F2023%2F07%2F30%2Fmoscow-ukraine-attack-crimea%2F
Crimea has been a target of attacks from Kyiv during Moscow's Ukraine offensive, with recent weeks witnessing more intense and increased assaults. Kyiv has repeatedly expressed its intention to reclaim Crimea.
In a separate incident, three Ukrainian drones were shot down over Moscow on the same Sunday. The attack resulted in damage to two office towers and a temporary closure of an international airport.