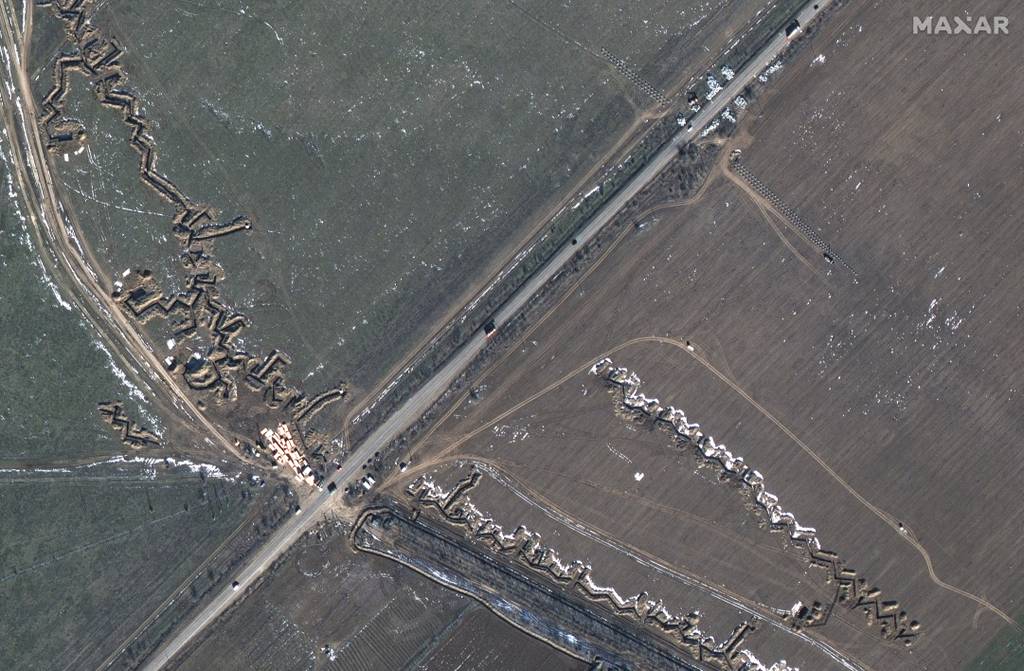 This satellite image provided by Maxar Technologies shows fortifications in Medvedivka, Crimea, in February 2023. (Satellite image ©2023 Maxar Technologies via AP)
In St. Louis, it is reported that NATO's constant need for intelligence, surveillance, and reconnaissance is leading to agreements with commercial satellite imagery providers, as stated by an official. Satellite imagery is becoming increasingly important as governments and individuals rely on it to monitor their surroundings. These images have been instrumental in exposing Russia's military buildup before the invasion of Ukraine in February 2022 and revealing the extent of destruction in Eastern Europe.
At NATO, the utilization of satellite imagery fills a gap where traditional airborne assets fall short, according to Paul Bowman, who heads the ISR cell for NATO's Battlefield Information Collection and Exploitation Systems. During NATO joint ISR exercises in the past five years, there has consistently been a lack of sufficient collection to support the production of geospatial intelligence. This has prompted the need for commercial capabilities.
Specific details about the deals and their costs were not disclosed by Bowman. However, leading providers of satellite imagery in the United States include Planet Labs and Maxar Technologies. NATO recognizes that while the proliferation of commercial satellite imagery poses risks, such as benefiting Russia or China, private companies also offer cost-effective and scalable solutions to meet the alliance's demands.
Earlier this year, NATO launched the Alliance Persistent Surveillance from Space initiative (APSS), aiming to streamline the gathering and dissemination of data collected from space for alliance use. This initiative relies on space assets from friendly countries to establish a virtual constellation called Aquila. Bowman emphasized the importance of persistence and shareable collection in meeting NATO's requirements.